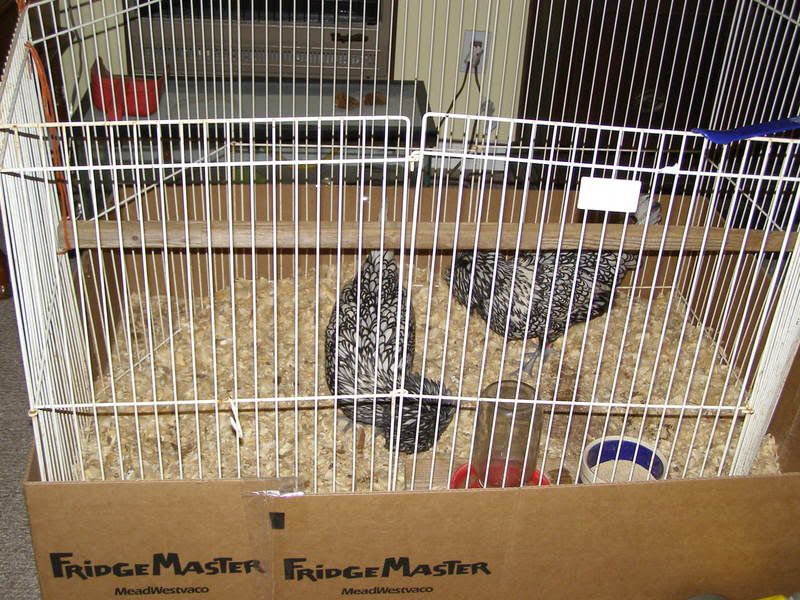 Hmmmm I can't seem to get the letters to enlarge today!
So I will keep this short to help preserve yours and my eyesight and save us from eyestrain!
Laverne and Shirley are still indoors, in their box, and pretty content I must say. They are still clean and we are just waiting on next weekend to go to the show in Calhoun. I will be pulling in their parents this weekend and getting them ready also. Pictures to follow on that venture.
The post before this one I posted some more pictures from the last show. I still have one more bunch of pictures to show, but these will be enough for today.
I have company coming today. Dwain is coming and we will be talking chickens and playing with chickens all day. He is one of my chicken buddies. He wanted to bring me some Serama roosters to look at, to see if I was interested in having some, but I just had to say no, and told him to please not be an enabler...lol.
One other thing happening this weekend. I caught ALL the guineas. Three will be rehomed to Dwain...two girls and a boy. I have a sign I made up to go out down by the road...I am selling them all off. Long story short, they are harrassing my chickens too much, stressing them out, stressing me out, making WAY too much noise ALL day long, stressing me out...did I mention stressing me out? I dont need anything to stress me out, especially when there is the option to remove that irritation. I have tried to like guineas, really I have. But they just have to go, so I am selling them off to new homes.
Any takers? Five dollars each...
Alright then, I better get going. I need a shower and need to do a few things around here before Dwain gets here. I will see about taking some pictures today of our visit. I hope everyone is having a nice weekend so far. XOXO
OH, one more thing, check out the lamp I got at Tractor Supply...on clearance! It was originally sixty bucks...and I got it for FIFTEEN! What a deal! This lamp is right up my alley too...