I thought I would share a few pictures of Tex's' hatch...actually I found out these are his wifes chicks. ;) Good news, I will be keeping two of the four original polish I hatched out before this bunch. The white crested blues are all mine. The other two turned out to be white crested blacks, which I already have some of out in the yard. I will still be keeping those two in with my two for awhile until Debbie has a place for them. They are too old to go in with the chicks that have just hatched. I also have my first Brown Red Modern bantam out of the shell yesterday. Okay, here we go with the pictures.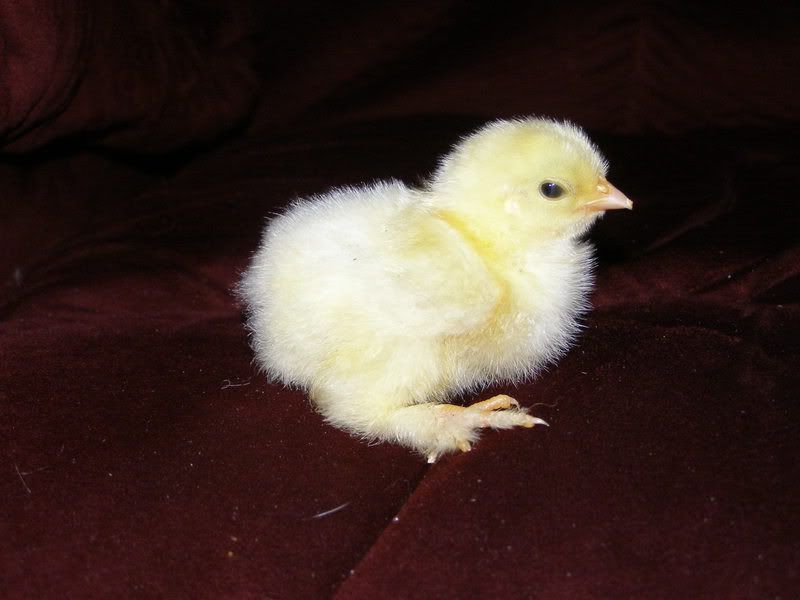 The little yellow fuzzy legged/footed one here is a Salmon Favrolle. Shelby fell in love with this one immediately, but I warned her not to get attached, these are all going to be gone Sunday when Tex comes to pick them up and take them home for Debbie to enjoy and love.

Here is the other Salmon Favrolle chick...this one was more cooperative in posing for me...



These solid black chicks are still a mystery as to what breed they are...but they are cute...their legs, feet, beaks, body, all solid black.



This little one below seems to be a little behind. It is smaller than the other polish hatched out and seems to still need more rest than the others at lengthier intervals so I put it in with my newborn BR modern chick. This serves two purposes, it gives my chick company and gives the weaker chick a chance to rest more.

First pic is of the sleeping weaker chick, second is of them together with the "Llama mama" I always use to comfort the newborn chicks.



One final picture...one of my day old BR Modern chick, gulping down its first drink of water. With new chicks you always want to dip their beak in the waterer to make sure they know where to get to drinking, and I always show them the food and tap my finger on it several times til they peck at it and know to eat. Usually by the second day they have it down.



I have to get moving. I got a full day of feeding and watering, along with going to Joes this afternoon to try and help out with that llama. We are supposed to have some heavy rain come through tomorrow so I want to get everything done and squared away before then. Everybody have a nice day today. :)