I finally fell asleep Friday night even with my anxiousness and the anticipation of the following day. Shelby said she caught me sleeping around 9:45 pm. I had the alarm set for 2 am...yes thats right, 2 am. When the alarm went off I was not wanting to wake up, I was definitely wanting to go back to sleep. I forced myself to the shower right away and that helped a good deal. I woke Shelby around 3:20 am and she didnt even bite my head off when I did it. Tip and her were going with me to be dropped at my parents for the day for a visit. For once, we actually left on time! 4 am, and we were pulling out of the driveway. Bags, animals, and us all loaded and ready.

There was no traffic on the road so zipping through the usually busy spots like Hiram was a breeze. We stopped through the drive thru at McDonalds right before we got to my parents and got a bite of breakfast. We made it to my parents right on time at 6 am. Karen was already there parked on the curb waiting for us. After we got inside and got Shelby and the dog settled Mama had heard us and woke up, then Daddy woke up. I was trying to be quiet, but they heard us anyway. Daddy had a full day of guitar students ahead of him and I hope he got enough rest. Dwain was running a bit behind so we met him at the Stockbridge Walmart and then took off from there.

It was a pretty easy ride all the way down to Newnan. Other than the usual, I85 down there has been under construction for years. You never know what is going to be going on there next. I just hate those temporary concrete walls they put up, right up against the line. I know they won't jump out in front of the truck and make me wreck, but they are awfully close to the edge and it still makes me nervous. If anyone were to hit that wall, there would be nowhere to go, you would just have a massive pile up.

We pulled up to the fairgrounds around 7:15. With Karen and Dwain being along I had lots of extra hands to help me get everything and everybody inside the building, get cooped in and set up the food and water cups for the birds.

After cooping in I surveyed the competition in the Asiatic and Continental classes. This was a big show, over 1800 birds were entered this year. The large fowl section had a lot of birds this year. I was glad to see this because the bantams always dominate any show I have ever gone to. There were still plenty more bantams than large fowl, but it was just nice to see more than before.

Once you have been to several shows in a row, if there is a bird there that you went up against in a previous show, you can almost recognize that bird right away. This was the case in the Asiatic class. The same Langshan that won Best Asiatic at the Monroe show was in this one. Beautiful bird. If you look back at the Monroe show pictures, it is the big tall black rooster drinking from a cup. Yep, he won again. I got Reserve Champion Asiatic and he got Champion Asiatic. He also won Large Fowl Champion. He had to be so proud of his bird. It is a beautiful bird. This is the bird, I know the pic is a little fuzzy, sorry about that, I didnt know or I would have taken more than one of him.


and here is Babe in her coop...Reserve Champion Asiatic..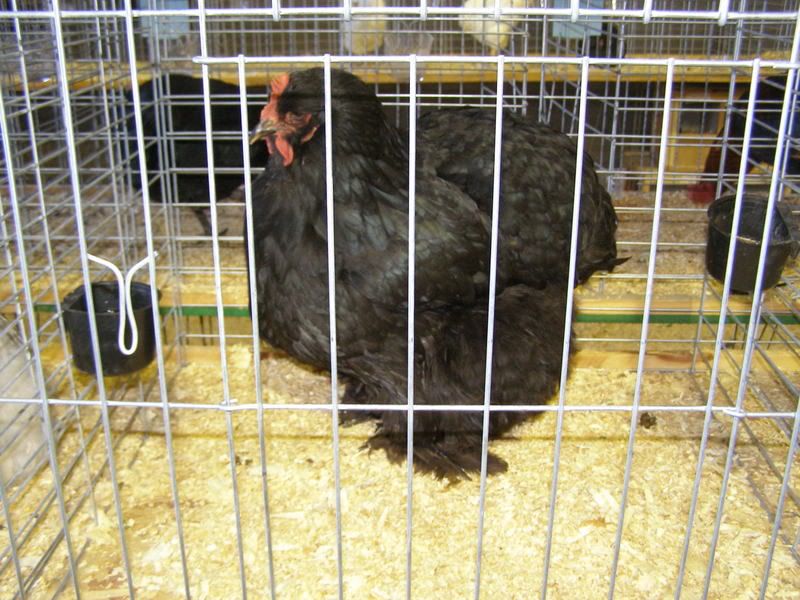 Buckbuck did not win, but he did get Reserve Best of Breed and Reserve Best Variety. Babe of course was Best of Breed and Best of Variety. We were actually up against another Giant Cochin. As far as how many birds we were up against in the Asiatic class, there was a whole row. Brahmas, which were Darlenes birds, she is a big time winner at a lot of these shows with her bantam Brahma...here is Buckbuck in his coop, and then a picture of Darlenes large brahma rooster.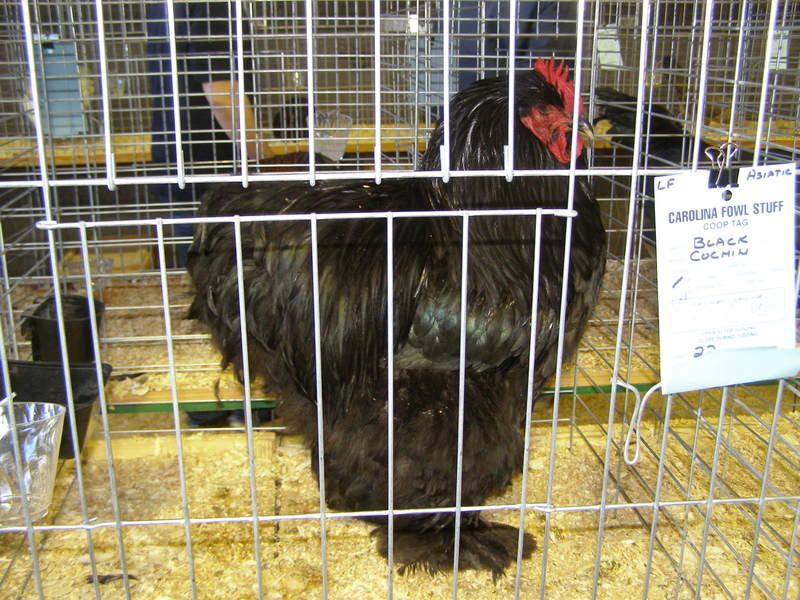 My polish did not place in the Continental Class. There was the Best of Breed and Best of Variety, which is still all good marks, along with Reserve Best of Breed and Reserve Best of Variety. Laverne and Shirley took these two spots. I have to admit, I was more disappointed than I thought I would be. It took me about thirty minutes to contemplate and recompose myself, but I settled down. I knew that by the next day I would be over it. When Sunday came I realized these things are not as important as you think they are at the time. I spoke with a judge on my thoughts and concerns about how birds are judged and what the notes on my cards from the polish meant. The notes on the cards are not always for the owner. They are notes for that judge to remind him why he did or did not like the bird so he can narrow it down to the best bird in that class. The judge (he was not judging this day) assured me I had good birds and to go ahead and breed them for future shows, that they should do fine. Like any breeding program, there will be some that are better than others that come out of the hatch, so I will have to pick and choose which ones are the best for showing and leave the others to stay here in the yard.
This show was so huge...and I spent so much time socializing with fellow bird folks and then Karen and Dwain were with me, and Ians dad and Christi, his wife, came to see the show and my birds and me. Before I knew it, it was all over! Everyone was packing up and leaving. I was only able to get a few pictures in, mostly of large fowl that caught my eye.

I did take Phoenix with is John Deere diaper outfit. He was a phenomenon at times...lol. I got all kinds of responses. Some stared and walked on. Some stopped and took pictures of him. A few wanted to know where I got such a thing and how do they go about getting one. I had a card with my name and email ready for this. I had some say that now they had officially seen everything. Some thought it was a great idea, some thought I was nuts I think. Its a good kind of crazy though. ;)

I did in fact end up buying ONE bird. He caught my eye and didnt turn it loose. I looked over all the birds for sale and ended up right back there looking at him. He was only five dollars. I asked to hold him, just to make sure he wasnt going to be aggressive and mean. He was just as nice as he could be. I bought him. He is a golden birchin cochin cockeral. Meaning he is under a year. He is not a Giant cochin, nor is he a bantam. He is a Standard. There was some confusion as to these classifications of size in a cochin, but I think I will go with this until Beth and Jerry tell me otherwise. They call their breed of cochin Giants. I always thought there were three sizes of this breed, but a few say no, I guess it is a matter of who you are talking to. Anyway, here is a picture of the young man. I have named him Tequila. His golden feathers against the black reminded me of Jose' Cuervo Gold Tequila...my favorite drink of choice. Who doesnt like a good Marguerita? I am thinking of putting him with some of my black Giant cochin pullets. I bet he would like that. Time for a new breeding pen? We will see soon. I already have it in the works to build one for the four polish.

TEQUILA...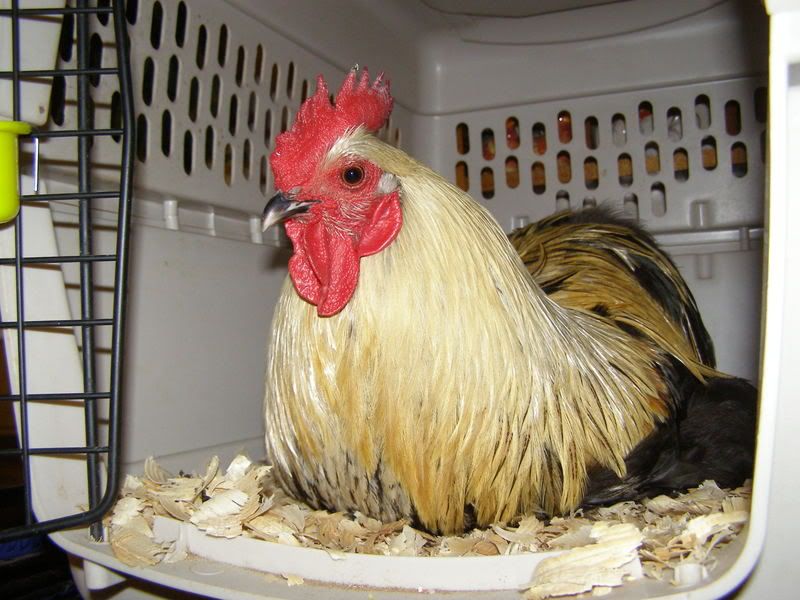 This is the only picture I have of him at the moment. I will take better ones soon. You should see him standing up...he is just beautiful.

Now on with some of the pictures from the show...first up...Dwain and his PC's or better known as Pocket Chickens! He bought nine chickens before the day was out. These two he bought from the silent auction for a dollar fifty each. The one actually in his pocket in the second picture was quite content to stay there most of the day, spoiled already. ;)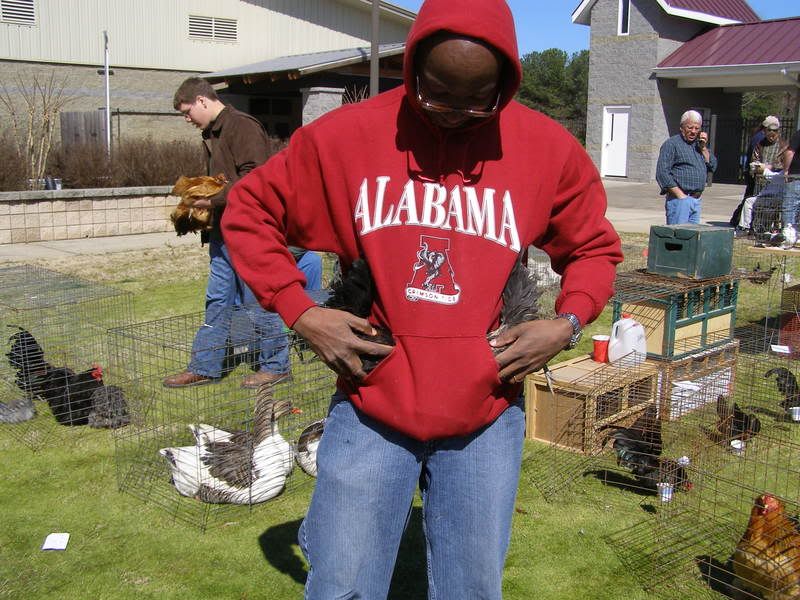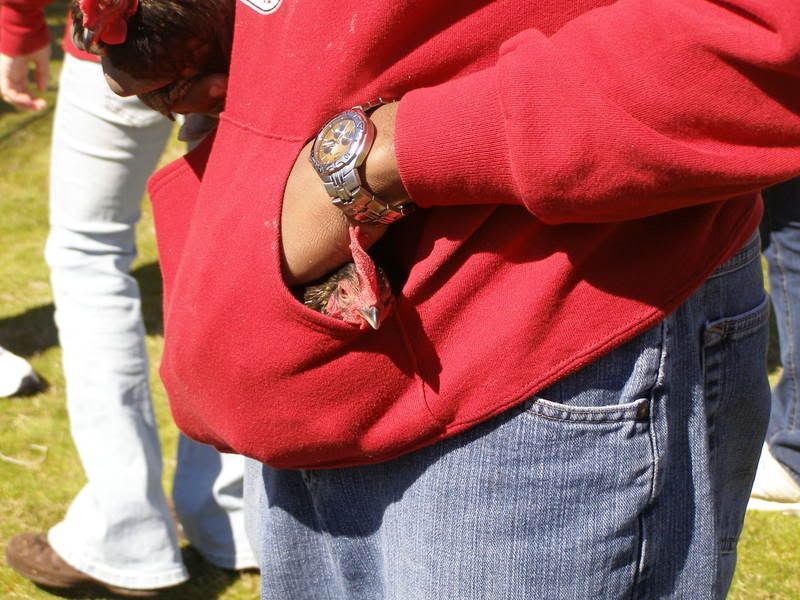 Next up we have a picture of Ray H. 's son and his award. :) Ray, I saw there were two pictures of him on the camera that Dwain had taken, but I wasnt going to show off my dirty truck to everyone, so I thought this one would be a lot better. ;)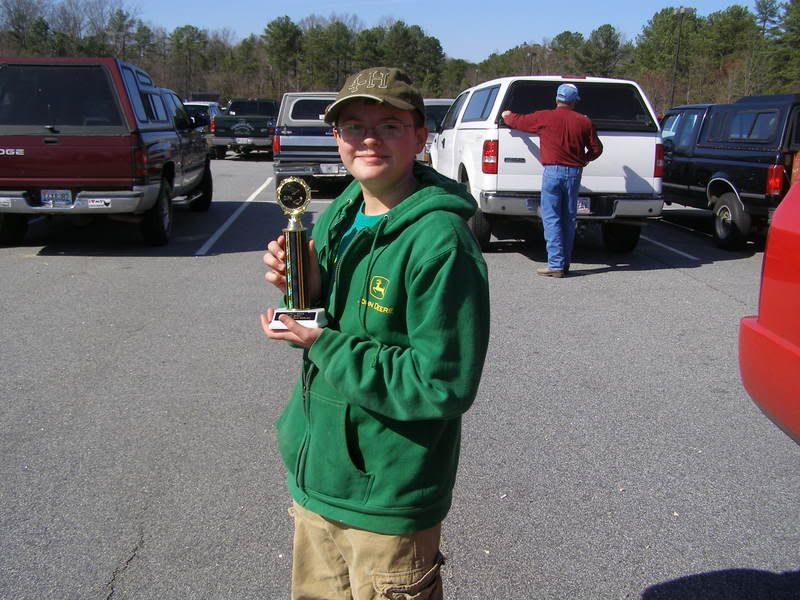 Now, here are the few pictures I managed to take of other birds...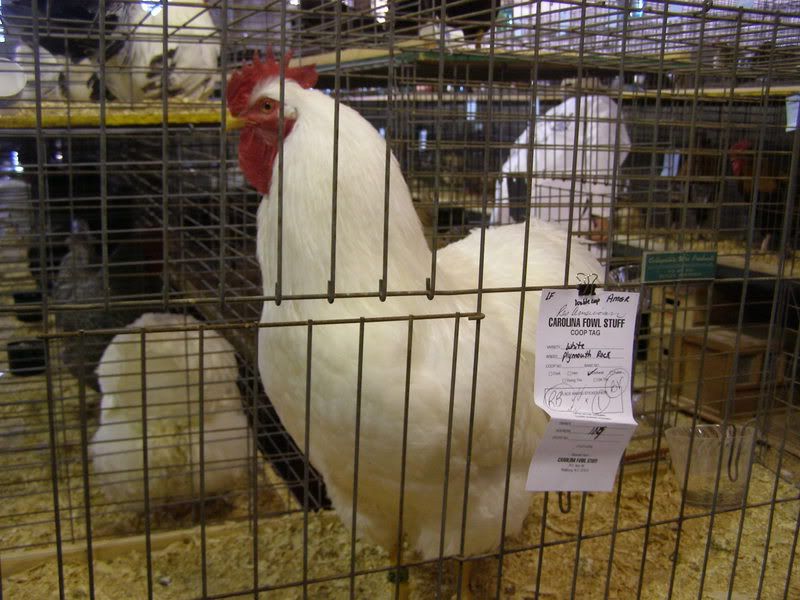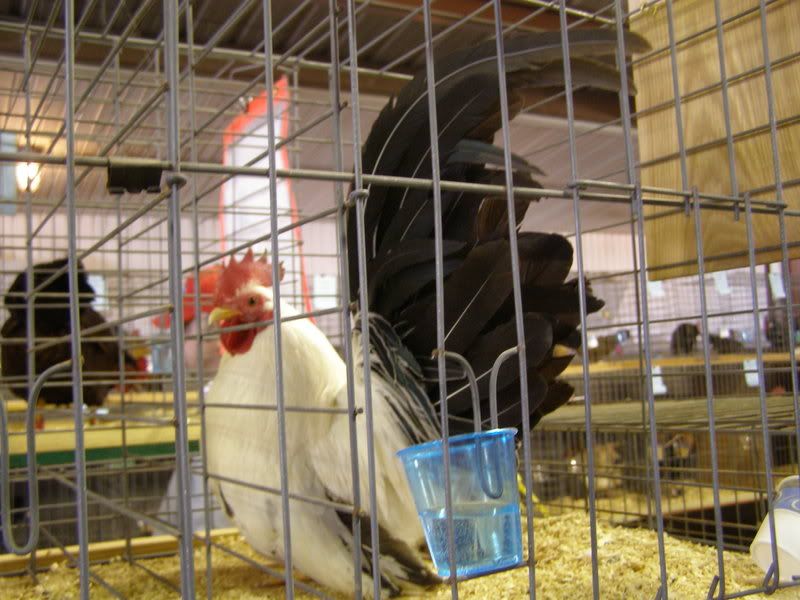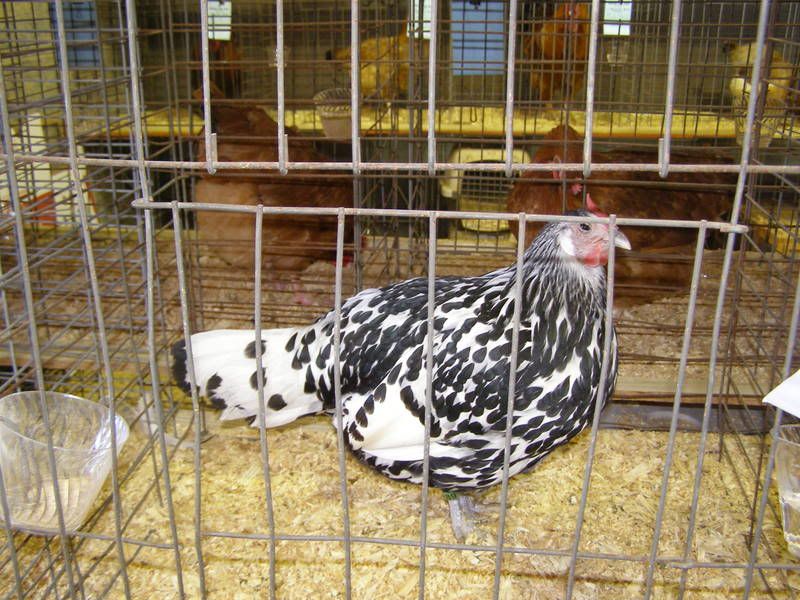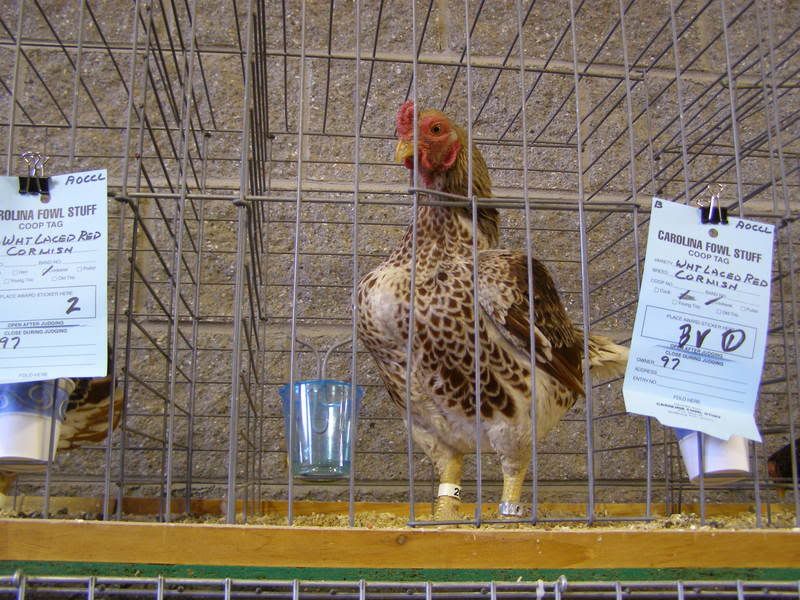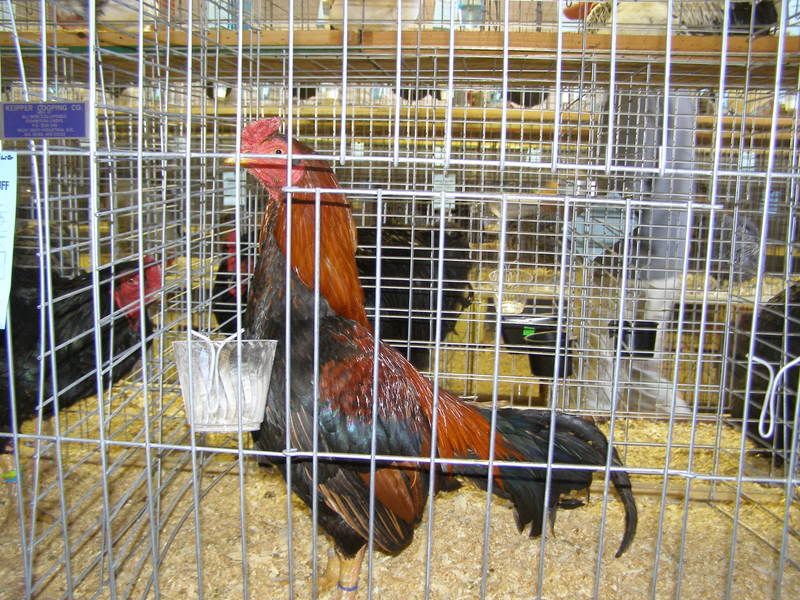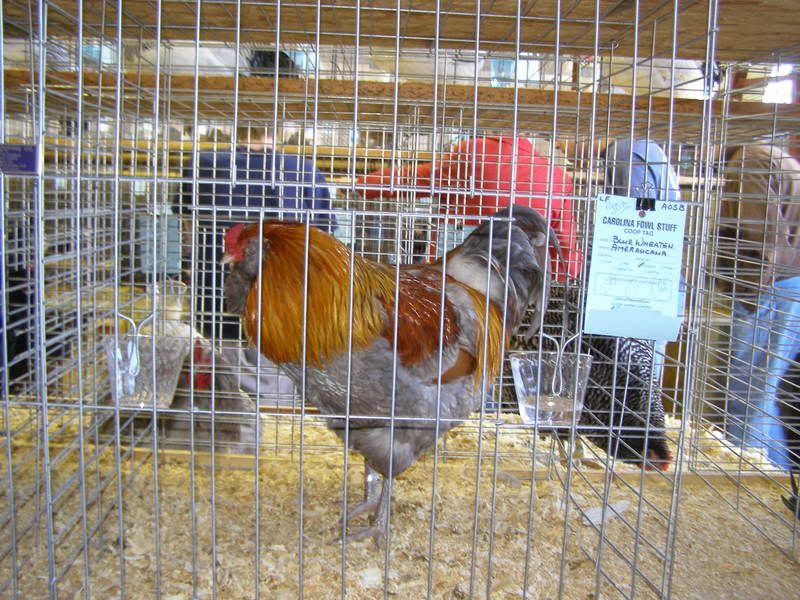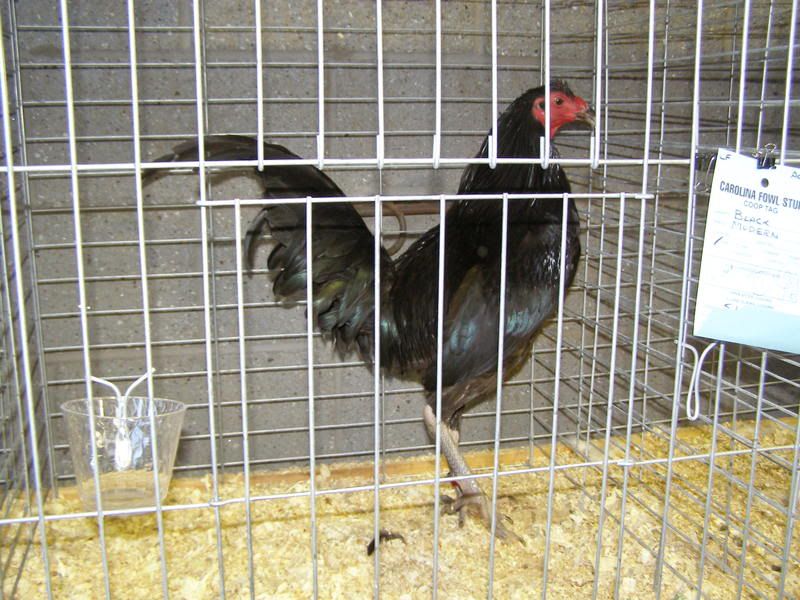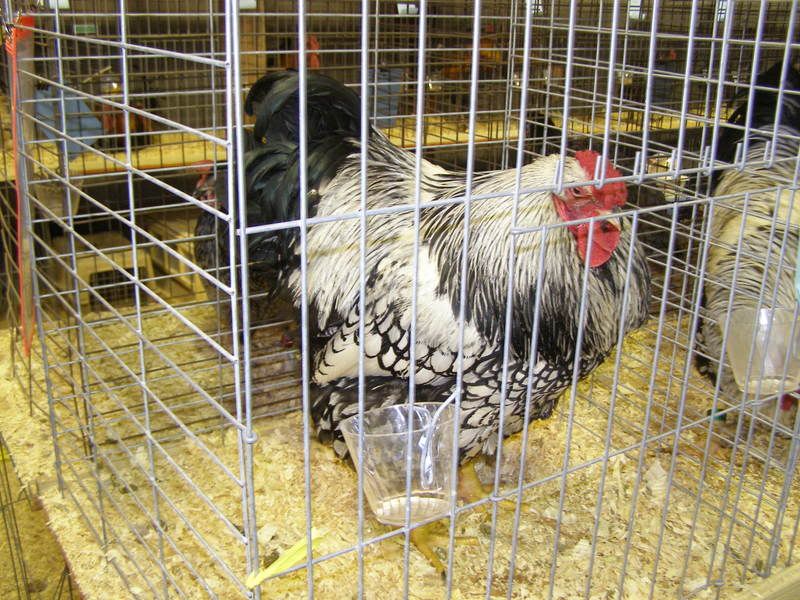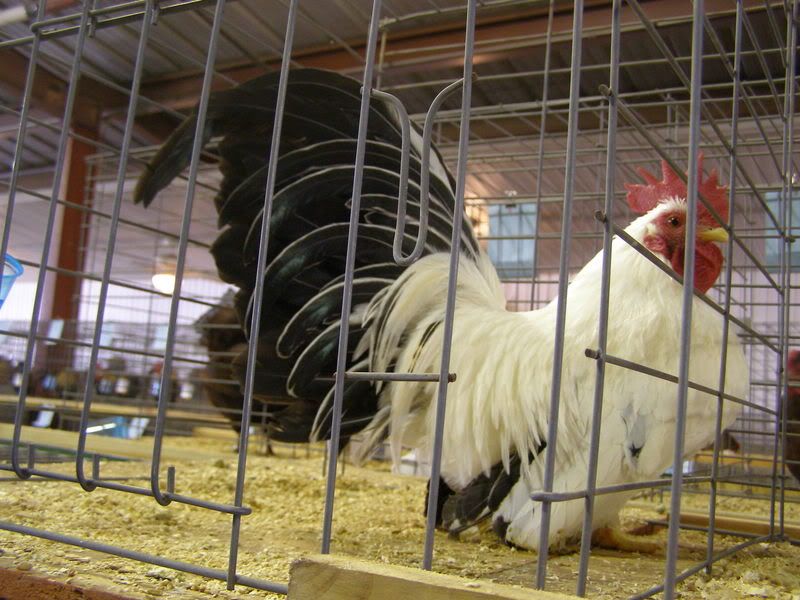 These pictures were just the tip of the iceburg as far as what was there. Thinking back, there were so many more beautiful birds I wish I had gotten a chance to take pictures of, but with all the excitement of Phoenix being along with me for the day, and my good company that was there, along with all the folks both new and old that I talked to...the day was gone all too soon.

I had a really good time, and I really love doing this. Darlene asked me to go to Ohio with her in November to one of the big shows out there. I don't think I am ready at this time in my life to do that. I still have too many other responsibilities here. Shelby, Ian, and all the other animals depend on me every day to be here. I have also promised Brian Blair that I would be at the special show he is putting together just for Serama in November. I wouldn't want to miss that, so I will probably stick around here for now.

This entry has gone on for long enough...I have other news, chicks are hatching today...but I will save that for tomorrow.

If your wondering what I am doing making an entry and not wrassling a llama, I called Joe and we both agreed that it is just way to windy and cold to deal with that today. It is supposed to warm up in a few days so we are going to try again on Thursday.

Hope everyone is having a nice Monday. :) XOXO