Some love guineas. I tried to love guineas. Year before last I got guinea keets from Collinsville Trade Day Flea Market in Alabama. I raised them up, and once they were mature, they began to pick on my chickens. At the time, there were only three, so it wasnt too bad. A feather pulled here, a feather pulled there. Then the female guinea matured and layed twenty three eggs last June. In July, 22 of the 23 eggs hatched. Some of the babies disappeared, later to be found caught up in something or trampled on, dead either way. That left sixteen babies that grew up big and strong and healthy...and LOUD. Counting the parents (two males and the female) that made 19 guineas. In the summer guineas are happy and content to roam and eat grass and bugs. When winter is here they are a very unhappy bunch and do their rendition of whining and complaining..which is 'HA HONK' from the girls all day long, and the chattering noise from the boys...all day long. After a while, this grates on ones nerves. The country is a place that is supposed to have peace and quiet with the occasional farm animal sounds. This was not the case with the guineas. I traded 8 of them to a neighbor for three of his buff orpington hens, a deal in my eyes. Still, that left 11. Eleven can sound like a hundred after a full day of chattering and ha honking. I gave Dwain three. The remaining ones were caught and put in a holding pen. I put a sign out by the road without much success, GUINEAS FOR SALE. Then it dawned on me...to use Craigslist. So I did, and along with the guinea ad I put in the ad I had put in the Market Bulletin (with no success)for the white crested polish and the golden phoenix roosters. I got a call from a woman in Cartersville, but she said I was a long way from her...(not REALLY)and wanted to know if I would bring them to her. I told her I would meet her half way...then, well, to be perfectly honest, a better offer came along, so I lied through my teeth and told a story to the lady, the end result being they werent for sale any longer. The offer came from a man that wanted ALL the birds. The guineas and the roosters. AND he would come and get them. That was just much easier for me. I was not looking forward to transporting those guineas to a parking lot and having to put them in another cage, HOPING they didnt slip through my fingers and get away in the process. I look at it this way, if she wanted them that bad, she should have come to get them here at the house.

So this morning the guy showed up right on time at 9 am. I had the birds all ready for him. We put them in his cages, he gave me my money and he was on his way in no time at all. I was happy, he was happy...all went smoothly.

Now it is so peaceful and quiet again here. All I hear is an occasional rooster crowing (which I never get tired of hearing). The emus do the job keeping anything out of the fence that isnt supposed to be here, so I dont really need the guinea troop alarm anymore. One time out of a hundred there might be something actually out here. Crying wolf is a guineas specialty..I think anyway.

Yesterday was spent giving Coco and Kuckoo a bath and a blow dry session. They are all clean and ready for show now. They have been so good. I want you to see just what they are in, and you can see they could easily jump out, but they haven't not even once. Here are some pictures of them that I took this morning.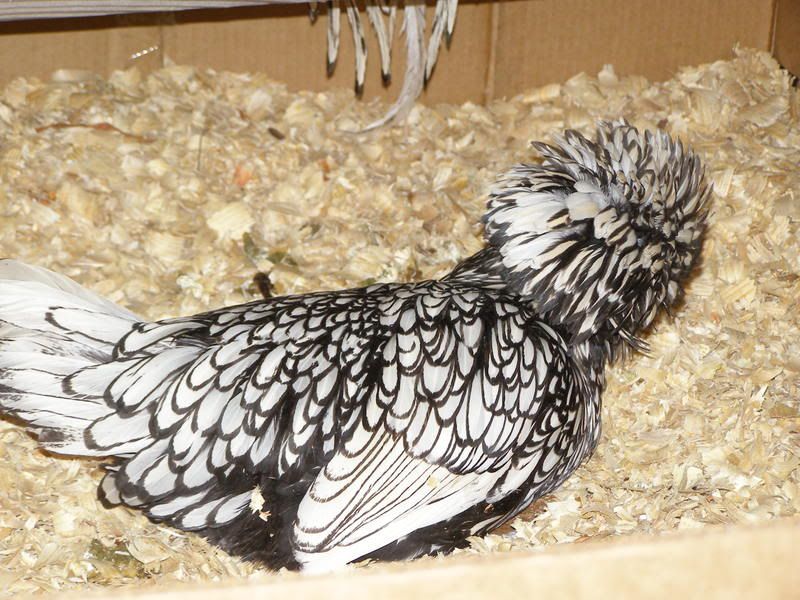 A few close ups of Kuckoo's head...
I bought some new material to make more chicken diaper outfits for Phoenix. I got some small print John Deere material and some small print bumble bees on yellow material. The John Deere outfit will be to match my John Deere shirt when I take him to tote around at the Newnan show. Jerry and Mike want to see this chicken diaper contraption, so he is going with me. The bumble bee material will be for a spring outfit. Spring is right around the corner...I hope!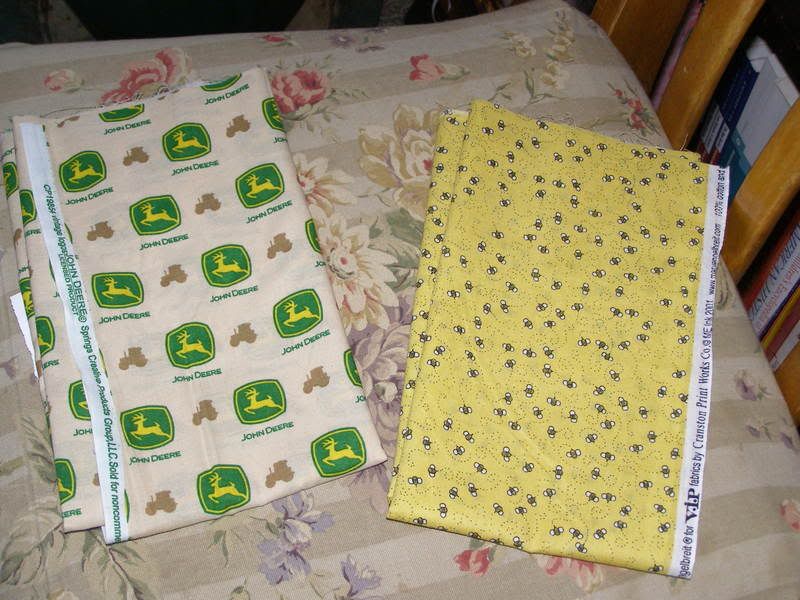 I will now close this Friday entry with a picture I just took a couple of hours ago of those four adorable GROWING white crested blue polish babies. :) They are so precious.

I hope everyone has a fantastic weekend. The weather here is going to be sunny, dry, and in the sixties for days on end. I am going to thoroughly enjoy it! I will be back Sunday morning to make an entry on Saturdays show. Until then...XOXOXOXOX