Good Friday morning y'all. :) Thank you so much for everyones kind words and I am feeling some better. It means a lot for y'all to stop in and give me some encouraging words. I still have some congestion, but I can live with that. I am still a little slow to get around, but I am on the move again around here. I won't lie to you, I am a wimpy whiner when I get sick. I moan and I groan til I fall asleep. I think it is because I know there are people and animals depending on me, and I am down and out and can't do what I need to do. I just have to give in and rest to get well.
Today is going to be amazing outside. I wanted to make a post this morning before I went running outside for the day. We have had some unusually cold temperatures around these parts and it has been brutal to go out in. The waterers freeze up every day and it wouldnt get above freezing so I would have to go out and get the waterers and bring them in to the kitchen sink, de-ice them and fill them up again with some lukewarm water. There was a couple of days where I would fill up a tub with water...come back an hour later and there was a sheet of ice that had formed on the top of it!
That is all gone now. Today we are going to be in the mid sixties! I am just so excited! I will save my indoor chores for this evening when it is cooling off and getting dark. NOW is the time to get outside! :)
**********************************
So lets talk some chicken. :)
Last Saturday morning I got up at 4 am. I had already packed everything I needed for any last minute grooming at the show. I had showered the night before and blow dried my hair straight like I like it. I don't wear make up a lot, but this was a special occasion, so I put on my make up. I had bought a new shirt that caught my eye at Tractor Supply earlier in the week and it just so happened to be on clearance, so I was feeling good and wearing my new shirt. I packed up the truck, got the girls in the carrier and loaded them up and was on the road by 5:20 am. I don't particularly like to drive in the dark, but a girl has to do what a girl has to do if she is to get to her Poultry Show. ;) I made it from my house all the way over to Jefferson, Georgia in about two hours time. I was early enough I got me a good parking spot close to the exhibition building. I carried my girls in and got them tested as per required. This test lasts three months, so they won't have to have it again during any of the other shows. Their legs are banded and I have a slip of paper that certifies they have been tested and the numbers match from the paper to the bands on their legs. Coco and Kuckoo will have to be tested in Calhoun, then they will be good to go for the next two shows after that one. I am going to show a pair of giant cochins...just not sure who yet. I haven't decided if I want to show a pullet and a cockeral from my hatch, or Buckbuck and Babe, the parents. I will sit out there today some and watch everyone and contemplate this.
After I got the girls tested I found our coops and put them in along with little cups of food and water. Some don't feed or water their birds at a show as they might get messy and it makes them poop, so they may get messy feet. I find that if you just tend the bottom of the pen you don't have to worry about them stepping in the poop. I learned this from watching Beth. Beth and her husband Jerry are the ones I bought the cochins from to breed this past year. At last years show in Calhoun I noticed Beth would tend the bottom of the pens. If there was a poop ball, she would just keep them all pushed to the corners so the birds wouldnt step in it. Cochins are feather footed so it would make an even bigger mess for them to step in their poo. So that is what I did, and I had no troubles.
I saw many folks that I always see. I saw the man that I bought Phoenix from. He is always a welcoming face to see and talk to. Jerry and Beth were there, they are always so encouraging and nice to me. I didnt see any of their birds at this show and inquired about it. They said they had to bring all the stands for the show pens and didnt have time or room to bring any birds. They help out at a lot of these shows. I told Jerry if I had known that I would have shown some giant cochins. He asked why didnt I. I told him I figured if they showed their birds I would be blown away by the competition, even though I bought from their line, its intimidating. Jerry says NO..that I cant be like that, that I have to just get out there and SHOW. Beth said I would have won Champion Large Fowl at this show if I would have shown the giant cochins. (See me beating my head against the wall???LOLLL) I also met a few new folks and talked with them a lot. I saw Brian, another friend I have bought birds from. He was showing there that day. He is always nice to see and talk to.
I know that showing poultry is not everyones bag, but I do get a sense of satisfaction when going to one. Being around all the birds, walking through the aisles of birds, talking and looking at each one. Then there are all the people. Everyone is just so easy to talk to and so friendly. Every time I go to a show I make new friends and I always enjoy seeing them again when it comes time for the shows to start up at this time of year. They serve breakfast sandwiches and coffee in the morning time and when lunch rolls around there is usually someone there with a couple of grills going with hamburgers and hot dogs cooking for the concession stand.
One person in particular I spoke to off and on all day. The competition of course. ;). The guy that had two of his birds in the Continental class and I conversed for awhile. I learned a lot, he was very talkative. I learned that all his birds are McMurray hatchery birds. There is nothing wrong with hatchery birds, but judges..including the one that judged OUR BIRDS...AHEM..you will know in a minute why I said it that way...THEY say hatchery birds are not exhibition quality...ahem. Little did that judge know...he gave BEST CONTINTENTAL....and...and.. oh yes and...BEST MEDITERRANEAN to McMurray hatchery birds. He didnt know they were hatchery birds, but when a lady asked out of the onlooking crowd as he judged birds, if hatchery birds were okay to show, he spoke up to say no, that they were not exhibition worthy...he said, as he gave those hatchery birds of his best in those two classes. Do you know the guy said he snatched that Andeluseon hen out of the YARD the night before the show??? He didnt even bathe her or anything I assume! A slap in the chops for me after all the work I put into my birds. I wouldnt DARE go to a show with an unkempt bird.
So...later...I went up to that judge, and I asked him, politely, why he picked that Salmon Favrolle over my Silver Laced Polish. At least he was honest. He said it was like comparing night and day. Even though they are in the same class, they are two totally different birds, and he just preferred the Salmon Favrolle. So it was just his preference. He did say I have fine show quality birds, that they are excellent looking. Guess my breed just wasnt one of his favorites. :( In a way that is encouraging because at these other shows I hope to get judges that favor my birds and think they are worthy of first place in the Continental class.
So you want to see the bird that beat me out? Well here she is...
I am not saying she is not a pretty bird...but COME ON...look at Laverne!!!
I have never placed before...and so I am going to try and be humble and say...I am grateful I placed at all. This was a first for me...but I don't plan on it being the last...I plan on going further during these next three upcoming shows...Today...I recieved a mug...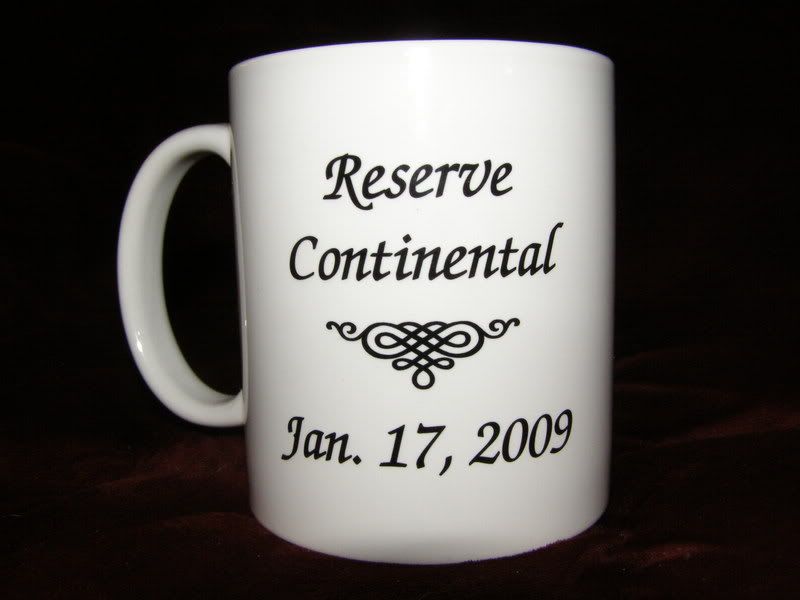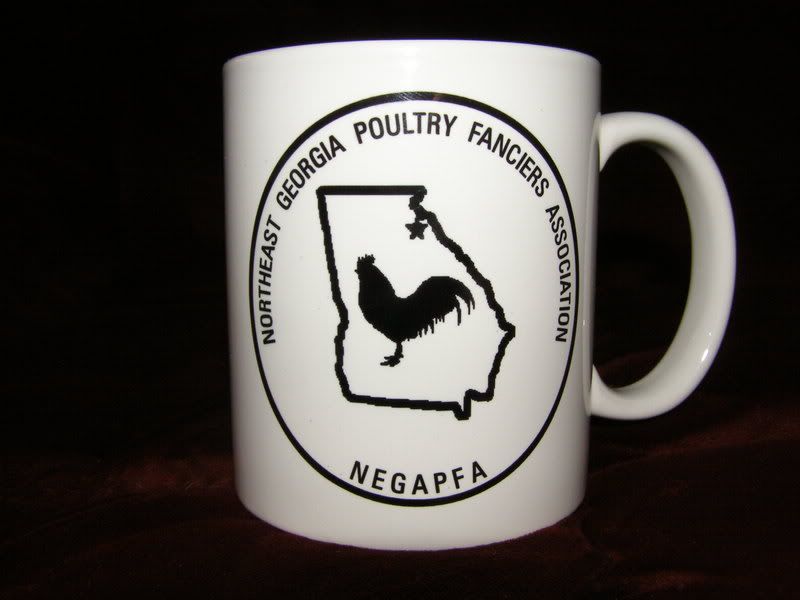 Next up will be a trophy or a plaque...yes..I can feel it! :)
This is my year, I can just feel it! (Enthusiasm without too much overconfidence)
Here are the cards for Laverne...then Shirley..
BV...means Best in Variety
BB...means Best of Breed
RV...means Reserve (Best) in Variety
RB...means Reserve Best of Breed
**************************************
For some time now I have wanted what I like to call 'stick chickens'. Its just what comes to mind when I see them. Their real breed name is Modern Game Bantam. You may remember the picture on my header before the one I have up there now..those are Moderns. That color in particular is my favorite. It is called Brown Red. I now have a trio of these cuties I bought in the sale barn section at the show.
Now, if you want to show the roosters, they have to be dubbed. Dubbing means cutting off the comb and the wattles. I am not really one to do this, and have been looking for an uncut rooster as I think they are much cuter with their comb and wattles intact. I am sure the rooster would say the same if you asked him about it. Let me show you a close up pictureof a dubbed rooster at the show...then I will show you mine. You be the judge.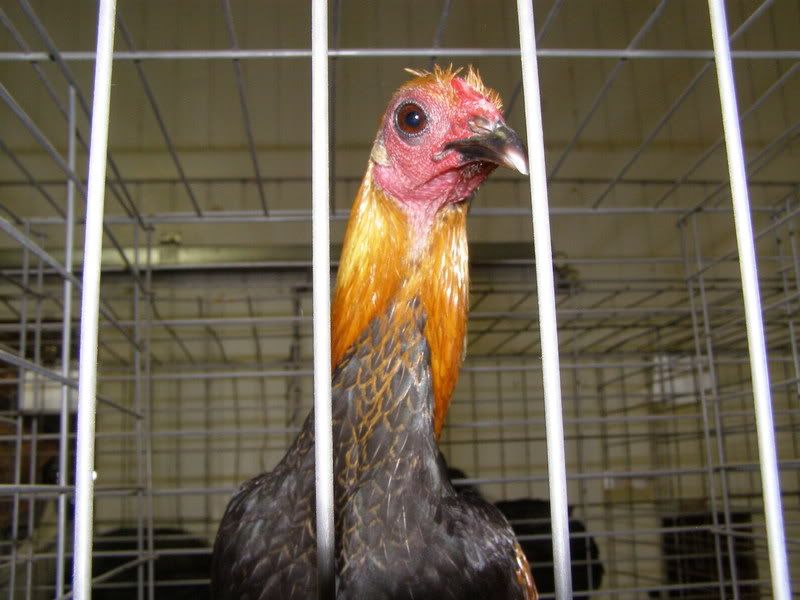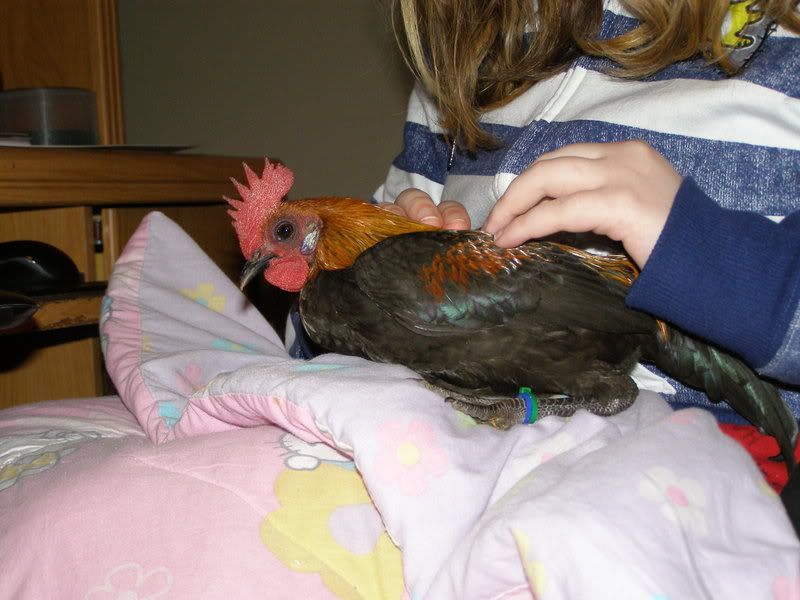 Shelby took to my new sweeties right away. She loves them so much. They are genuinely calm and so easy going, so easy to handle and love on. She named him about fifteen seconds after holding him for the first time...she looked up and said...
FLAME
I said yes, that was perfect. She also named the other two girls. One, the one with the lighter face, her name is Flare, the darker faced girl is named Ember.
Now you may or may not know, we had an Ember once. She was a character. We still miss her terribly today. She was Hanks woman through and through. She fell victim to a predator. I found nothing but a fistful of her tailfeathers at the outside corner of the fence. She was a very headstrong lady and insisted on venturing outside the fence, and it ultimately cost her her life. We name this new girl in honor of the first Ember.
I took a bunch of pictures this morning of the trio, but the girls seem to be hogging the spotlight and I found it hard to take any pictures with them not in front of Flame. Here are some I took...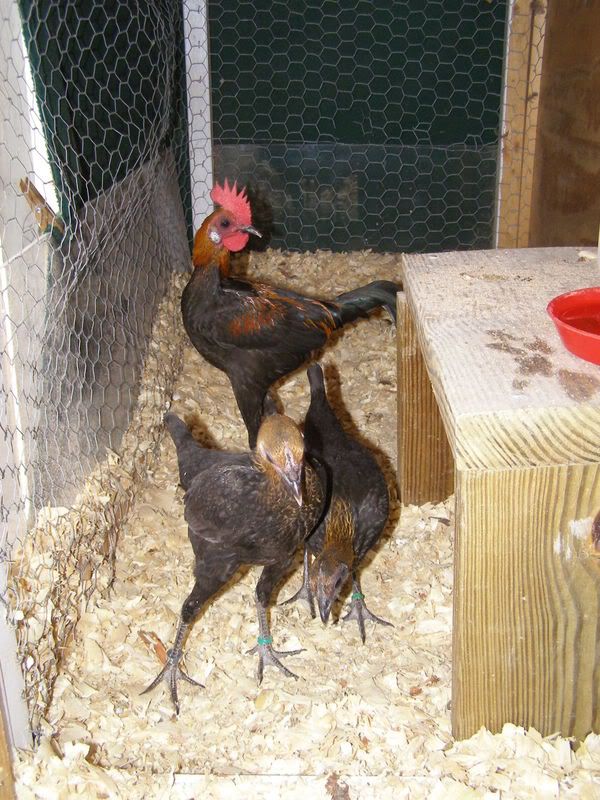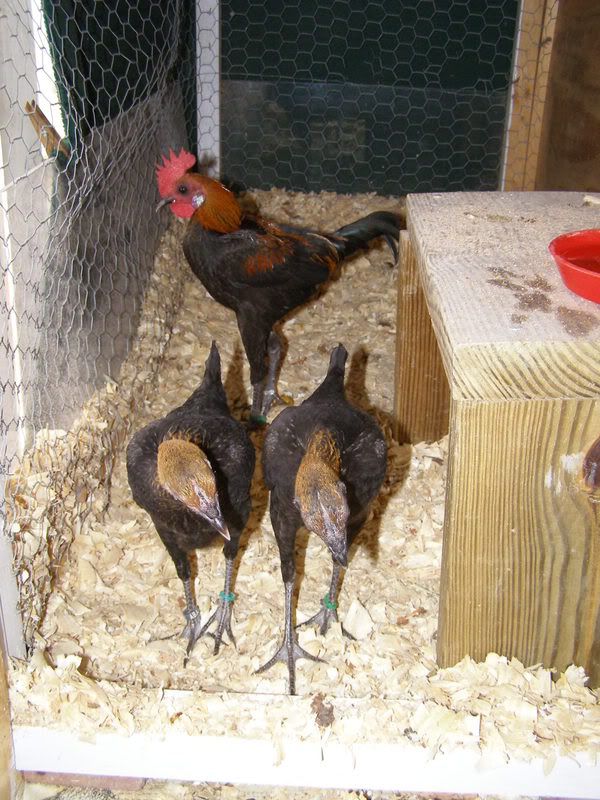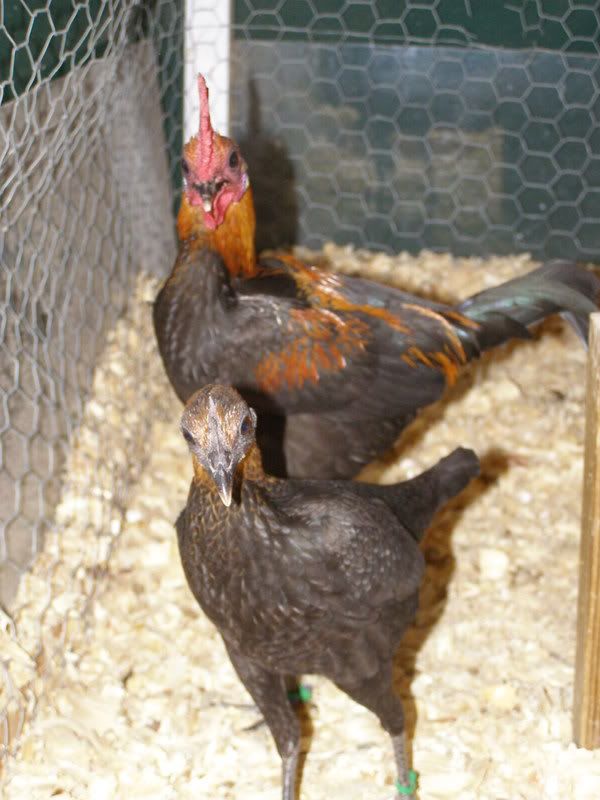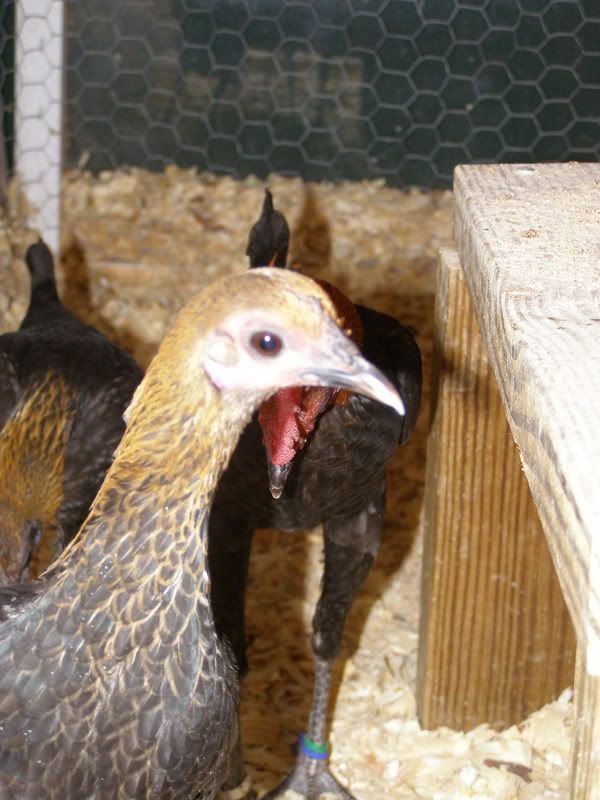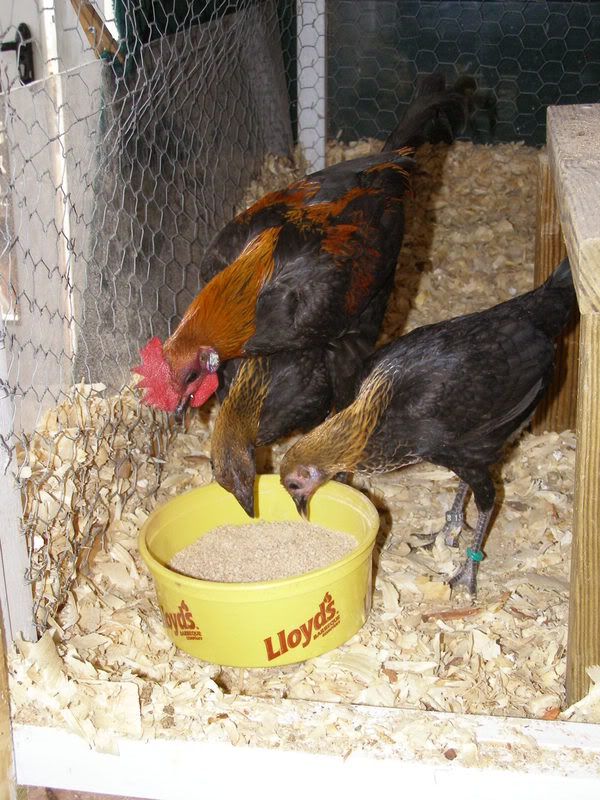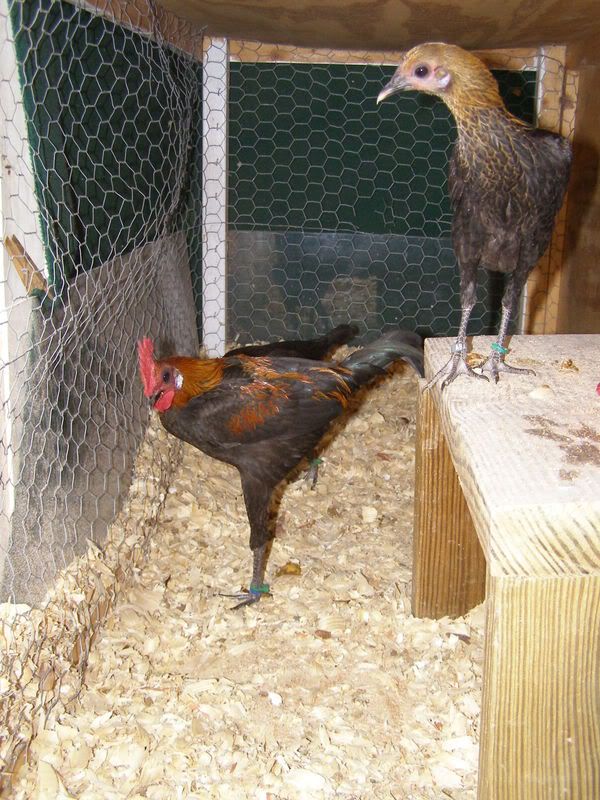 I will be breeding this trio and hope to come out with some nice show birds. I won't dub the boys, so I wont be able to show them, but I will show the girls that come off of these two ladies. Maybe one day they will take that rule out of the rulebook for showing this breed. I would like that.
This has been one LOOOOOONG post for me, but I had to do some talking...and I still cut it a little short, but I got most of it all in. Now I am off to go and play outside on this beautiful warmer than usual day. Everyone have a wonderful weekend! XOXO