I went outside this morning like I always do to let the chickens out of their coops and was greeted with....THE SUN! Oh that glorious ball of fire in the sky. How I have missed it. It looks like we are going to have a full day of sunshine and I am in such a good mood because of the sun shining. It is COLD out there though. It was 25 when I went out, and its not much warmer now. The sun inspired me to take a few pictures. This was originally what I ran in to get my camera for...it just looked neat to me...
Just a fence post...with frost on it...but I thought it was pretty sparkling in the morning sunshine.
Everyone else seemed very happy to see the sun. One of the emu girls even let me give her a good scratching on the back of her neck up to the back of her head. They will let you touch them, maybe even rub their neck a couple of times, but this was different. She was actually ENJOYING this. She was all leaned up against the fence, you could see it in her eyes...it felt goooood. ;) I was looking through my pictures and saw that I havent taken any recent pictures of my emus...so I took some pretty headshots this morning and they were very accomodating.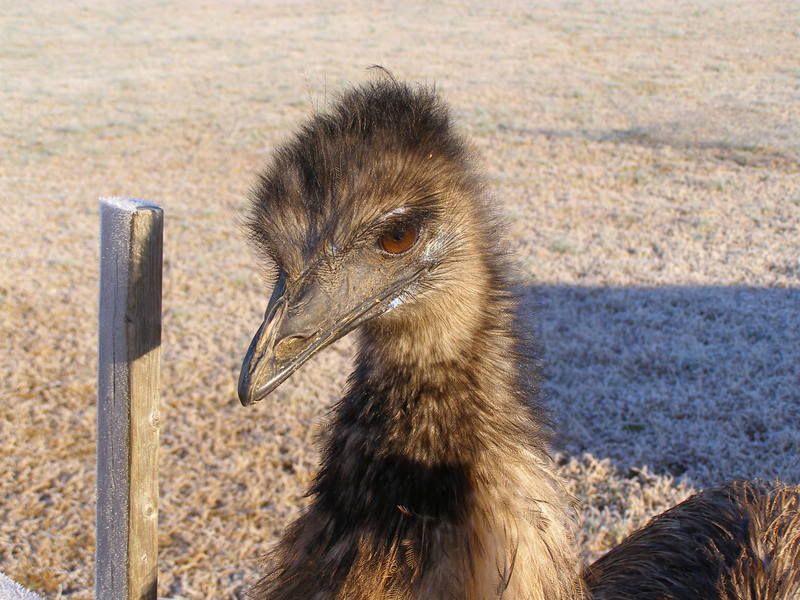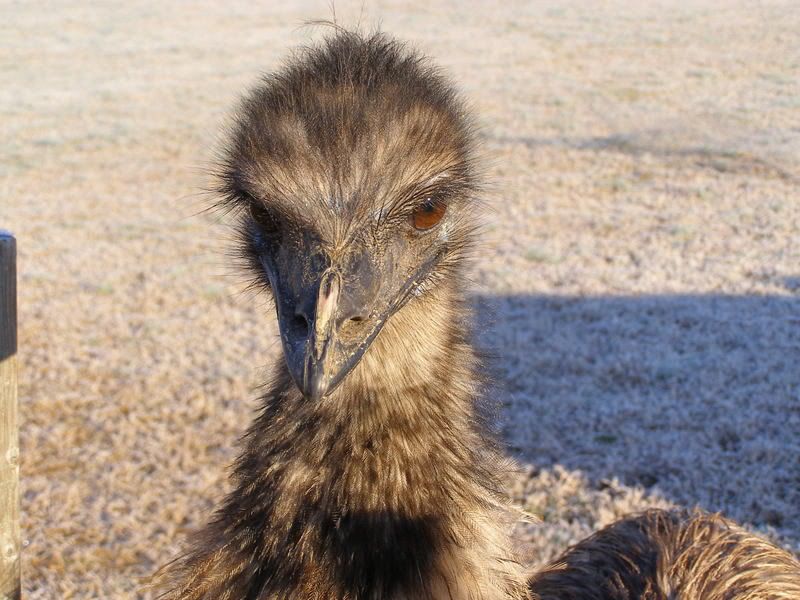 Then Buckbuck was posing for me in the morning sun...he just stood there basking...looking beautiful...this morning was a good morning to be a cochin. They have a lot of insulation for this cold weather we are having.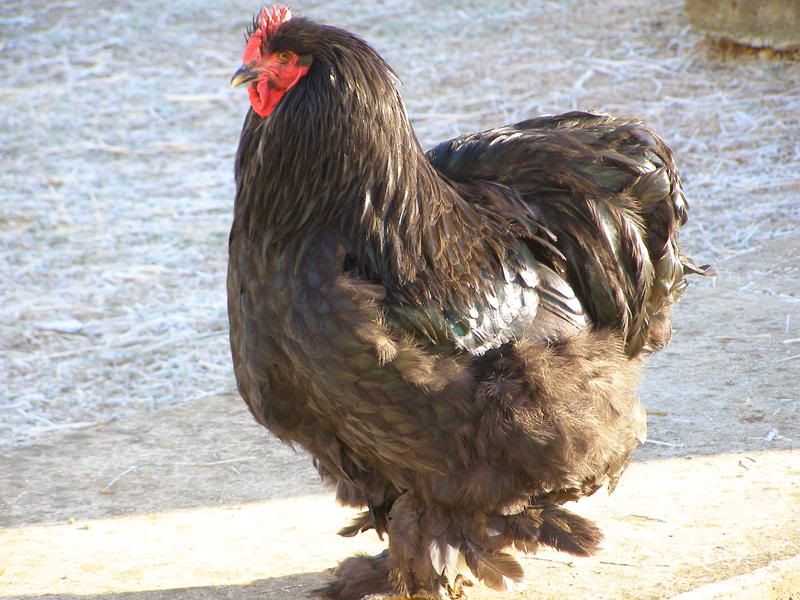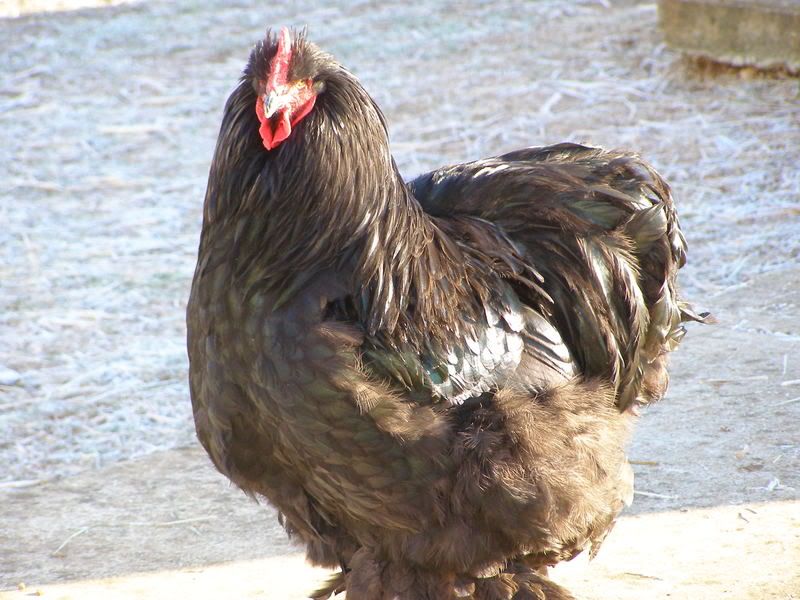 Shelbys cat Fergie (yeah, we gave up on the name TOO as in The Other One) is no fool...she is in her bed under the heat lamp this morning...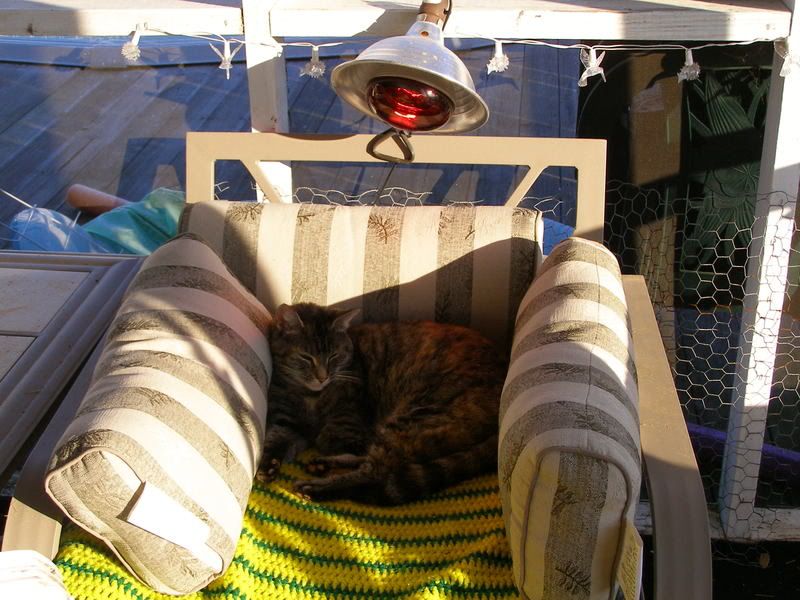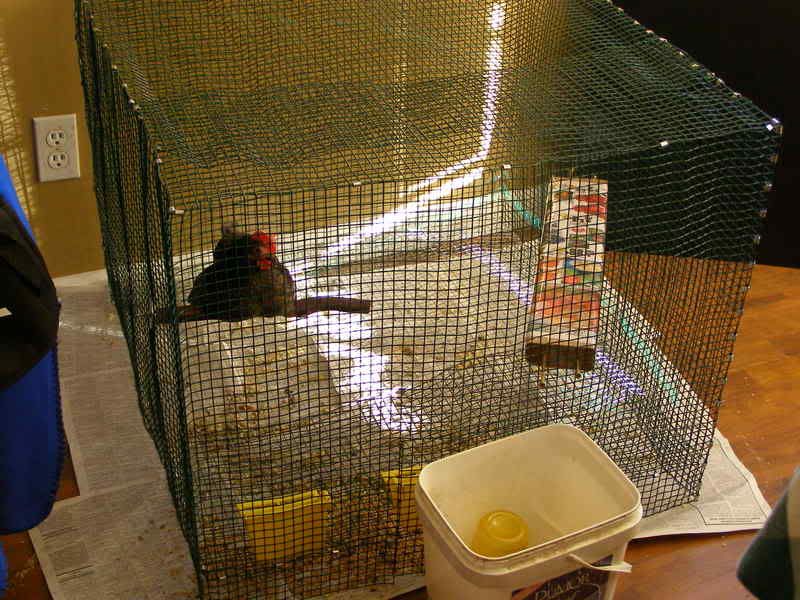 I made Clyde a new indoor facility for winter. His house on the porch, which used to be for both Bonnie and him, is just too big and lonely for just one little chicken. He seems very happy to be inside. I am looking towards putting a trio of modern game bantams in his old house...if I can find a nice trio to buy at one of the shows I go to. So Clyde and Phoenix are now both officially 'house chickens'. I need to make Clyde a chicken diaper outfit before he gets to roam the house like Phoenix does. I made him a wide perch, you can see it on the right of the pen. It is a piece of 2 x 4 that is wrapped in newspapar and then I put a protective 'wipeable' cover of clear packing tape over the newspaper. Screw in the ends hold it on the sides of the pen. Poor Clyde, he will fall asleep on that branch that he is perching on and fall right off. He ends up on the floor of the pen sleeping. This is why I made him a nice wide perch...but he has yet to use it...he loves that stick. Its one of those that has washers, a wingnut and a screw in it...like you would get for a parrots cage.
Ian is home today...and its getting late, time to do some things around here and be productive. I hope everyone has a great day today and I will hopefully see y'all tomorrow morning with coffee. :)