You may notice that my new background is that of raindrops. This is because I don't know of any other weather anymore, this is what we have, day in and day out. We are actually under a Flood Watch in this area today. Surely this means we have surpassed our drought. It seems the weather folks think we are supposed to live in a swamp, or a rain forest, or maybe we are supposed to become an island in the middle of the ocean before our drought is over. I don't really know, all I know is that we are drowning in mud here, and to me, that signifies the ground is FULL!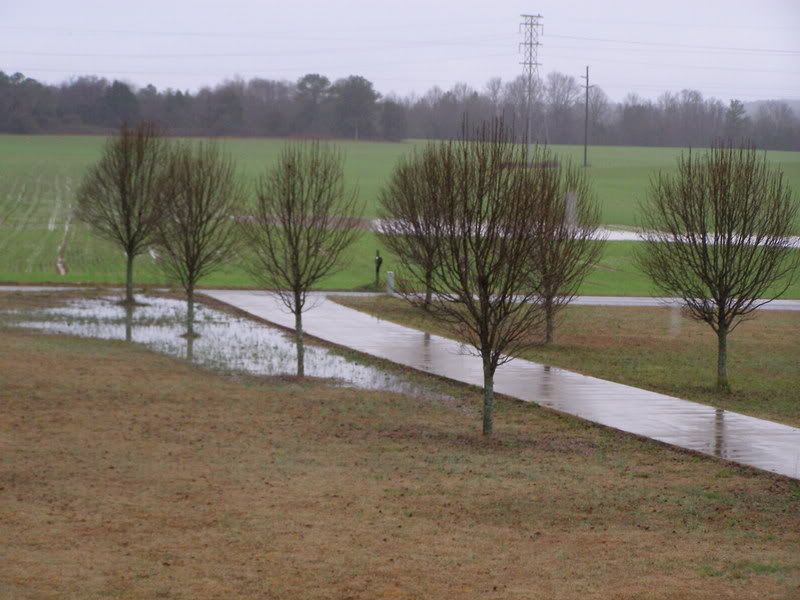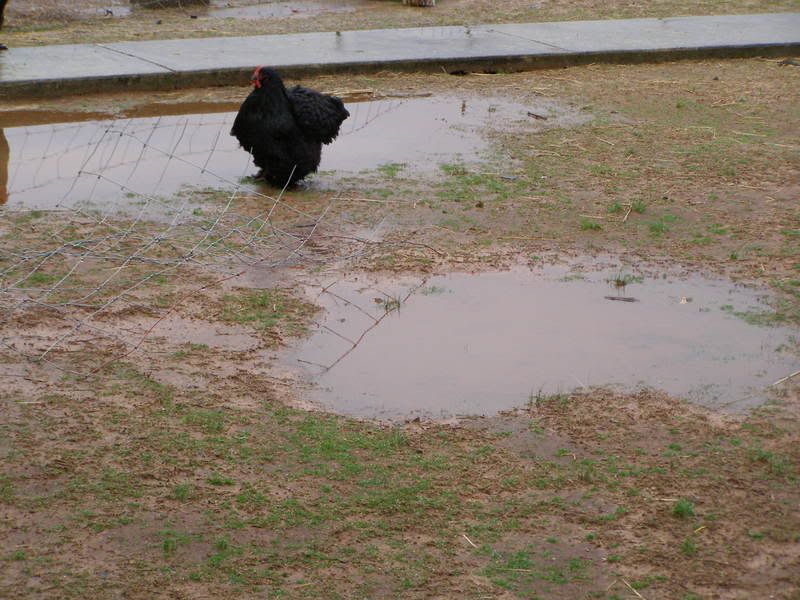 It started to rain last night around 8 and do you know it has not stopped at all since then. How do I feed the animals? I am waiting for a small break to come so I can run out and at least feed them what they can eat right away before it becomes mush, but there is no break. Should I build an ark? Well, at least it isnt cold. We do have that going for us. We have had mild temperatures.
********************************************
I have been away for quite some time I know. It seems there is always something to do, something going on, someone coming over, or somewhere to go lately. I will back up to New Years Eve.
New Years Eve day I went like always to pick up groceries. By the time I was leaving Walmart it was getting pretty busy. I was glad I got there earlier than later. My older sister Patti had decided to postpone her visit for the coming weekend. It turned out this was for the best and in a couple of weeks when she does arrive things will be much more calm and peaceful. Karen was coming alone. If you remember, I was waiting for Tiffany to make the right decision and commit to her previous engagement with us on New Years Eve. I was not pleased because this was going to upset Shelby. When I told Shelby she was mad at Tiffany. She said that it was not right. Tiffany gets to see her other friends all the time. Shelby doesn't. She said as much. She spent New Years Eve mad, and that turned into tears New Years Day morning. She came down from upstairs and I hugged and cuddled her. She said she had believed that Tiffany would make the right decision, and when she didn't, was really disappointed. At this point she didnt want to see Tiffany for a while. Karen SAID she would tell Tiffany that Shelby was busy on Saturday, because you see, Tiffany wanted to come BACK out on Saturday to visit, I guess to try and make up for New Years Eve. Well guess what. That didnt happen. Karen called Saturday afternoon...but Ian and I were gone to take the trash to the dump and pick up some hay from Mr. Abrams for the horse and goats. When we got back we were hit with the news that they were on their way. Ian and I had both agreed we were all 'Companied out' and were ready for a quiet weekend. This changed things now. Ian said he was glad to see that Shelby was not TOO mad at Tiffany. Karen had told Tiffany just how upset her bad decision had made Shelby and did say she was sorry she hurt her feelings...said it to Shelby.
***************************************************************
New Years eve...was...fun, at first. You know, as you get older, it takes longer to recooperate from a night of wine, champagne, and tequila....especially if you don't drink like that anymore. I did not overindulge as much as Ian and Karen, so I was actually able to lay down without feeling woozy after seeing in the new year...Ian had to stay up, he was woozy. Karen had already promptly thrown her guts up as I held her hair. We are old, and we just can't handle it anymore. It took me two days to feel normal again. So now you know, lol, I am not as wholesome as you might have thought. At least I don't make a habit of it eh? ;)
*********************************************************
Lets see, that takes care of Wednesday, Thursday, Friday, and Saturday...Saturday was uneventful even though Karen and Tiffany were visiting overnight. We kept things lowkey. I fixed a nice supper of greek salad and pasta with pesto and sauce, with some breadsticks.
Sunday morning I got up and Karen was already up. She does try to help around here when she is visiting. She means well. She has an obsession with dishes. If there are dishes in the dishwasher that are clean, she must put them away. If there are dishes in the sink, she must rinse and load them into the dishwasher. There is just one drawback to this. It takes me a week to find all my pots, pans, bowls, glasses, silverware and put them back in their place so I know where they are! Sometimes they are just a little off, but other times, I have to go on the hunt. She means well, and I am a nice person, so I dont say anything about it. Its not something I can't fix.
*********************************************************
I spent all of Sunday morning making out the school curriculum for the coming week. Karen and Tiffany left soon after I had finished. After they left I spent time outside catching up with the animals.
*********************************************************
Sunday Tip had had a few accidents on the carpet. They were small dribbly spots on the carpet when she got up from where she was sitting. Tip would never intentionally go on the floor. Still later in the day it happened in the bedroom in several spots. I knew what it was, she has had it once before. She had a urinary tract infection. My poor girl. I felt her tortured pain. For a woman every minute that passes with a UTI is maddening. You feel you have to go, but can't go, and if you do, it is painful. The sooner you get to the doctor and get some antibiotics flowing through you the better. Left untreated, kidney damage can occur. So you know me, I was on the phone when the vets office opened Monday morning. I wanted to be on their doorstep when they opened, but there was no since in it. There was only one doctor there on Monday mornings and she went in to do surgery at 10 am til lunchtime. I was able to get an appointment at 1:40 so that would have to do.
I got Shelby up, we got ready to go, packed up her school books and headed out to Mama and Daddys. They live in the area where the vet is. You might ask why I didnt ever change vets when we moved. We have been with this one for so so long, and I trust them and its worth the two hour drive. I figured since we had to be down there anyway we would make a day of it and visit with Mama. Shelby did her schooling while I was gone with Tip to the vet. Mama could help her if she needed help.
So we got to the vet....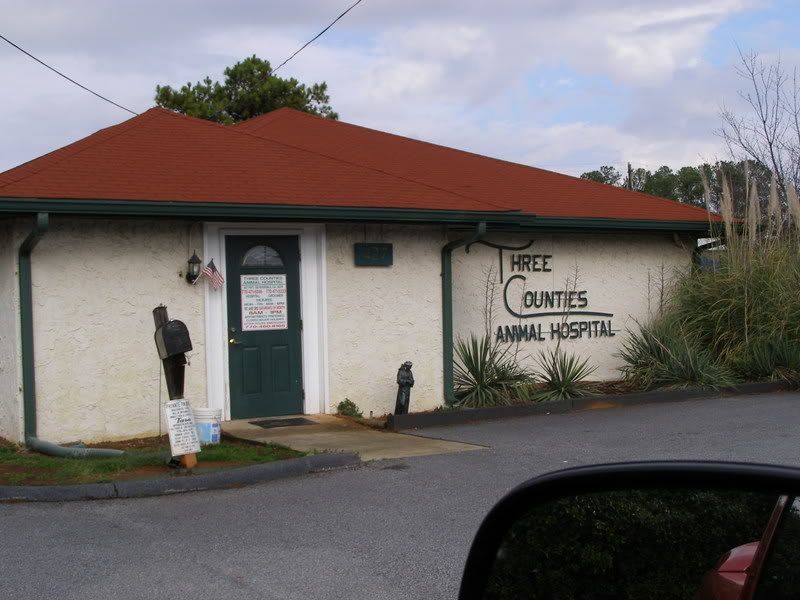 Just like anywhere on a Monday they were pretty busy. I wasnt able to get a urine sample, but the doctor did agree after dabbing her 'area' and said the urine looked a little pinkish. I also asked about some lumps that Tip has. One she has had for some time, several years, and it is growing, but very very slowly. The doctor said that was definitely a fatty lump and not to worry. Another had surfaced several months ago, but not grown. It was on her shoulder area. That was also said to be a fatty lump. When dogs get older, these are common. There was one more in question, it was on her stomach. It is only peasize. The doctor said to just keep an eye on it, and if it starts to grow they would take it out. Tip has her regular yearly appointment in May, so we will address it then if it has grown. My only concern, and I told the doctor this, is that her daddy got cancer and eventually it took over his body and he had to be put to sleep.
So here is Tip relieved and ready to get out of there and go back to Mama and Daddys...
She has had two doses of antibiotic now and is already feeling relief. She has a ten day regimen of pills to go through to kill all the bacteria though.
****************************************
In other animal news...the Golden Phoenix hen is recovering nicely, she is feeling very well and healing nicely.
I have a surprise coming today! Ians friend from work, Tex, bought a new incubator, but it was so big he couldnt get it home in the car, so he has to get it home in the truck later, BUT, the lady he bought it from also gave him eight hatching eggs. Guess who he wants to hatch them? ME! He says they are polish...but doesnt know exactly what kind. He said the parents had a white top, but the rest of the body was kind of gray, with white tips on the wings. This may be a white crested blue, or what is called a cuckoo polish. The cuckoo polish has a white top, but is barred on its body. I hope they all hatch, and I am hoping Tex will let me keep one of them if it is a successful hatch. I know he will if I ask. I want to raise up the babies for a little bit myself, then he can have them when they are bigger. I know he won't mind that either. I will be sure to update on the progress of these eggs on here.
**************************************************
Here I sit, its Tuesday...and its time for school, time for laundry, time to try and get some animals fed here and there in between the downpours. This has been a long entry I know, and I hope it hasnt been too boring to read. I did cover a lot of days to catch up to today though.
I want to try and catch up with all of you this week. I should have the time now that hopefully things are settling down around here into our old routine. Thats about it for now, and should be about all...as this is a long entry for me! I hope whereever you are you are drier than we are and have plentiful sunshine. :)