Good Tuesday morning! The sun has graced us with its presence not only this morning, but all day yesterday. It was heavenly to be out in its warmth. Today should be even better as the weather guessers are predicting a high in the sixties.
Here we are and New Years Eve is right around the corner. I am ready for the new year to start. The days are already noticably longer, maybe only by minutes, but I caught myself coming in at 6:10 and I used to not be able to see my hand in front of my face it was so dark by that time. So we are on our way, I am leaning hard towards Spring. ;)
Fern, I am glad you got the card, sorry it was late! This year was the first year I got my Christmas cards out late. Time just slips away and before you know it, your cards are late! Paula, did you get a warm light set up for your kitty? Glad I gave you an idea for her. :) John, I am sorry to hear you have had so much loss in your life already. Bless your heart...sending out a big hug to you.
Now on to what has been going on around here. After Christmas day we had a few days of recuperation time. A friend of Ians stopped in for the day yesterday. They went riding around in Jays Cooper. Ian and Jay both have small cars that are sporty and fun to drive, so they like to take a cruise sometimes. They ended up coming back with Jay a new Iphone. Ian said he helped Jay spend money. ;)
I spent the day outside of course, since the weather was nice. Everyone was glad to see me as usual. I took a bucket, some Dawn dish liquid and some dish scrub brushes and got everyones waterers cleaned and filled. Got everyone filled up with fresh food. I turned on the heat lamps before going in at dark for the first time in a week. The weather has been so mild we haven't needed it. Last night it did get down to the freezing mark though.
We don't have any major plans for New Years Eve. Shelbys friend Tiffany and Karen, her mother, are coming to spend the night Wednesday night. They will leave on Thursday and then Patti, my older sister, and her youngest daughter with her boyfriend will come. I hope it doesnt rain on Friday. They forecast is calling for it. She hates driving in the rain as much as I do. They will stay Friday through Sunday for a nice long visit this time.
Then thats going to be it for a while. I have enjoyed and I am enjoying all the company we have gotten. We didnt have any for a long time because the gas prices were so high that no one could afford to go anywhere.
*************************************************
I had an incident in the pretties pen area. I don't know what gets into chickens heads sometimes. They lose their mind temporarily or something. A perfect example of this is when I had four beautiful white bantam frizzle cochin pullets. They grew up together. One day, three of them decided to gang up on one and kill the other. They pecked at her backside and ate her from her backside down to the bone. I know this is distasteful, but it happened. It us not unheard of, but no one really knows what triggers it. I have talked with others and they have had it happen.
This time, it was one of my Golden Phoenix pullets I found, huddled in the corner of the roosting pen. Her head tucked tight in the corner she was clearly in distress and frightened and in pain beyond imagination. I pulled her out of the pen. My poor girl. No one was around her so I don't even know who the culprit, or culprits were. I suspect two of the Golden Phoenix cockerals, but have no proof. She was very traumatized. I carried her into the house and cleaned up her head where they had pulled on her comb until it was torn half off her head. Then I cleaned her backside. They had pulled out all her back feathers in an area as big as my fist and then didnt stop there but had begun to peck open wounds into her back. You could see under the two small holes where the muscle was. I cleaned her up with a damp washcloth and took Neosporin and thickly coated her back with it, filling in the holes with the antibiotic. I coated her comb and the top of her head too. She was put into a holding pen and placed on the porch to rest that night. The next morning I put in fresh water and food for her. She was thirsty, but not ready to eat yet. By that afternoon she had a little appetite and ate some. By yesterday she was eating and drinking and didnt seem to be in too much pain (the antibiotic ointment has a pain reliever in it). Until her back is completely healed I can't put her back out there though. Any visible wounds would be obsessed over by the other chickens and pecked at. Last night I brought her in the house and she is warm and doing good this morning.
I have a lot of animals. When one gets hurt or sick, they always recieve individual attention. I do everything I can for whoever needs care. Here on our little farm, everyone matters. Here area few pictures of my pretty girl I took this morning, recovering nicely.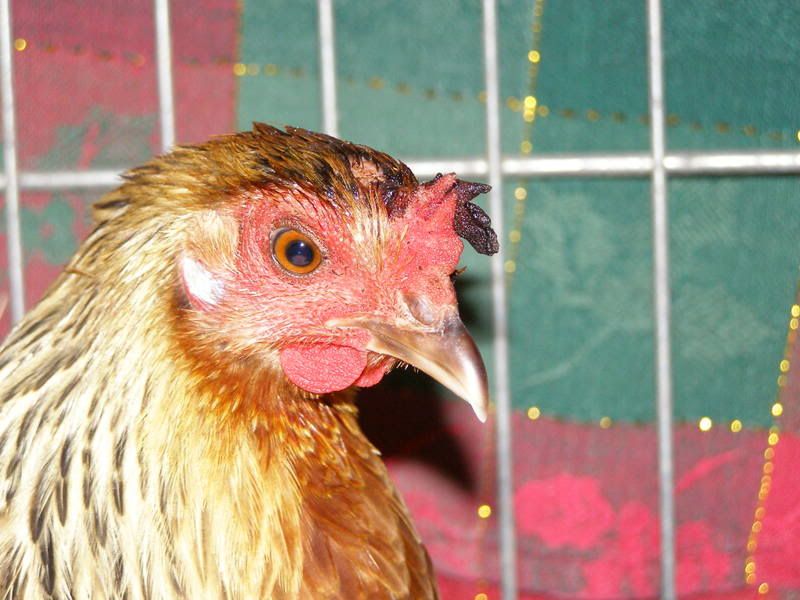 In the second picture you can see the torn half of the comb is black. I imagine she is going to lose this half of her comb. The third picture does not show the full back area, I spared you of that. Her feathers surrounding the area help to cover the bare wounded area. She is not cowering and upset anymore, she seems to be in good spirits. Now its just going to be a long healing process.
************************************************
Now, I am going to go and get me a cup of coffee and do some visiting. :) I haven't had a lot of time to sit down and relax lately, but I think between today and tomorrow I will see if I can't catch up and come by to see everyone on their journals. :)