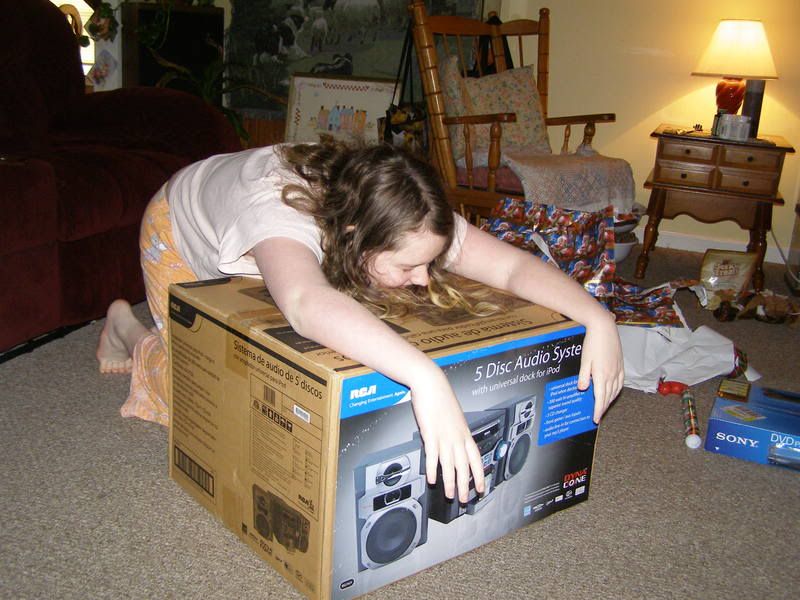 I hope everyone had a nice Christmas. On Christmas eve we allow Shelby to open one present. She opened one to find the David Cook CD. Even though she never watched him win American Idol, she loves his music and after listening to it she announced that every song on the CD was awesome!
I spent the whole day busy as a body can be. I started out early and made the run to Tractor Supply for the animals feed. Then I ventured over to Walmart to get some groceries...and a surprise gift for Shelby. That is what she is laying on in that picture above. I wanted her to get something totally unexpected. It stayed in the truck until she went to bed then Ian dragged it in and I got it covered up til I could get it wrapped. I was so tired by the end of the night I wrapped it Christmas morning early.
After I got back from shopping I started in on the chores outside. I wanted all the animals to have full waterers and feeders so on Christmas day I would be free of chores out there and could be with my family. That ended right after dark, then it was on to cleaning up and cooking. I peeled potatoes, boiled eggs...oh yeah, my girls are still not producing enough...so it was off to Carlton Farms again for some of their eggs to make deviled eggs and eggs for the potato salad. I shucked corn, cut the corn off the cob, cooked it in pans with some butter and bacon to make creamed corn. I made twenty ears. I was cooking corn at 3 a.m. when Ian walked in and said I needed to get some rest. I said to him what I needed to do was get the food finished. I didnt want to be having to cook the Christmas dinner in the morning. The ham was already ready, the turkey breast was a done deal. I went to bed about 3:30 a.m. and got up two minutes before the alarm went off at 7:18 a.m., letting the animals out and began cleaning up my atrocious mess in the kitchen. There were still a few things to do outside. When I have guests coming I make a point to spray off the patio, walkway and the driveway before you get here so you don't soil your shoes from any stray chicken poop that may have been inadvertantly deposited by a chicken passing through that particular area. ;). With that done I cleaned up the screen porch some and then my parents arrived. They arrived a little early so they could have us all to themselves for just a bit before anyone else showed up. We talked, shared morning coffee and Shelby opened gifts from her Mawmaw and Gaddy. A little later Ians dad, his wife Cristi, and Cristi's brother Nelson arrived. I was told I would like Nelson and I did. He was a pretty cool guy. Shelby had more gifts from her Grandaddy and Cristi to open. It was a pretty nice day, not too cold. Everyone would take some time to walk out and see the animals. Ian gave Nelson the tour since I was busy finishing up some last minute things in the kitchen.
Time flew and all too soon Ians dad, Cristi and Nelson had to be going. Erin, my younger sister had come along at the same time Mama and Daddy had, but she had to leave even before they left. She had a friend from work that was out of town and Erin said she would feed and water her cats for her while she was gone. She was also house sitting for someone else. Mama and Daddy were spending the night though...so after everyone else left we sat around and chewed the fat (thats southern for sitting around talking). After I closed up the animals for the night and the kitchen was all cleaned up we sat down to watch Jeff Dunhams new DVD that is out, his Christmas Special. We had a lot of fun watching that. Later, Daddy got some acid reflux happening that wanted to rare its ugly head. He couldnt lay down so we were all up talking and watching Shelby play some of her new games. One of her games comes with some run of the mill games, like Mrs. Pacman. One caught my eye. It was ZUMA! I had never heard of this game until I went to visit Sherry and she had it on her computer. That game is so addictive and frustrating! Fun but nerve racking! You love it, and you hate it too...lol. I don't really get into games that much, but this one is fun I have to say. I got Shelby to try it out. She had never played it. She was instantly addicted. Daddy was jumping in his seat telling Shelby what color was coming next to SHOOT SHOOT SHOOT! LOL...Mama was next to Daddy saying she couldnt look anymore, she couldnt watch it anymore, it was making her a nervous wreck...lol. We ended up staying up til 1:30 in the morning. Finally we all hit the hay for the night.
The next morning I got up to let the animals out, but was soon snoozing again afterwards. I didnt wake back up again until Mama and Daddy came out of the bedroom around 11 a.m. dressed and ready for the day. I made coffee and cooked us all breakfast. Real fresh eggs I had saved from MY girls, bacon, sausage, and cinnamon and brown sugar toast with honey.
It wasnt too long after that Mama and Daddy headed out for home. Guess what I did after they left? Yep, I went and took another nap. I had a lot of catching up to do on my sleep. Today I think I am all caught up.
Now we are moving on towards New Years Eve. It will be a quiet one around here. Karen and Tiffany are supposed to come out to spend the night. We don't have a big party or anything anymore. Its too much doing that right after Christmas.
Then my older sister is coming out with her youngest daughter and her boyfriend. They were here a couple of weeks ago, but the visit was cut short by her oldest daughter and her fiance'. They were in a rush to get back home to study for exams. Patti wanted and I wanted us to have some real quality time together so this time her oldest may not be coming, and her fiance' will definitely not be coming. Not going to go into depth on that one, but lets just say he rubbed me the wrong way, when I always go out of my way to make people feel welcome and comfortable in my home.
So they will be here the weekend after New Years Day...and I am really looking forward to this. :)
After that, we will settle in for the rest of winter and go into a waiting pattern for Spring. This is when the weather is at its worst here in Georgia and the animals don't get any quality visits from me. They get fed, they get watered, and thats about it. It gets inhospitable outside. I will of course be working on the birds that are going to be shown in February. They will need a good dose of Frontline Spray...then bathing comes later. Blow drying and then keeping them clean until the show. Pampering will be in order for my lovelies. :)
Again I want to say, I hope everyone had a wonderful Christmas and lets all look forward to the New Year and what it has in store for us. Everyone have a nice weekend, I plan to. :)