We had a full day of sun yesterday and we are going to have a full day of sun today! I am going to have three full days of no rain, and then Sunday it will pour down according to the weather folks. I can handle that. I can get a lot done today and tomorrow before the rain comes. Yes I can.

I took more than two pictures at the neighbors house, you know, the animals we are caring for while they are away. These are my two favorite though...and you can see Shelbys new hair in these two. This first one is my very favorite. Her hair turned out a little yellow, but its nothing the purple shampoo can't fix. ( folks that color their hair blonde or red will know about this, it takes out the yellow or the brassiness in your hair from these colors)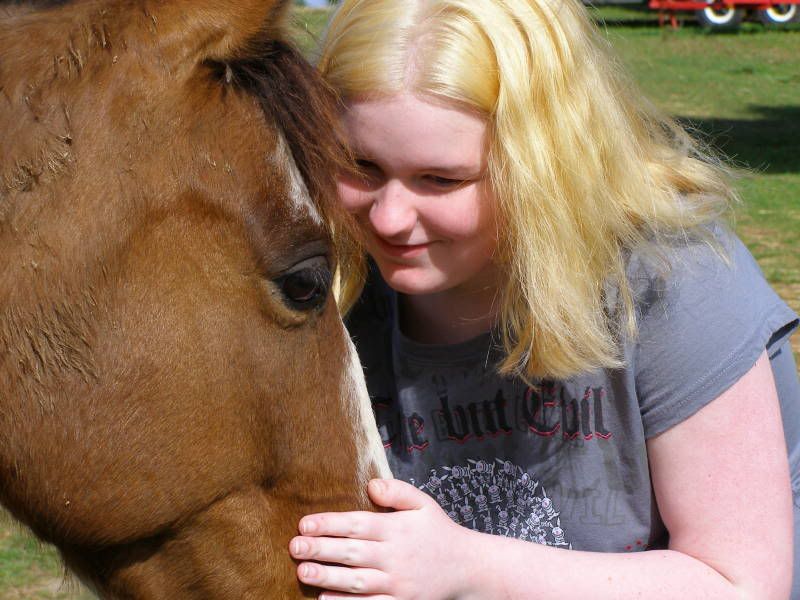 I will post some more tomorrow...I don't want to take too long and miss out on this beautiful warm and sunny day. :)

Ian was off on Wednesday and I had him running around with me to get these I found on Craigslist...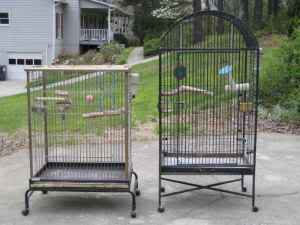 I have been wanting some more good size bird cages for my house chickens Phoenix and Clyde. You know I had to make one for Clyde for the winter. Now he will have a nice real home. Shelby is making her chicken into a house chicken too, so I guess I will be making some chicken diaper outfits for him once he is grown. Oscar is turning out to be a really great chicken. He will get the biggest cage since he will end up being the biggest bantam house chicken. I am going to modify these cages so the high space can be used and not just the bottom of the cage. I have some things in mind to do to them.

Sunday nights high winds had many of our shingles missing and gone off the roof. One of the shingles decided to scrape across the back of the bedcover of the truck (yeah,I left it out of the garage that day, that turned out to be a bad decision). Its scratched up good, or bad, depending on how you want to word it. I need Billy Mayes magic pen for car paint! I hope it comes out in Walmart soon.

So, Ian and I spent a big part of the day going from place to place with a small piece of shingle looking for a match. First up was Home Depot. We don't have regular shingles on our roof, we have architectural shingles, so they are harder to find in many colors. Home Depot had two colors, and neither one matched. So...off to the next place, Lowes. Lowes only had a couple of colors, none matched, but they could order our color..BUT it would be three to four weeks getting here. The man was very helpful though, he said to try a local hardware store in Rome that might have it, so we went there...and...no...they didnt have it either. You would think such a common color as Estate Gray, or Slate Gray, would be easy to find. They recommended what the guy at Lowes said, a place called ABC Supply in Calhoun. So off to Calhoun we go. Low and behold, they had any and every color known to man in shingles, even in architectural! We made a perfect match, got two bundles of shingles and some roofing nails. It was too late for Ian to get on the roof Wednesday, so he started fresh on Thursday morning. I like to be close by in case he falls off the roof, so I was in the garage cleaning up some and feeding the animals early. He used to play soccer, so he has very good balance. I wasnt too worried, but anytime he has to go up on the roof, I want to be right there. I can't catch him and save him, but I can call the paramedics if need be. Thank goodness for all those years of soccer. He still couldnt reach all the places that needed to be replaced. Our roof is pretty steep and he will need help with those so he says he will probably see if Tex can come over on Monday and help him. It might have to be postponed though, rain is in the forecast for Monday.

So whats going on today? A friend of Ians that does a/c work at Ians work is coming by to fix the upstairs a/c today. I have a house to clean, lots of laundry as usual, and I want to clean the porch today. It seems I am very good at making messes lately, so I have some messes that need cleaning up.

Tomorrow is Ians birthday. He is going to be 42 years old. Usually we will spend the day together, but this year he is treating himself to the drag races in Commerce. He is going with Tex and Tex's son. I know he will have a good time, and I want him to have a good time. :) Maybe he will get home in time for us to go out to eat too, we will see.

Well, daylight is burning, and I got plenty to do...OH good news! I have my first baby silver laced polish to hatch at 4 am yesterday morning! AND I got the first ever bantam Silver Spangled Hamburg baby hatched later that day. My future show chickens I hope! I will take some pictures and post them over the weekend.