Yep, almost a week since I posted. I notice a lot of folks slowing down on posting in their journals. Hopefully because you are outside enjoying Spring.

Ian was off this past weekend, so I wasnt on the computer much. I didnt get much of anything done outside either. It rained and rained for days. The news says we are not in a drought anymore, except for the area lakes. Still, the water restrictions are on. Maybe if there werent so many people using the water in Lake Lanier...it could have a chance to fill to pool, but I don't think that is going to ever happen. Not to mention we send water to the endangered protected clams on the coast. There has to be some sort of common sense here. We aren't in a drought, USAGE is UP! But what do I know, I am just a lowly country bumpkin nobody. ANYWAY....

We got a break from the rain, sun was promised on Sunday, but we did not see the sun. Its pretty bad when your solar lights around the flower beds don't have enough sun to work. We thought they were broken, but it turns out after half a day of sun yesterday they worked for about half the night last night before pooping out. That is the way I feel when I don't get enough sun. I feel like a starved solar light!

Monday I did manage to do this...



No, thats not snow on the ground, its lime. If you look on my sidebar list of TO DO's that was one of them. I managed to lime most of the areas I wanted to lime. This should kill off any yucky bacteria lurking in the mud that might make the chickens sick. It seems that Pete has taken over the role of King of the yard. He is a good young rooster for the job. He is a big boy too. He is learning not to be so grabby with the hens now that he is over a year old now.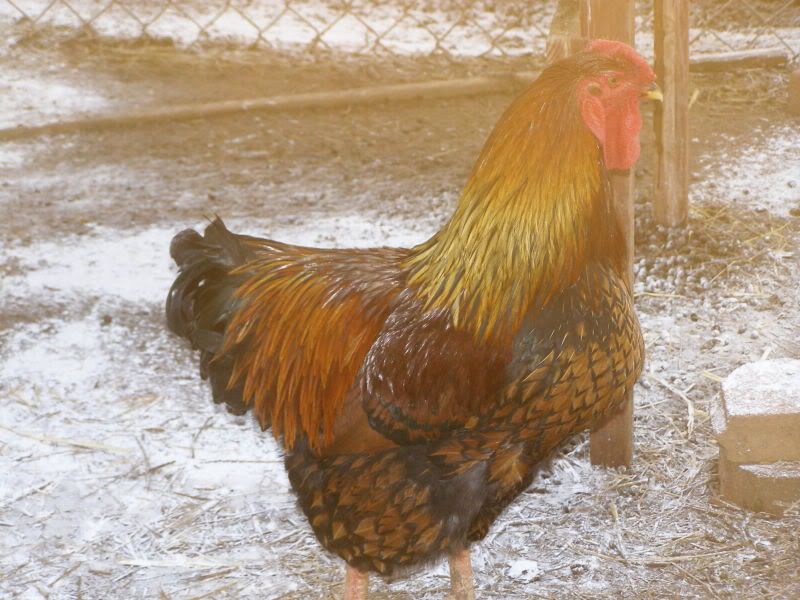 The four polish I originally had hatched for Debbie that she let me have are getting so big and beautiful. I am not quite ready to put them out in a pen yet, so they are still in their box...but on the screen porch, on top of the cattery pen...



I managed to get the trio of Hamburgs in a much larger carrier. They are quite comfortable for now until I build them a breeding pen. I have already gotten two eggs from the girls and one is for sure fertile...it already had veins when I candled it! I have also been placing eggs from the silver laced polish, when I get them. They are sporadic in their laying, but I snatch up every egg I can. Kuckoo has not attacked me, but I still can tell he is thinking about it when I go to get the eggs. I guess he is in mating season mode...oh well, hopefully he is doing his job. ;)

The cat...Mocha...loves the dogs bed...she scrubs all over it and lays in it like this.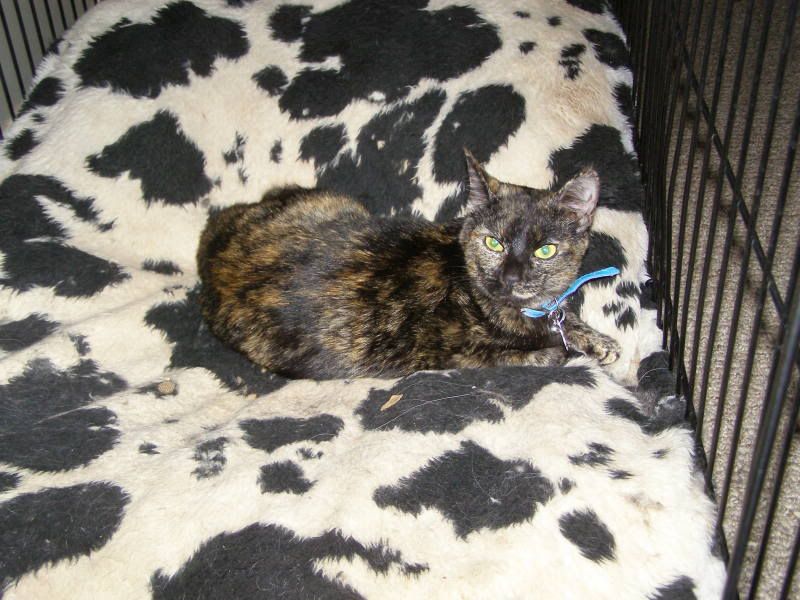 So where is Tip? Oh she doesn't care if Mocha is in her bed, because...



You see...Tip is in OUR bed! Whats better than our bed? The cat got second choice..lol.

There is nothing much going on during the week this week. We are just trying to get through this rain. Saturday is supposed to be in the seventies and sunny. I won't be home though. My niece is having a shower for her wedding that is on May 9th and Shelby, Mama, and myself are going. Erin, my younger sister, hasn't decided if she is going or not yet. That means at some point I hope to cross off washing and waxing my truck on my TO DO list on the sidebar. I like to have a clean vehicle if I am going out of town.

Ian will be going back in time this Thursday. A friend of his that he still keeps in touch with from high school has asked him to go to Fort Lauderdale, to an Iron Maiden concert. Iron Maiden is Ians all time favorite heavy metal band. I don't think Bruce Dickenson even sings with them anymore, so I don't really see the point, but they are going. Kenny, his friend, has a fifteen year old daughter he is taking also. I wonder if she really like Iron Maiden, or if she is just humoring her Dad. So they are going to drive for twelve hours to see that, and then turn around and come all the way back...without stepping foot on the sand at the beach.

You know what I told Ian. I told him if it were me, I would stop at our hotel we stay at when we go to the Atlantic Coast. I would get a room for the night, get some good sleep, and then just as soon as I could see outside good I would be walking down to the beach to step foot in the sand and the ocean...soaking in the sunrise and the sounds of the ocean. Why deny yourself? If your going to be passing right by there anyway? I would do it if it were me. He says he probably won't do it, that he will just want to get back home as soon as possible. Thats sweet, but we know how much this family loves the beach. To pass right by it and not sink your toes in for a bit, just doesnt seem right. I am flattered he will just want to get back home, but still. Either way, I hope he has a good time. Often when you go back and see and do things you used to do as a teenager, like rock concerts, its not as much fun as it used to be. We will see how it goes.

I leave you with a picture of Derby and one of the emus enjoying the last bit of sunshine before it went down yesterday evening...