I got an email from my sister Patti yesterday asking if I was doing alright. She had checked my blog and saw I had not posted in a week. I am doing great, no worries. :) We have been having some fantastic weather and I have been outside a lot. All that is supposed to come to an end and the weekend will be rain filled, but I have had a nice time soaking up the sunshine and getting some things done.

Last Saturday and Sunday I set my sights on getting the double wide pen built for my four Polish that were still in the house on their shavings in boxes, even after the show. I wanted a secure new pen for them, and I needed a larger one to accomodate all four for breeding purposes. It was hard to let them go back outside. Yes, I was vacuuming up shavings everyday, yes, there was pine shaving dust on everything, but I enjoyed them being right there for me to pick up and love. Kuckoo had even gotten to where he wanted me to share my supper plate with him. He soon learned that when the tv tray went up and I sat in my rocking chair, that meant food was coming. I caught him eyeballing my plate one evening, as he stood at the edge of the perch, still in the box like a good boy though. Coco was on the floor of the box, eating chicken food. I put some corn and peas on the perch for Kuckoo and he ate it right up! He didnt even share with his mate. Usually when a rooster finds something really good he alerts his mate and gives it to her, but not this time, he was keeping it all for himself. I did end up giving her some anyway.

Here is the pen I built for Kuckoo, Coco, Laverne and Shirley. I have the tarp on it for wind and rain protection, but since it has been warming so much I didnt completely cover the pen with it. Instead, I had found rolls of that outdoor shade material at Lowes on clearance for five dollars a roll. That is what I put on the front for shade from the sun, but will still let in the air.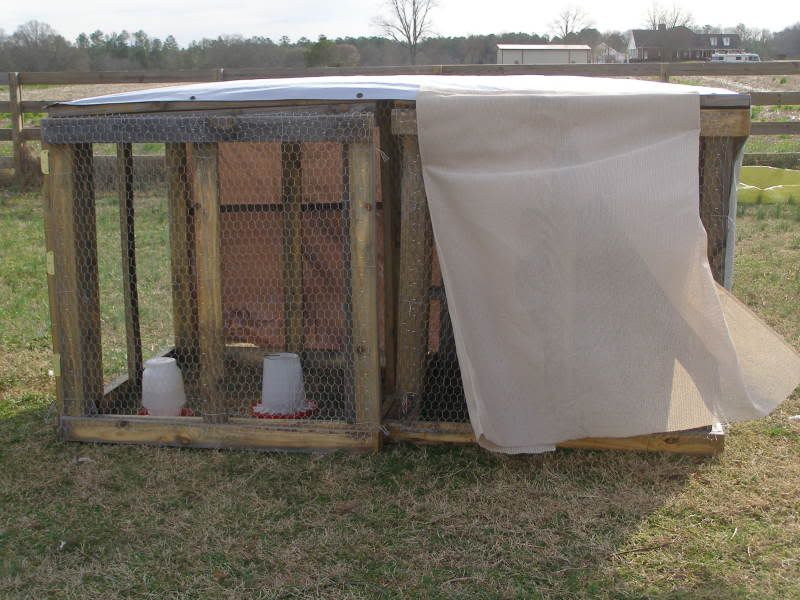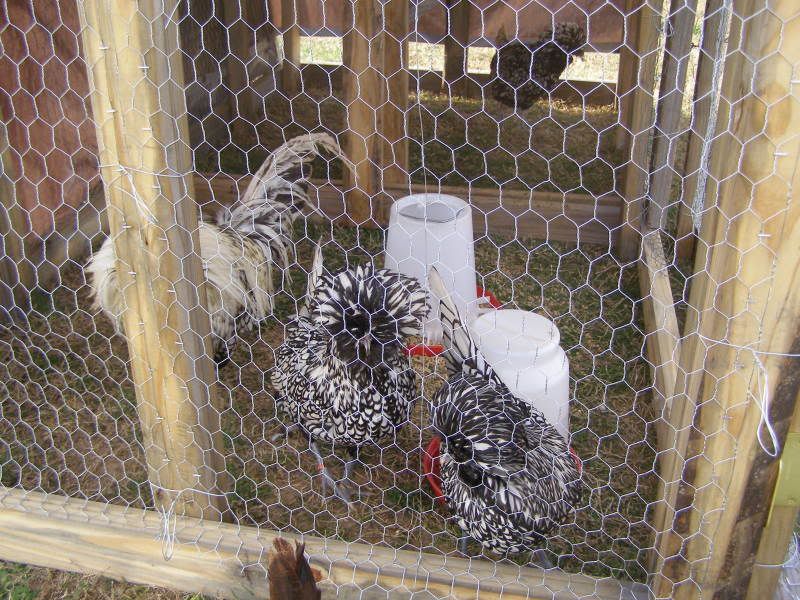 Before I started this pen this past weekend, that Friday I spent the day putting up a fence inside the pretties fence to seperate the three giant cochin boys from the rest of the flock. They dont mean harm, but their testosterone is kicking in and the girls, and even some of the boys (poor serama boys) are showing this development. I will show you in some pictures to follow. I have named the three Larry, Curly and Moe, because they are indeed three silly stooges. ;)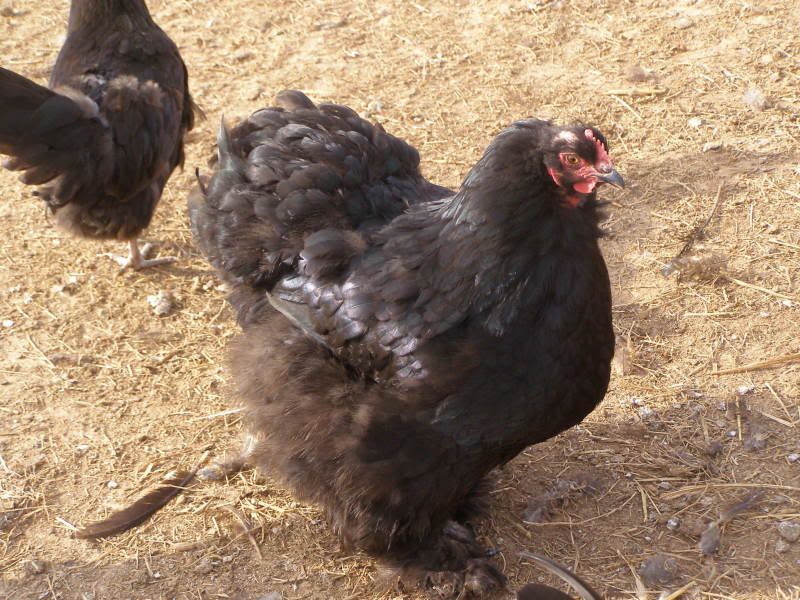 In the last two pictures above you can see where the boys have grabbed the head of this hen to top her so much she is going bald. Eventually the feathers on the back would disappear from too much mating too. In the last picture you can see one of the little serama males has some feathers missing on the back of his neck. The cochin cockerals will grab anything and try to mate it apparently. Poor tiny fellas were getting the short end of the stick on this one.

Look at the brown and black hen in the middle of the last picture. I have three of these hens. They are a made up chicken of mine. A cross between white silkie hens and a golden phoenix rooster. One of these girls got sneaky on me and had a nest of eggs in Derbys barn behind a bin under the pigeons cage. I candled the eggs and kept five of them that were already developing. What this hens offspring would look like was a total mystery to me. She could have been mated by any number of breeds of rooster, from a serama to a giant cochin, to a golden phoenix rooster, to a polish. I thought it would be interesting to see these five eggs hatch and grow up, so I put them in the incubator. Here are some pictures of the mystery chicks. Along with them in the brooder right now is Shelbys Salmon Favorelle, named Oscar. I found out by reading on where else, the internet, that at about two weeks you can easily tell the male from the female on this breed by looking at their wing color. Black, a boy, brown, a girl. Oscar is a male, and in Ians words I quote "GREAT, another rooster!" as he rolls his eyes. Also in with them are two of the Brown Red Modern bantams.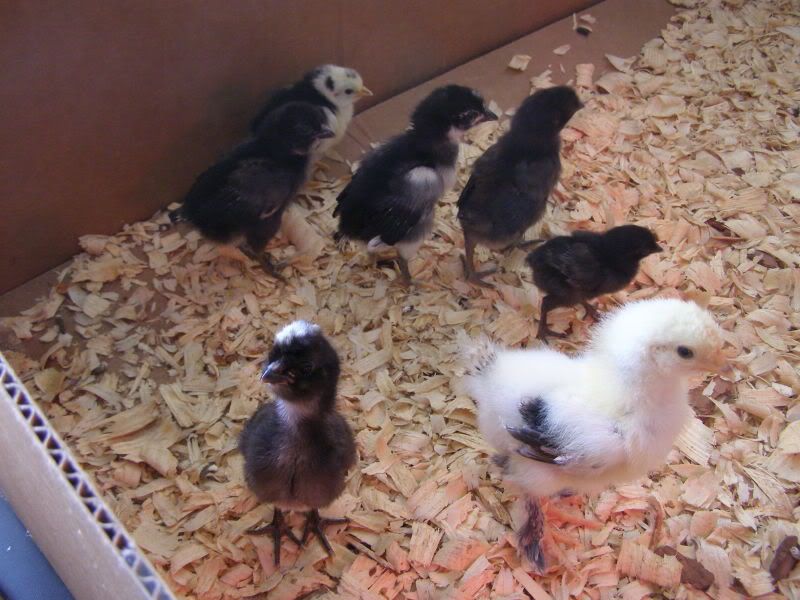 Just so you know what your looking at, here are the two brownreds...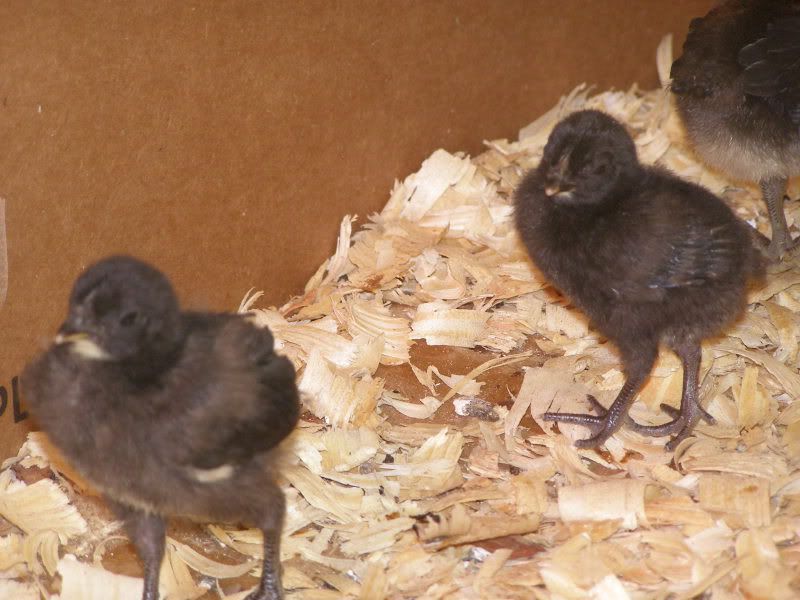 and here is Oscar...



This little chick has a bumpy head, so I am guessing he is part polish...I love its little blonde fuzz on its head..



Here is a picture of a brownred just born this morning...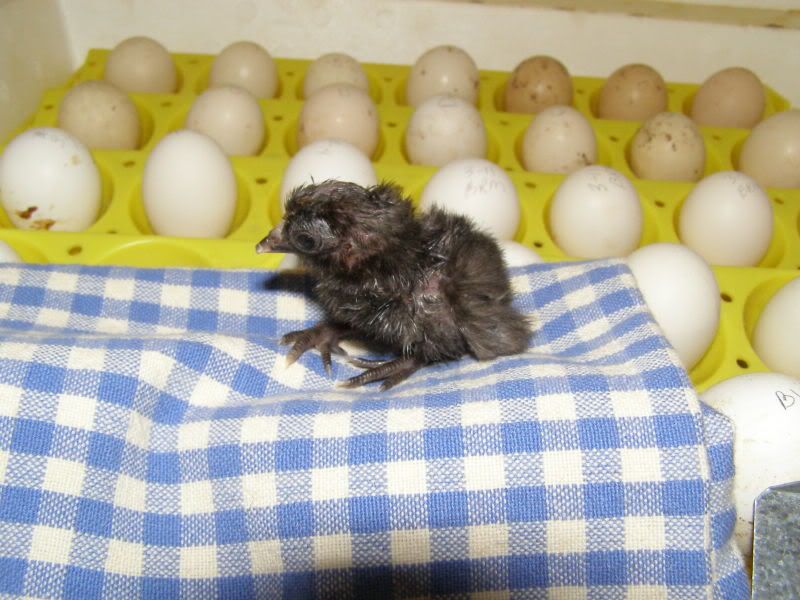 So moving on through this week...Monday the two kitties went to the vet to be spayed. Shelbys cat Fergie is not a very good patient so they gave her a shot to knock her out to shave her belly to look for a scar. Why you might ask? Because since she has come to live with us she has not gone into heat. Now I know most cats dumped by the roadside are not fixed and this was very unlikely, but this time, it just so happened there was indeed a scar, and she was already fixed. Since she was already knocked out and needed a teeth cleaning I went ahead and had that done instead. Mocha on the other hand, we knew was not fixed as she came to us as a tiny kitten on the run and has gone into heat several times (its very annoying too). With Mocha fixed, Fergie and her shiny white teeth, booster shots taken, I picked them up at the end of the day and we came home. Mocha is resting up in our bathroom on a comforter and Fergie is already back into the groove of things.

Being away from home all day Monday, and dedicating the whole weekend to building that pen, my house had become quite a mess. It doesnt take long around here for that to happen. I also needed to clean out the chicken boxes and take them out of the house. Tuesday and yesterday was spent catching up, or trying to at least, catch up on laundry, dishes, cleaning, that sort of thing.

So here I sit, finally making an entry. I hope it wasnt too long. I usually try to keep it a little shorter than this, but it has been a week after all. I took some pictures this morning of the peafowl, goats, emus, and horse. I havent posted any in a while and the peafowl have grown so much. I leave y'all with some pictures from this morning. Have a great Thursday. :)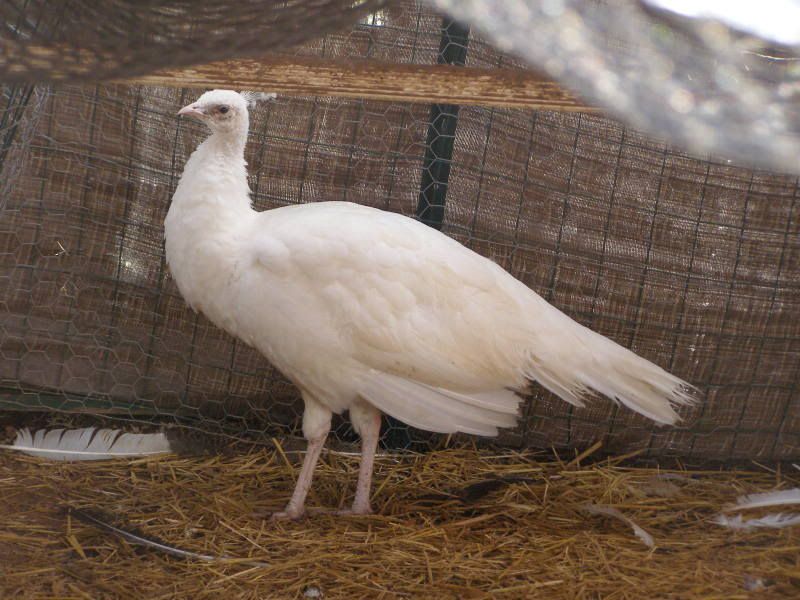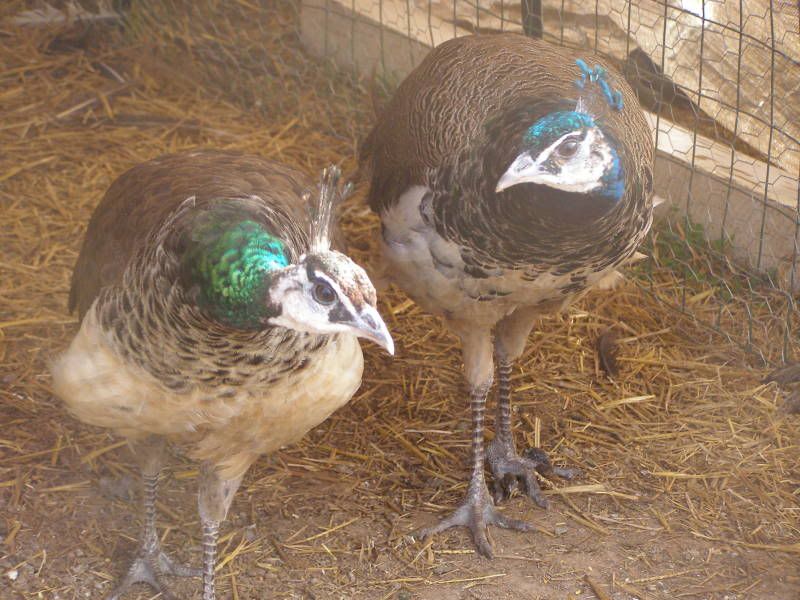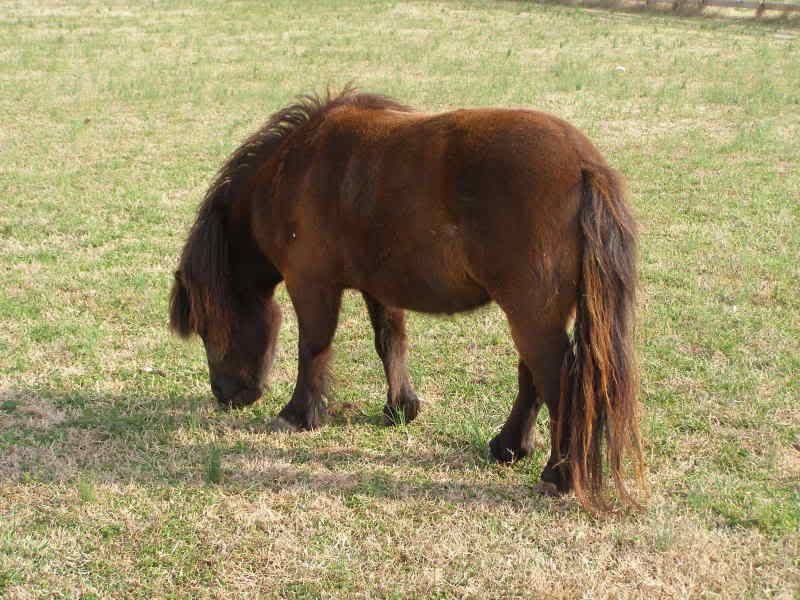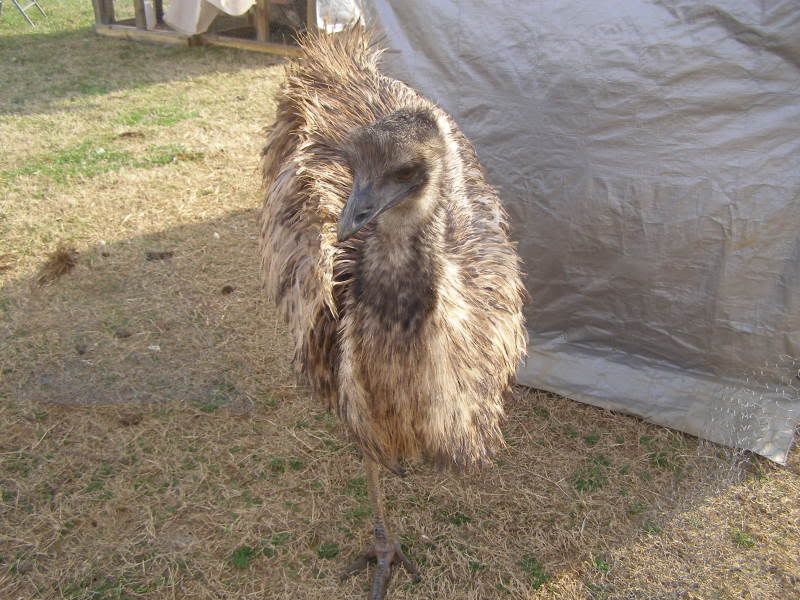 I had an incident happen over the weekend happen between the peafowl and the emus. Do you see this emu? They have big ole bodies and little tiny heads. In those little tiny heads they have a tiny little brain. They do the best they can with what they have. You see, the emus protect my animals. Anything foreign that is not supposed to be in the yard is promptly chased down and stomped if at all possible. Birds that are penned are not recognized when they escape their pen. The emus cannot make this connection. I learned this valuable lesson over the weekend when I pushed the doorway to on the peafowl pen and the wind blew it back open while I was fetching water for the peafowl and the white peahen ventured out of the pen. I turned and the emus had surrounded her and were raring up and trying to stomp on her. I went running over to save her before they killed her. I thought they had already done her in, but I held her and checked her over and she was going to be fine. Meanwhile the peacock has escaped during all this commotion. He took flight and the wind easily carried him high in the air. First he flew to the fence and perched for awhile. Then he easily flew (wow can peafowl FLY) onto the roof of the house for awhile. It was quite windy and warm and the roof was hot. Eventually he flew from our roof across two and a half acres to the neighbors shed and under the overhang onto a large plastic paint can. I couldnt risk him flying back into the yard while I was trying to catch him. The emus were aware and would be on him before I could do anything. So, I enlisted Shelbys help to stand guard inside the fence while I went around to the neighbors shed with a net. Luck was with me and he came quietly. I got within a few feet of him and put the net over him easily without a struggle. I took him back to the pen and everyone was once again safe and sound.

In light of this development, I can see that the peafowl will always need to be in a covered pen area. Right now the pen they are in will do, but they are growing and will need to have more room very soon. I am waiting on some fencing I made sure Lowes had on order to come in and then I will be able to make them a bigger enclosure where I can see them much better and they will have a lot more room, and be safe at the same time.

NOW, I am going to end this entry...y'all have a good one. :) OOPS, forgot to add the Eddie and Troy into the picture flow..