Halloween was so much fun! We went and met with Dirk, Nelishia, and Katie at a huge church that went all out for trick or treaters to have a safe Halloween. There were so many vehicles decorated up and lined up giving out candy in the parking lot. We were late leaving and it turned out that Nelishia and her family were late leaving and we ended up getting there at exactly the same time. We parked up on the hill and took a few pictures up there before going down to the trunk or treat. There was lots of hugs too! She is just such a wonderful person, so full of life and love, just like I imagined she would be. :) Katie is just a living doll. She is such a sweet little girl. She was shy at first but warmed up to Shelby fast. It was funny because she held Shelbys hand the whole time and just talked away to Shelby. Shelby was so good with her. Dirk is so nice too. He is the genuine article. That is one thing I loved about it all. We were all ourselves. I think we all felt pretty comfortable with each other and I felt like I already knew them and this wasnt the first time we were meeting. Ian can be kind of quiet, but I was glad to see Dirk and him were really talking it up.
After the kids got their candy Katie got on some of the inflatable slides and whatnot. She loves those. She tried the rock climbing, thought she wanted to do it but that first jolt on the line to put her up on there worried her I think and she said she changed her mind. Before they could get her belts off she wanted to try another section of the wall, but again, it was just too much for her. She is four after all. To even think about getting on that rock climbing wall is brave to me!
I wanted us to be able to do some more trick or treating at the mill village near our house, but it was just too dark and too late by the time we got there. Shelby didnt seem to mind and said she was about ready to go home anyway. Well, they had come all this way and we were so close to the house I asked them to come on over if they didnt mind a little mess. You know how it is when your in a hurry, getting ready to go somewhere and you leave everything lying til you get back...like a towel you had wrapped around your wet head, make up, brush, things just kind of in disarray. It seems I always have some sort of mess outside around the patio that needs cleaning up, and I did this time too. I just told myself they would have to like me and my mess. ;) They didnt go running back out to leave, so I guess it wasnt too bad.
We got in and Tip had to do her usual...barking at new people. She is so silly. Once she settled down she really took to Dirk bringing him toys to play with. She was even trying to nose his glass of drink! That is overkill though, and I told her to stop that. You see, when I have a glass of drink with ice in it I will almost always give Tip some ice from the glass. I won't tell you HOW I give it to her, but THEY got to see how I give it to her...lol. Its too redneck. Okay, I will tell you, but you have to promise not to lose any respect for me. I shoot the piece of ice out of my mouth up and out and Tip catches it. Okay, now that you have a visual of THAT...we can move on. ;)
We visited and sat and talked and just really all hit it off so nicely. Katie was mezmerized with all the toys in Shelbys playroom and dived right in. If you read Nelishia she says it was a mess, but believe me it has been a lot worse than what Katie did. We all picked up the toys before they left. She said a lot of times when Katie has a friend over the mom won't make their child help do some cleaning up from playing before they leave. Nelishia said they didnt want to be like those folks.
I took Phoenix out of his cage (he and Clyde are inside now) and brought him over for Nelishia to hold and pet for a while. Phoenix loves any and all attention. He loves it so much that when I put him back up and got out Clyde, he knew it and was pacing and making noise the whole time...yes, thats right, he was JEALOUS. I think Nelishia really enjoyed holding my sweet little boys. Nope, they didnt poop on her either. Both of them are pretty good about letting you know they have to poop and will try to get down off of you.
I hope I can get over to their house now soon and have a nice visit. I know this is a busy time of year with the holidays coming up, but I plan to squeeze in a visit somewhere sometime soon. :) I really enjoyed the company and you know what is weird? A lot of the time Nelishia and I would catch each others thoughts, we would be thinking the same thing right before the other would say it...lol. Talk about being on the same wavelength! That usually only happens when you have known someone forever.
Alright, enough talk. Here are some pictures.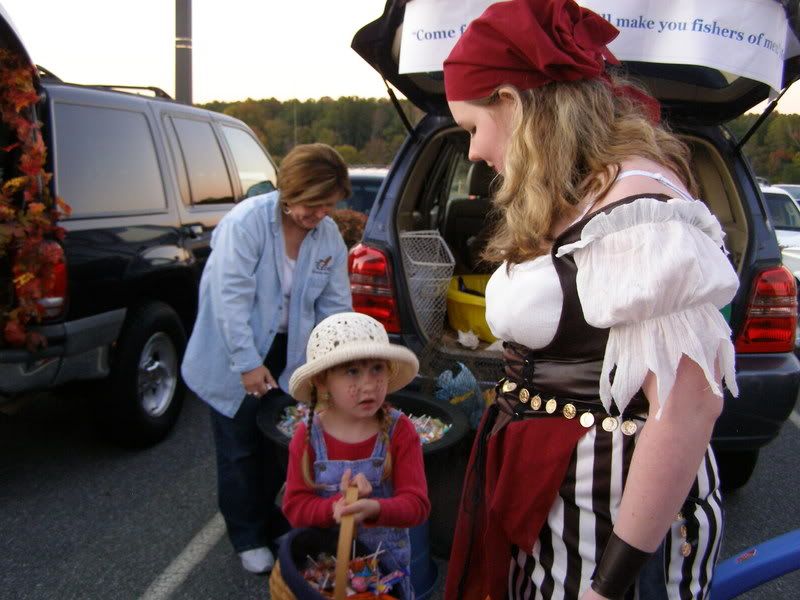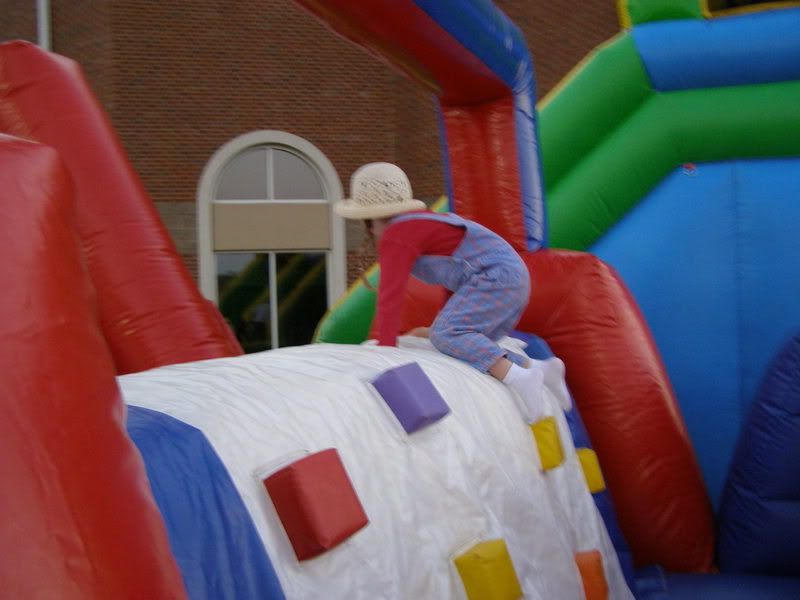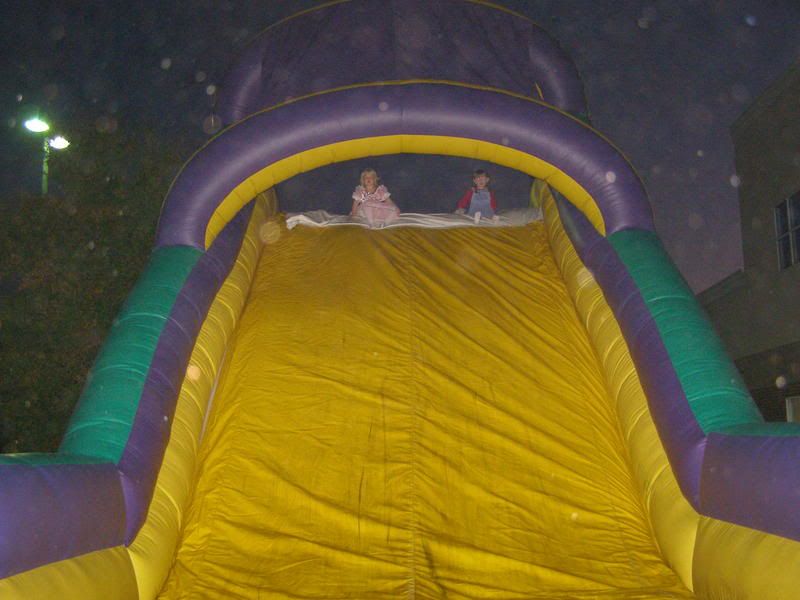 Another funny thing I just though of...when I called her to say we were running late she said that was okay that while Dirk was driving she was putting on her make up...what was so funny is I said REALLY? I am doing the same thing!! My hair was a mess. I forgot that my hairdryer had pooped out on me and didnt get to blow dry it straight. Oh well. There I am, in all my glory. Ian says I shouldnt worry so much, but I am fat, and thats a fact. I havent been comfortable with pictures being taken of myself for a long time. I never give up though, I keep on trying to lose the weight. Even if I am 80 years old I will always battle it til the end. I won't give up. In the meantime Ian is right, just be happy to have memories of this good time we had together. So that is what I am doing. :)
Here are some pictures of Shelby in her costume. She is a pirate of the female persuasion. She looks so grown up! When did that happen??? ;)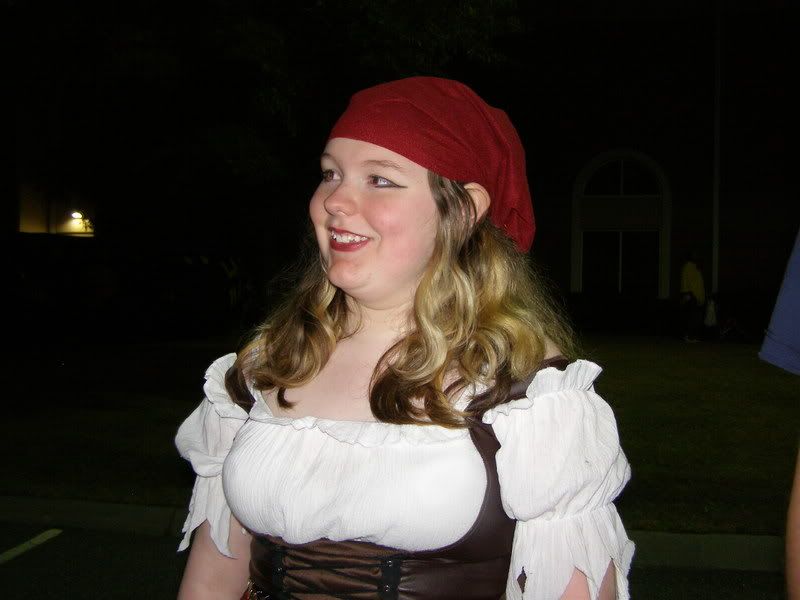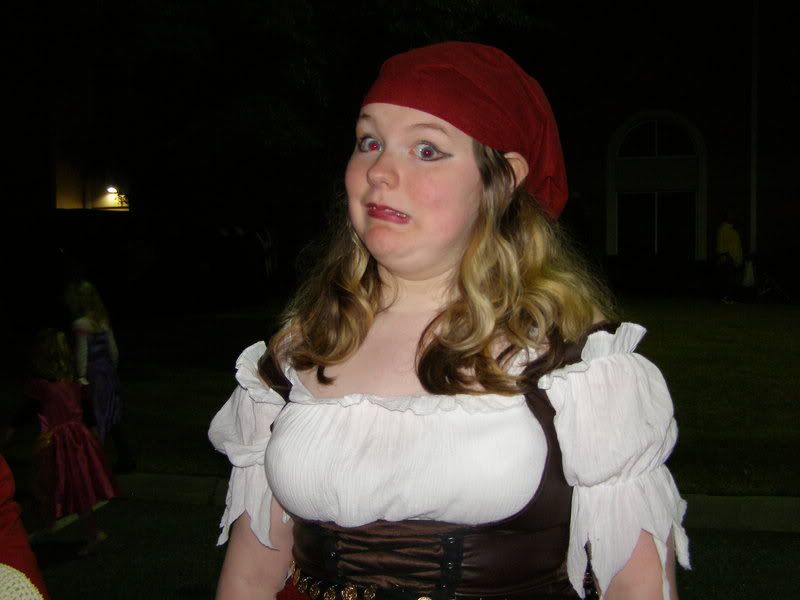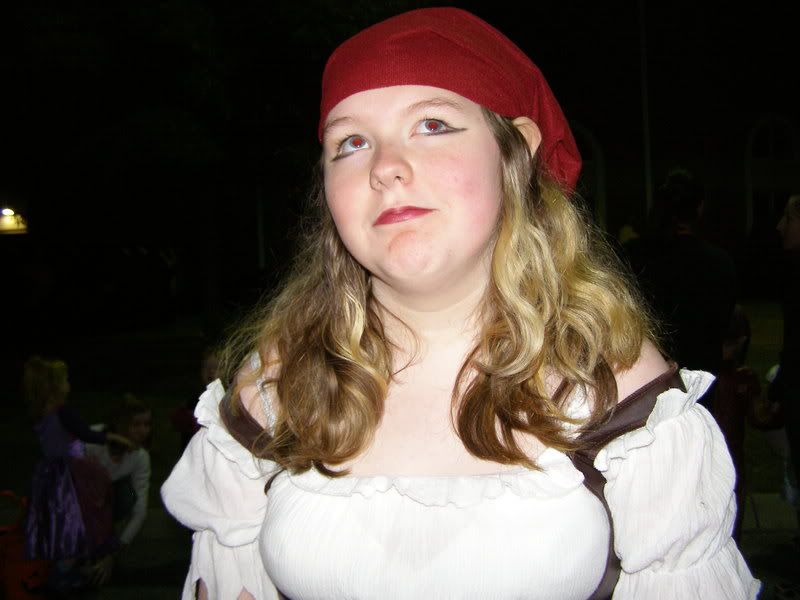 I just realized that all the pictures are not on Photobucket that were supposed to load! I had some of Katie on the rock climbing wall...so I will have to go back and load those and then I will post them on the next entry.
HMMMMM...how did Dirk escape my camera shots? Beth, you pointed something out that I will have to remedy when we all get together again. :) Up until his camera pooped out on him he was taking pictures too so in all fairness I was trying to stay out of his way while he was taking pictures too.