After leaving the Alligator Farm we had looked through some coupon books and ads and saw an affordable scenic cruise and decided that would be fun and something we had never done before while down in St. Augustine. We paid for our tickets and were a bit early and so we waited on the dock. As we stood around we had a pirate guy pass us and he was into his part completely as he passed us saying AY MATIE in a growly voice. We had seen the pirate ship but didnt know that it was taking off soon, it was due to leave port just fifteen minutes before our cruise. As they left I took a few pictures. Shelby wished we had known about it so we could have taken that one instead. It was a different kind of cruise though, not scenic, it was more interactive with the pirates with songs and games and such. It looked like a lot of fun and we promised we would do that the next time we came to Florida. Next to that, for a teenager, I am sure the scenic cruise was lame, but we enjoyed it anyway.
The cross you see was erected by the Catholic Church, and you can read about it here:
Here is the best picture I took of the giant steel cross...it was beautiful in the sunset.
Even if you are not a religious person, this has to be awe inspiring.
It was dark when our ride was over and we were more than ready for supper. I had been looking up some local restaurants independently owned and we settled on a place called Hurricane Patty's. I had no idea what it was going to be like, and it was somewhat of a surprise when we got there.
Here is what greeted us at the door! I giant lobster, or shrimp statue.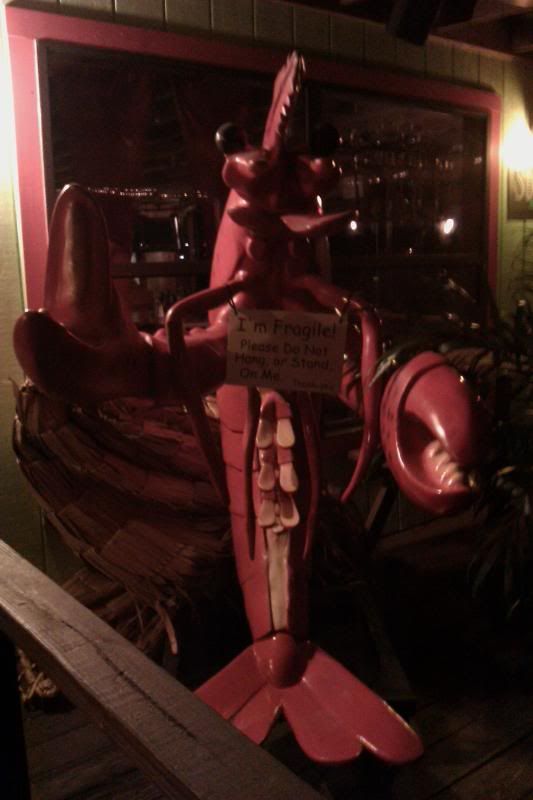 My battery on my phone was going dead and so the flash didn't work since it was low on power, but I still wanted to get a picture of it anyway.
This was a waterfront bar and grill type place. The night life was in full swing when we arrived. We usually don't eat at almost nine o'clock, but this night we did. There were lots of people on the deck outside eating, talking and having a beer or such. When you walked in it was deserted in the dining area, and the kitchen was about to close, but we squeezed in an order before it was too late. The food was fantastic! Delicious! We all enjoyed it very much. We could see the bar area and there was a small crowd of locals having beers and there was a local band playing, just a few guys. They were actually really good and we enjoyed it a lot. It wasnt what I was looking for when we went to go find somewhere for supper, but it was different, in a good way.
Afterwards we went back to our room and collapsed for the night, tired from a full day. Oh I did forget, we stopped by the local Walmart to find me a plastic sand bucket to be told it was 'out of season'. Yet they had boogie boards where I stood? How can that kind of thing be out of season in Florida? Now I was on a quest, so we went to a local souvenir shop and found one, so I was ready to go shell hunting the next morning at dawn.
The next morning I went out as soon as I could see to get down there to the beach. Actually I sat on the steps of the walk at the beach til I could see well enough to go on out. I had my little bucket and I started out. Surprisingly after about two hours of walking the beach I didnt come up with that much. There were a lot of dead jellyfish, some driftwood, some trash (ugh) and shells here and there. I did find some unusual things, something that looked like green beans, sea green beans..lol. Funny. Lots of seaweed was washed up on the beach too.
When I returned to the room Shelby and Ian were awake. I set out a few paper towels on the coffee table and began unloading my treasures. I usually have an overflowing bucketful, but that was just not the case this time around. Here are a few pictures of what I found.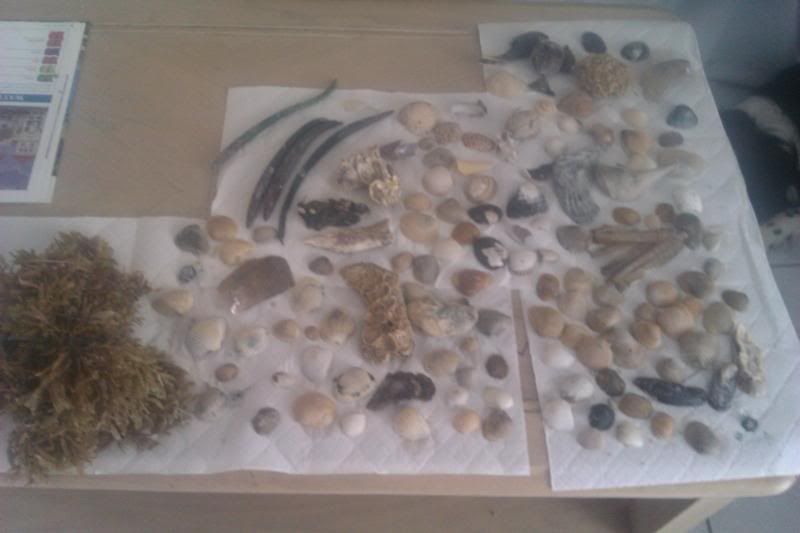 Now that I have posted about my morning excursion on the beach, I realize I have my events out of order...so, this was Thursday morning, not Wednesday morning, but we will rewind to Wednesday right now.
Wednesday Shelby and Ian and I got up and made out for a full day at the beach. Everyone had their suits on, I slathered Shelby with sunscreen. Ian said he wanted to get some color while in Florida, even if that color was red, so he skipped the sunscreen. I didn't use any because I am outside all the time and knew I wouldn't get burned much at all. I thought we could drive down to the beach, that way we could carry our cooler of water and drinks and chairs, all that we needed, but, when we drove to the beach access ramp it was closed and the sign said open to 4 wheel drive trucks only. Mine is not, so back we went to the parking lot, and back through the hotel down the path to the beach carrying less than we had in the truck.
Tip is ten years old now. She is still doing very well for an older dog. Border collies don't seem to know they are getting older. I saw her daddy live two years after developing cancer. It was like he didnt know he had it, he never slowed down. It did finally get him, and he had to be put to sleep, but he seemed oblivious to it for so long. It has been several years since Tip has seen the ocean, but she loves it. She jumps the waves coming in and keeps heading out til she can swim back in, back and forth she goes. She loves to come out of the ocean and scrub in the sand. She loves to dig holes. At one point everytime Shelby and Ian would start to build a mound of sand she would playfully come over and rake her paw across it, messing up their beginnings of building anything. She had a great time, and thats just what I wanted for her before she got too old to enjoy it.
Shelby went out with her boogie board, fearless as ever. Further and further out she went, trying to catch a wave to ride back in on her boogie board, but it was not cooperating, they would break and fade out too soon. Later Ian joined her and they were way out. There was a little bit of a rip current and at one point Ian got swept off his feet and feet went flying in the air, but he wasnt worried. As long as you don't panic, you will be okay.
I watched them from as far out as Tip dared to go back and forth in. We keep her on a 24 foot retractable leash for her safety, and for the courtesy of others at the beach. A young boy came up and asked if he could pet Tip and I said yes. She loves children. He began busily talking to me and it turned out they were from Acworth, Ga., small world. He began telling me of all the dangers of getting stung by jellyfish and sharks and whatnot if you go out too far, like Ian and Shelby were doing. I shook my head and listened. His mom must have told him all this wonderful information to scare him into not going out too far. We know there are things out in the water. Its the OCEAN. We are fully aware. We do not live our lives in fear though. We are ones that take chances and live life to the fullest. Not with reckless abandon, within reason, but we don't live in fear of things that 'might' happen. No one got eaten, no one got stung, or bit. It was a good day. We spent a few hours out there and then Ian had had enough sun and thought we should go in. I wasnt ready to, I was really enjoying myself, but, I relented and we went in. We all took showers and rinsed the ocean water and sand from us. Ian was right to come in, he was red, and getting redder! Shelby had a few places I had missed on her that were red, but all in all she was fine. I was red, but I knew it would fade fast. By the next day it was already almost gone. Ian is STILL peeling today from his burn.
Here are a few pictures from the beach...
I didnt take as many pictures as I would have like to that day, but my camera quit on me some time ago and so I use my phone now to take pictures. We got new phones and I picked out the MyTouch Slide. I love the phone, but I didnt want to get sand in the slide out keyboard so I put it away most of the time we were out there.
Well, its noon, and I got to get a few things done around here before we are off to the grocery store, including making out a list, so I am going to stop here and I will pick back up tomorrow. I hope you have enjoyed todays entry. :) Dad, thanks for keeping after me and getting me to keep blogging. Some days it comes easier than others. Oh and I do think that was the St Johns River we went over on 295...I think. Have to go look on a map and make sure! Thanks to each and every one of you for stopping by and reading my blog. I know I was gone for a long time. I had people reading that I didnt even know read my blog, and when I quit, they came out of the woodwork and I found out about them. They were disappointed I had stopped blogging, so I am really trying to make an effort to blog more. I do enjoy it too, and I know this winter my blog will be full day after day.