It's a beautiful sunny morning here in northwest Georgia. In just a little bit I will be going outside for the day, but before I go, I want to make a real entry here this morning.

I hope everyone is having a great weekend so far. We are going to have some really fantastic weather all weekend here. Warm sunny days in the 80s. Perfect weather in my book.

So lets just jump right into it.

Derby had a sort of grooming session yesterday...CUT short..he he...pun intended.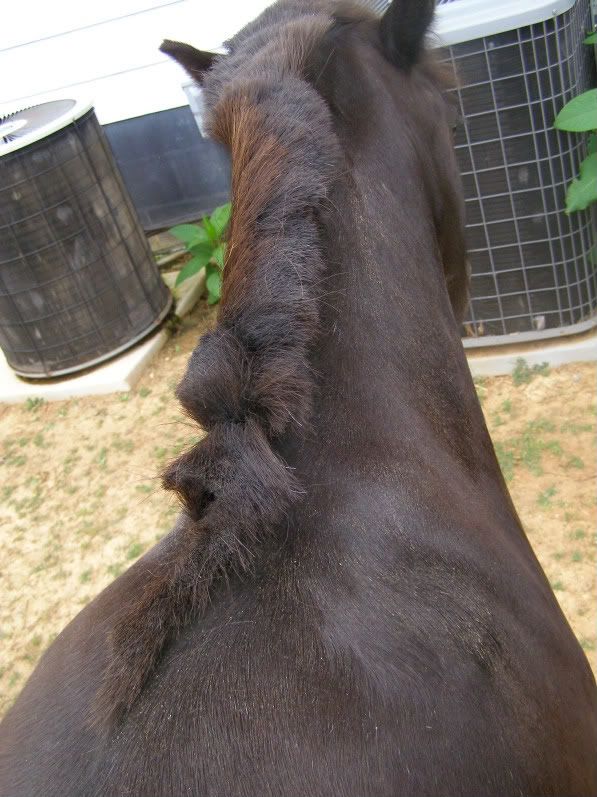 Shelby started out with the detangler/shiny stuff spray on his mane. I was just going to cut up at the top, where for whatever reason a horses hair decides to flop over the other side of the neck. As Shelby started working away at what can only be described as two dreadlocks...I said...you know what...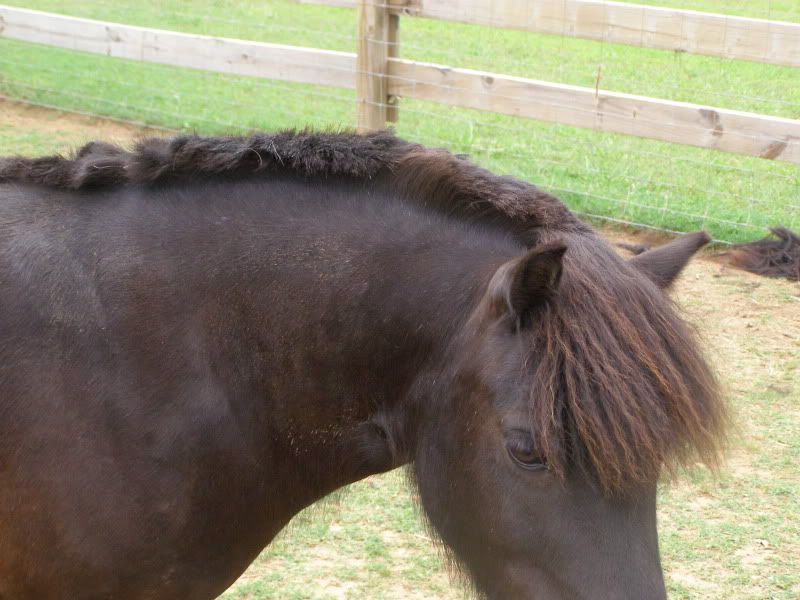 Lets just cut it ALL off. If I was a horse, and it was getting to be hot weather I wouldnt want all that hot hair hanging down on my neck making me sweaty and uncomfortable. Not that I have any idea what its like to be a horse, but you know, thats just what I think it would be like.

So away I went, chop chop chop...he didnt seem to mind one bit. I think he actually felt pretty good getting rid of all that hair. I didn't trim the front though. He needs that hair up front. I have been told that helps keep flies out of a horses face. I don't know for sure if that is true, but I have trimmed the front before, and it looked quite goofy, so I left it alone this time.

Shelby brushed him down, brushed his tail,shined him up, sprayed him with fly repellent (for horses, not just any old spray). I picked out his hooves. Its been so wet here all the time its a constant pick fest around here to keep his feet cleaned out.

Then came the part Derby doesnt like. The wormer paste. Yep, it was time, had him tied, might as well get it out of the way. Why can't they make that stuff taste good so they won't hate it so much. I want to know. Someone should think about that. Tips (the dog) worm pills taste good, she chews it up and gulp its gone. Shelby rewarded him with a carrot to get the nasty pasty taste out of his mouth.

He was quite done with us...



and made his way to the gate. After all that, he had to GO anyway...yes, this is how a male horse pees...lol...



In other news...Einstein is recovering. Amazingly enough, he is now able to use the leg that was injured, possibly broken, to balance. Before he was using his wings to stay up on his good leg when standing. This is good. He is young and is still growing so I think in the following weeks he will recover enough to live a mostly normal existance out in the flock. I know his brother and sisters will be glad to see him when he gets back out there.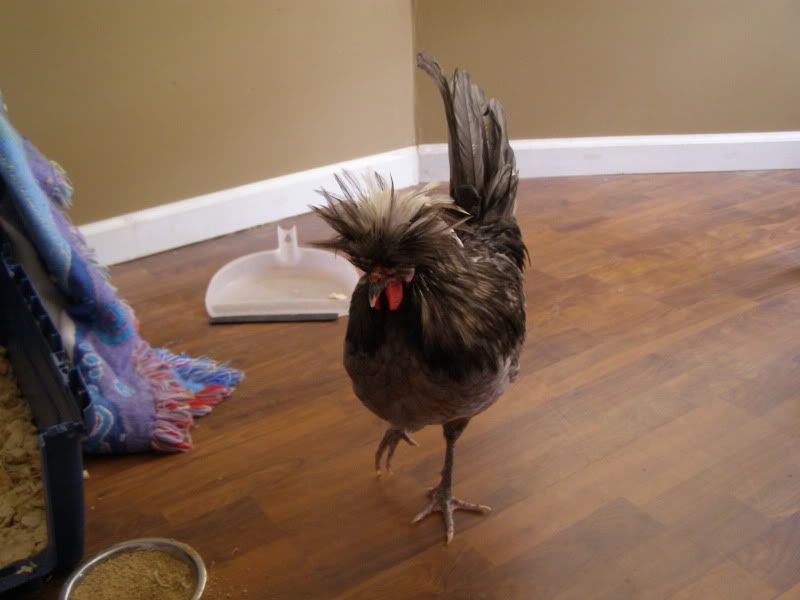 For now though...he will keep resting in the carrier and practice short walks around the kitchen floor, where his poops can be cleaned up easily. I go right behind him and get it up right away. I am afraid he will accidently fall into it, or step in it as he is still working on balancing. He will never use that leg fully again, but if he can just use it to get by that will be good enough for us. He is really so very sweet and loving, so I am very glad he is doing better each day.

The emus on the otherhand...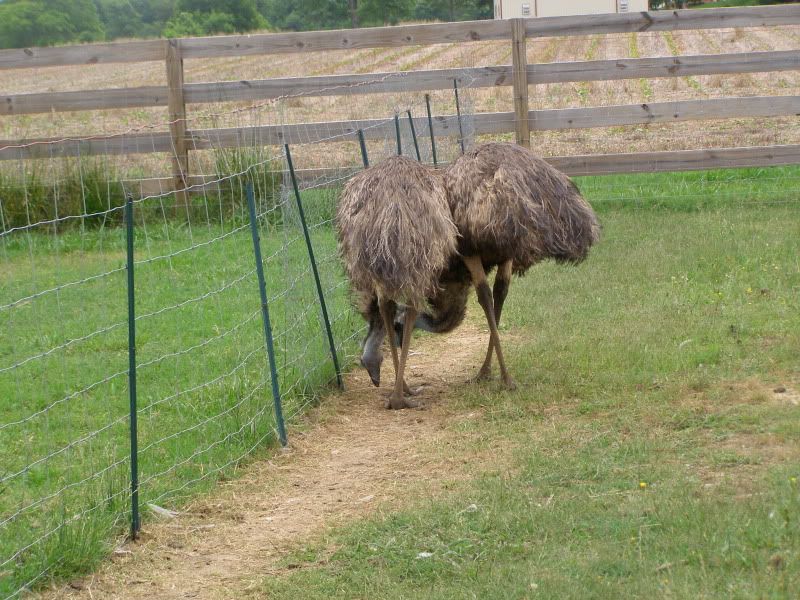 don't seem to like being confined. BUT with that said, do you see that worn down trail against the fence. This is not the first time they have done this. ALL the pasture out back and my obsessive emus paced the main gate area on the other side of the garage, where I would come to feed them once a day. So you see, they are not being deprived of living space. They did that way before I had them penned.



It is for the best. It has to be this way. They succeeded in killing one of my layer hens, repeatedly tried to stomp any of my white chickens, or polish. They have something against white poofy chickens, or poofy headed chickens...I don't know what. The layer hen was neither, but I know they did it. Her head was shoved into a corner when I found her. That is what chickens do when under attack, they will protect their head first.

After the incident with Einstein I couldn't allow it to go on anymore. Things had to be done. You can't explain to an emu (see how big their bodies are? See how TINY their heads are, that tiny head has a tiny brain in it, very limited space in there) that this chicken or that chicken is not the enemy. They were starting to attack the goats too. I am disappointed. There were days when I could look out and see all my animals grazing happily, but it never lasted. The horse would chase the pigs, the pigs would run at the goats, the emus hated the goats, the horse hated the goats, well...everyone hates the goats...poor goats. They don't mean to be annoying...they are...just being goats.

Its time for me to go, I have plenty to do today. The animals need to be fed and watered up full as I will be going out of town to visit Grandmama. Mama, Daddy, Erin, and Shelby will be going also.

That means washing, waxing and vacuuming out, wiping down the inside of the truck. You know how it is. You don't want to go out of town in a dirty truck. You don't want your passengers to think your truck is always this dirty...ah...even if it is. ;) I will take before and after pics, just for fun...it does need a good cleaning inside and out.

Happy Weekend! See y'all....