Lets see if I can make a condensed version of the time I have lost on here to catch up!

First, there was the VIRUS that infected the computer. Ian managed to use several different virus scanners and everything seems to be back to normal...mostly, we think. Ian still seems to think I had better back up all my pictures on disc just in case it crashes and he has to format...so I will work on that a little at a time.

We always like to go out on May 5th, Cinco de Mayo. No, we are not mexican, but it is a fun time at any mexican restaurant worth its salt on this day. We went to our local El Nopal restaurant in Rockmart. We had a pitcher of frozen marguaritas and great food! It was packed, but we made it early enough that we didnt have to wait but a few minutes to be seated.

May 6th was my birthday, and our 20th wedding anniversary...but Ian had to work on this day, but made up for it the day before AND Friday, but I will get to Friday. Shelby and I went out galavanting for the day. We bought sandals for our outfits for a wedding we were going to on Saturday, I will get to that too. I got some haircolor while we were out. We stopped at Shanes Rib Shack up in Rome for some lunch. I love BBQ...it was so good. We spent the whole day out and about hopping from this place to that. We had a good day out. I did pick up a little cake last minute and had them write this on it to commemorate the day...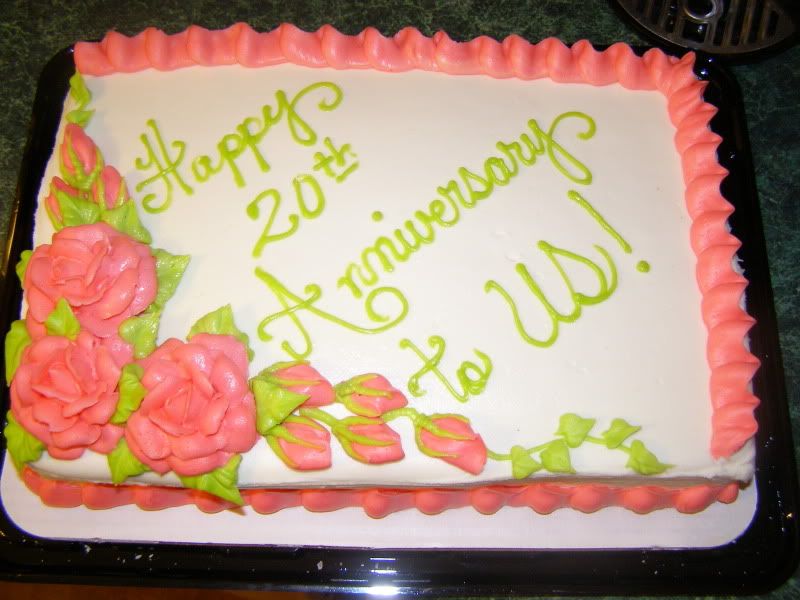 Thursday was uneventful, just a regular day.

Friday Ian took me to http://www.fogodechao.com/dining.htm

check out the slideshow on this page of meats.

There was complimentary vale' parking..then we were seated and we had a bite off the salad bar..then came the feast. You have a little disc, one side is green, the other red. When you flip that disc to green...servers with goucho pants come around with their long metal skewers of meat and ask if you would like to try this...and try that...slicing you off pieces. Until you turn that disc over to red, they will keep coming, so if you want to eat and not be served lavishly with meats...flip the disc. It was amazing..if you are a meat eater, this is the place for you. It is a bit pricey, but worth every penny. Lunch is 30 dollars and the price of dinner is around 50 dollars. We can't do it every day, but I can tell you, I will be waiting to go back again...anxiously!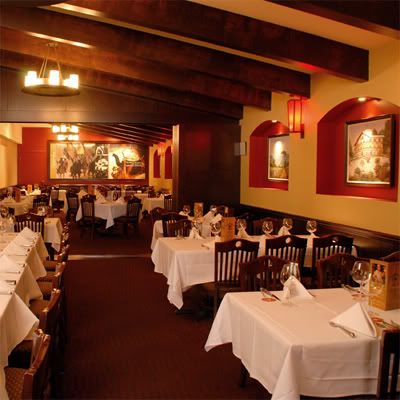 Saturday was my oldest neice's wedding day. We got all gussied up (thats southern for getting dressed up) once we were there at the church. We didn't want to get dressed and wrinkle ourselves all up on the three hour trip from our house to Columbus, Ga. The wedding was absolutely beautiful. Kathryn was a vision.



I will post pictures of Ian, Shelby and I later...no one ever gets to see us dressed up. I had to take pictures while we looked presentable. ;)

In other news...the cats hate each other..well...Shelbys cat Fergie...she hates Mocha...but Mocha just wants to play! Here is Fergie blocking Mocha from coming downstairs...



Our first roses have opened on our first rose bush planted at our home here in the country. This is a hybrid rose. It is called a Blue Rose, but it won't actually be blue, it is more of a pale lavender...beautiful still. It is blooming like mad now...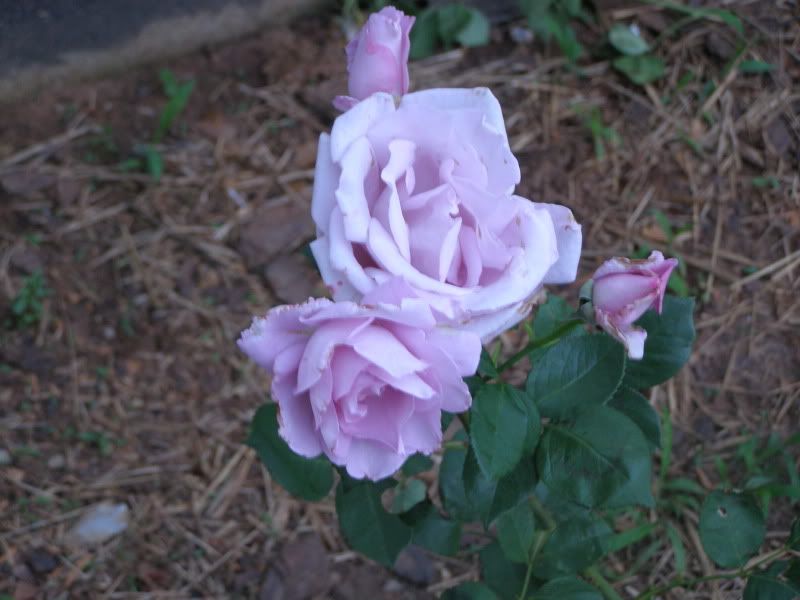 Saturday evening picture above...then below this mornings picture...



Last but not least...we must talk of chickens...I have many more pictures to share that I took this morning out in the yard...but they will save for another day. Yesterday my mexican friends came by. They were making the rounds coming by to say hello and Happy Mothers Day to all their friends. Then it dawned on me, a light went off in my head. I have been wondering what in the world I am going to do with all those extra chicks the mother polish hatched out. I offered them...and they were excited to take them. I instructed Ricardo to please feed them proper chick feed. I told him bluntly, that I knew they had lost a lot of chicks, and that if he would just listen to what I have to say, and do it, they would have much more success keeping them alive. They had tried to feed some of their chicks scratch, and you cant do that. They don't have the grit in their crop yet to grind whole hard grains, and they won't be able to digest it, and it will kill them. They learned this the hard way. I told him that is why you MUST feed them the chick starter, for good nutrition and health! I gave them a bucket of chick starter, just to reinforce my wishes. I did keep two babies, out of curiousity to see what half giant cochin, half polish looks like grown. I tried to keep two girls, I hope my guessing was right. Here is one of the two I kept, they look just alike.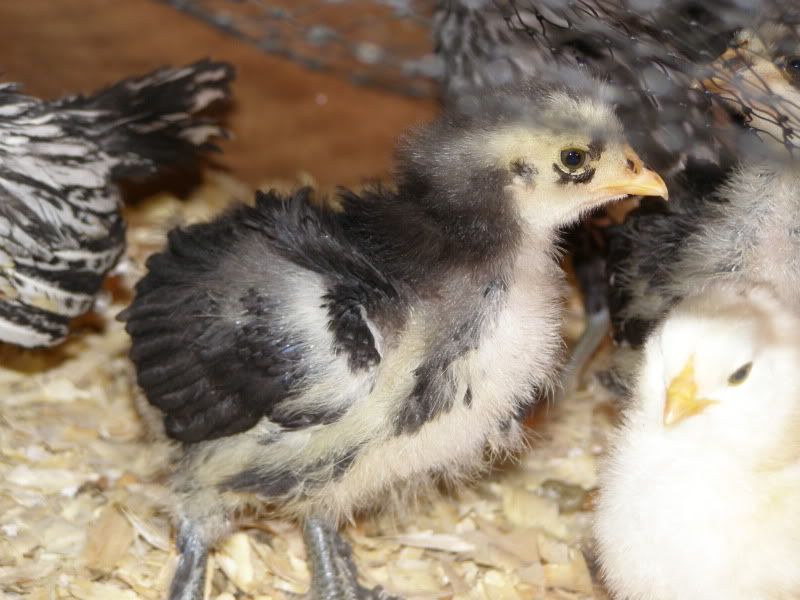 Now that I have more room again I can put the ones I intentionally hatched in a bigger brooder together. Everyone seems pretty happy right now. The little puff ball you see to the right in the picture above was an egg I kept and decided to hatch from the neighbors chickens while we were tending their animals and collecting their eggs. It is the fattest, cutest little baby! Here below are all of them together now.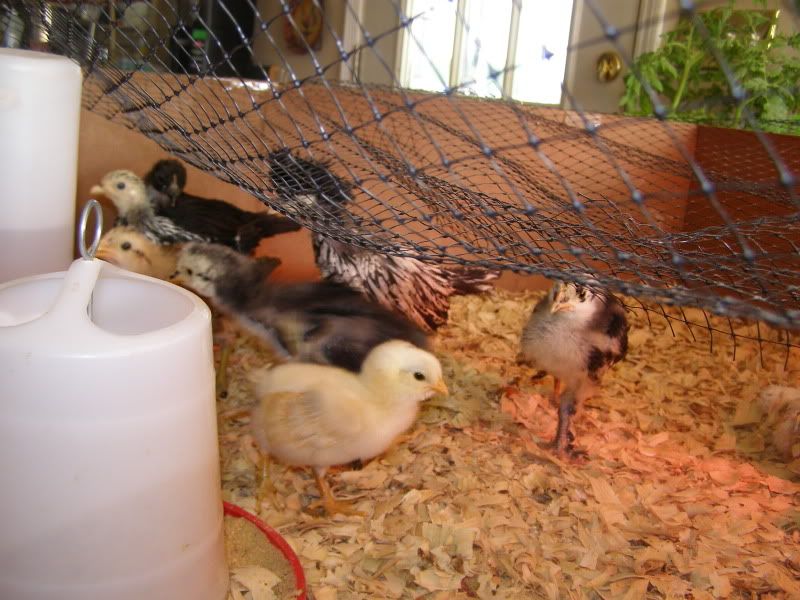 Sunday was spent recooperating from all the excitement of the past days. I smoked two whole chickens on the grill all day and grilled some corn still in the husks with lime,chili powder and sea salt seasoning sprinkled onto the butter brushed corn. Last I made a ceasar salad. We had a nice Mothers Day feast. Ian planted my blackberry bushes out by posts out front. His blueberry bushes he planted a couple of weeks ago are doing well. The fencing out back is done. The big animals are roaming out back (goats, horse, pigs, and emus) and the chickens are up close to the house. Everyone has plenty of grass to eat now. Especially since I haven't gotten to mow out back. It is wet every day it seems. Can't mow if its wet. I will get to it eventually.

Today I am doing this, an entry in my blog, and I will probably pop in at Facebook and say a word or two...I intend on conquering the mountain of laundry and getting the house cleaned up today.

Nelishia, we have dismantled and practically torn apart Shelbys playroom, and we have lots of goodies for Katie...so we are going to be making a visit to y'all very soon okay? I will let you know ahead of time, I promise not to just show up on your doorstep! ;)

Oh, one more event happening...Patrick, our neighbor with the horses we kept, and the chickens...he asked me to hatch him some babies from some eggs he brought to me...and here they are, popping out like popcorn today!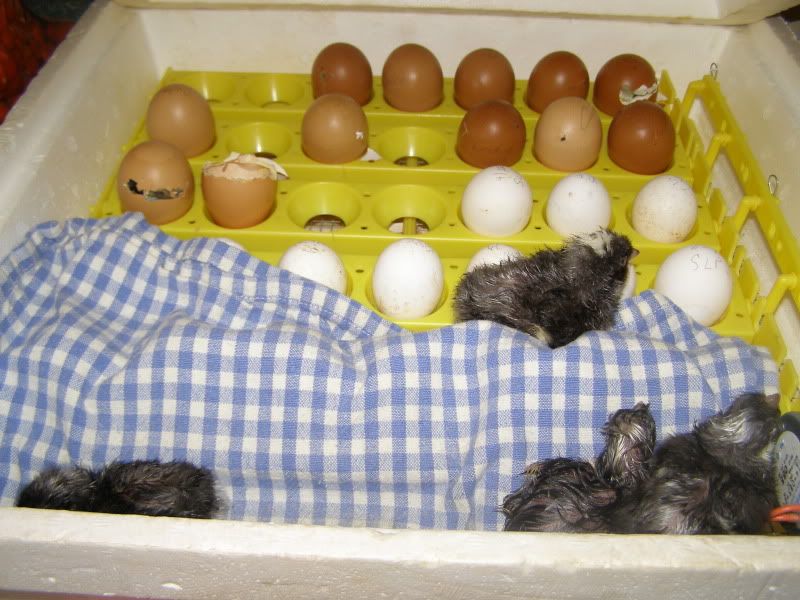 Shelby also went on her very first horse back ride with Laury, Patricks wife. Laury intends on making Shelby her riding partner over the summer. Shelby learned a lot and had a blast. Laury also invited her to go this past Monday with her to a Saddle Club meeting. Shelby went and met some other teenagers and had a good time. I was glad she got out and about, I know she was too. :) I didnt get any pictures this time around of her riding, but I will next time, for sure.

Thats about got things caught up around here, the condensed version anyway. I think I got it all covered! :) Now, its time to do laundry and clean...but I am going to read blogs in between chores today. Its been so long since I have been able to visit everyone...and I missed y'all very much.