This Sunday is Shelbys 16th birthday. There is a show in Monroe on Saturday. I wasnt going to go because usually her long time friend Tiffany and her mother being my long time friend, comes up. Tiffany and Shelby are six days apart, so we usually spend the weekend together and I get a cake with both their names on it and they blow out the candles together. We find a haunted trail or something to go to, go out to eat, just have a good weekend together.
This time, for the first time they arent coming. I dont know why other than she told me she has family in town and wont be able to make it. Shelby was very disappointed. Being as this is her 16th I wanted to have something going on!
She has another long time friend she grew up with, Matthew. Ian is long time friends with Adrian and I with his wife, Teddy. I called in a friend favor and asked if they would come on up Sunday and help us celebrate Shelbys birthday. She said she had been thinking about us a lot anyway and would love to bring her whole brood up for the day.
I am going to cook out on the grill, baby back ribs, Shelbys favorite. Potato salad, french fries for the kids, baked beans. We will have birthday cake and icecream too of course.
It will be a great day indeed, the Lane family are all great company! :)
So, in light of not having a full weekend of goings on, I am going to fit in that poultry show. Brian, VP of the club putting on the show called me night before last wondering what hole I had fell into because I had not entered any birds for the show. I told him I still didnt know what was going on that weekend, but would find out. After texting Karen and finding out they werent going to make it, I was free to go.
Brian made it irresistible for me. They are having over 700 birds so far, and only ten of them are large fowl. Bantams are an easy out for people to me. They are easy to show, and you dont have so much to do with them to get them ready. For instance. Just getting one giant cochin ready yesterday took two and a half hours. A bantam is easy to handle, easy to bathe and easy to blow dry fast. I choose to show large fowl because they are so much more dramatic looking to me. So, with only ten entered, and I easily could enter eight, I accepted. I don't want to get cocky, but it should be an easy win for me to win something, so I will do it. He even said I could coop out early after I was judged, take my winnings and head out if I had to. I do need to pick up the cake on Saturday and do some last minute preparations for Sunday.
So its a win win for all. Here are William and Jocelyn all bathed and blowdried. These are my Giant Splash Cochin pair. They look so great!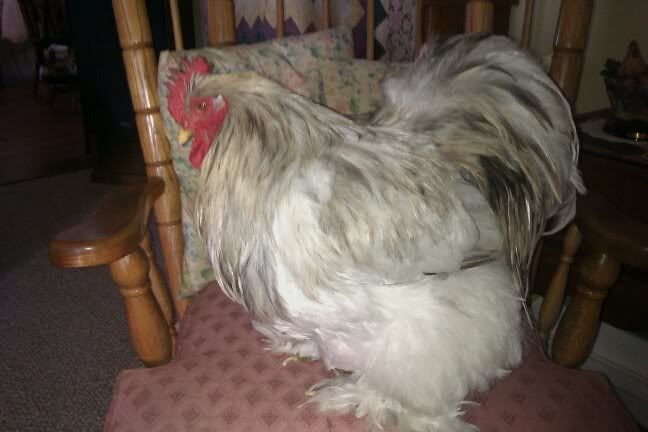 I will also be showing a pair of black giant cochins, Buckbuck and Babe (III). The Babes mother, a great champion who won many times over for both Shelby and I passed earlier, late in the summer, but we keep her memory alive with her daughters.
Also, I am throwing in a pair of my young bearded buff laced polish to see how they will do. I will show Shirley, and one of Kuckoo's up and coming great looking daughters. Shirley and her are bearded silver laced polish.
So wish me luck and I hope to have a great show! I won't sleep a wink more than likely as I get quite anxious before a show the night before :)