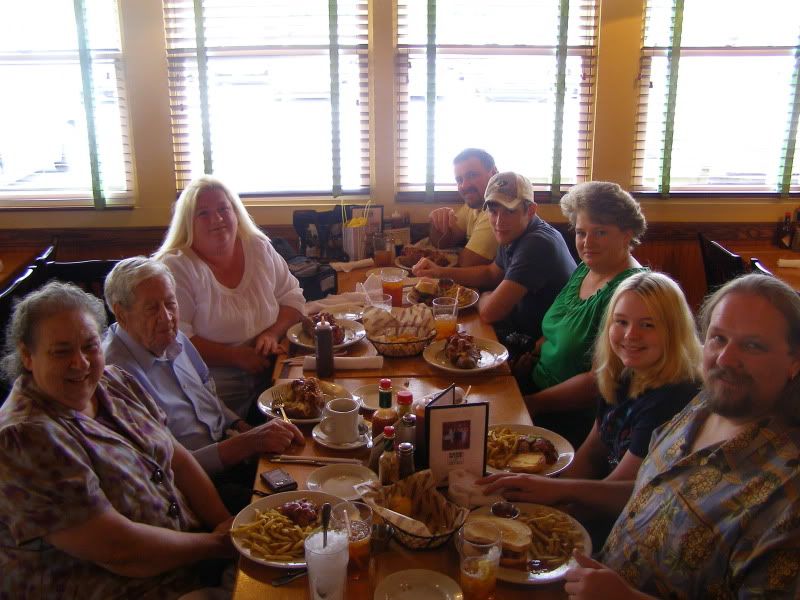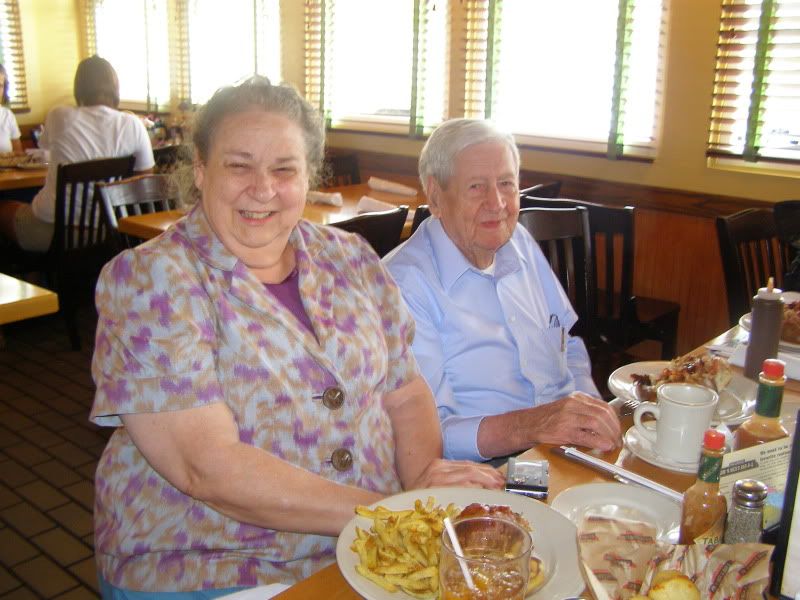 By now y'all should be used to my lateness of posts. I am always a day late and a dollar short. Maybe one day I will be on time, though I doubt it will be anytime soon. I did enjoy reading Hollie and Dads entries before my own though, I must admit. :)

Here we are at Jim n' Nicks BBQ. I was, as usual the last to arrive. Now before you condemn me, I was not actually late. The meet up time was supposed to be noon, but everyone got there a bit early, at around 11:15. Just for the record we got there at 11:40, later than I wanted to be, but not late, technically. ;)

We were greeted with open arms and many smiling faces. The feeling in the room was like old friends or relatives meeting up that hadnt seen each other in quite a while. Sometimes things just click into place and feel right. This was one of those times.

There were lots of hugs of course, we southerners, well, most of us are huggers. Thats just our nature. Once we got settled down and sat down in our spots the waitress came and started taking our orders. We have our lunch sitting there in front of us in the picture above as you can see. Dad thought it would be good to wait to take the pictures til we had our food, I thought that was a good idea too.

The manager came in asking what the occasion was for the get together. I told him we were honored with the presence of Ray, the oldest blogger in the U.S., that he had come down from Tennessee to visit us. Everyone handed around their cameras for pictures of all of us at the table and the manager and waitress obliged.

After all the picture taking was finished we got our food soon afterwards and for a few minutes all conversation stopped because the food was really really good, and we were all ready for lunch. After a few good bites the conversation picked back up again. Dad insisted on paying for everyones lunch, but Hollie and I snuck in the tip to the waitress at least. It sure was sweet of him to treat us like that. It was already a treat just having him and Mary there in the first place.

After we ate everyone followed us on back to the house and it was trying to rain on us, but soon as we made it up into the porch it stopped. Not too long after that the sun came out and it got kind of muggy, but not before I could show everyone all the animals. Dad understood my passion for keeping animals, especially the chickens. Some people like to grow flowers, some gardens, and like Dad, tomatoes. Its all about what you like and it keeps your mind and body busy, which is what Dad pointed out. Some people see this kind of thing as work, but it is a labor of love, and so its not really work at all.

Ian and Tony really hit it off, and Hollie and I too for that matter. We felt like we had always been close friends. Even our dog Tip enjoyed seeing everyone, she loved Colt and they got into a playing match...it was too funny. Hollie has a picture of that on her blog of Colt and Tip playing if you would like to see it and havent yet.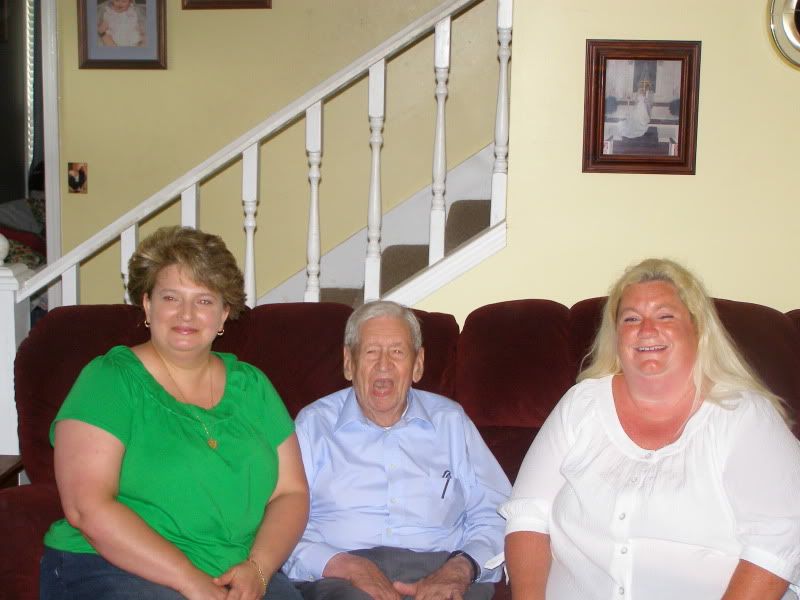 We were laughing pretty good at something here above...this is one of the pictures taken on the couch inside at my house. We took many combinations, but this was what was on my camera. I think that Hollie has the ones of Ian, Shelby, and I with Dad on the couch on her camera...Hollie, send me those if you would when you get a chance and I will post them here.

Everyone seemed to really enjoy everything about this day. I know I did. Dad started to get a little wore down that afternoon and it was time for them to head out. We all said our goodbyes and they took off headed for home. I asked them to please call me to let me know they got home alright. Around 7:30 that evening I got a phone call from Mary saying that Dad had decided they should stop in Chattanooga and ride the incline at Lookout Mountain the next day! Can you believe this man, he is just an inspiration to all for sure. I am sure he will have more about that in his blog sometime this week. I am looking forward to hearing about it.

I am going to submit pictures to our local newspaper. In our little tiny town this is big news to have Ray here. I hope they will run a story about it, wouldnt that be something?