I was finally able to convince my dear daughter to show some chickens at the poultry shows. Being a teenager, she has fought me here and there, but she reaped the rewards of getting her birds ready all last week for the show this past Saturday. I am so proud of her and her birds.

Let me back up a bit though. I do have pictures of some of the work being done behind the scenes here at home.

I had two new birds to show this year. Two beautiful appenzeller spitzauben cockerals (meaning they are under one year old). These birds are hard to come by and I lucked up getting the two of them awhile back as babies. Here is Haw. Yes, the other ones name is Hee. ;) They had never been bathed and blowdried before but they took it like champs and never fought it at all. I think they actually liked the pampering! The last two pictures are of them in show. They got great marks, so that lets me know they are good show birds.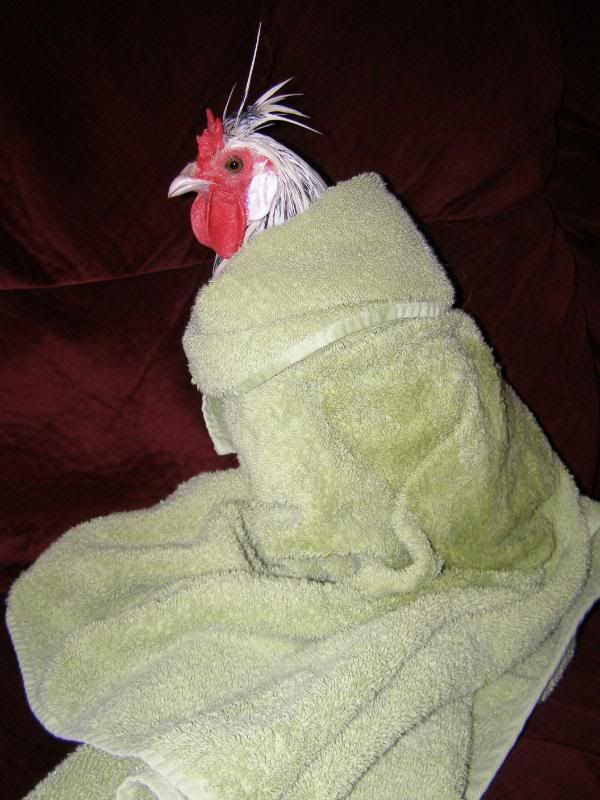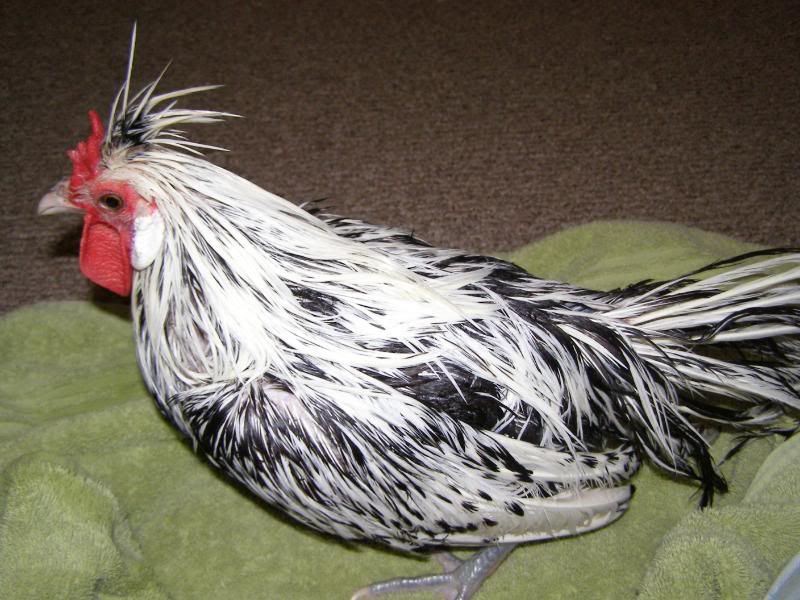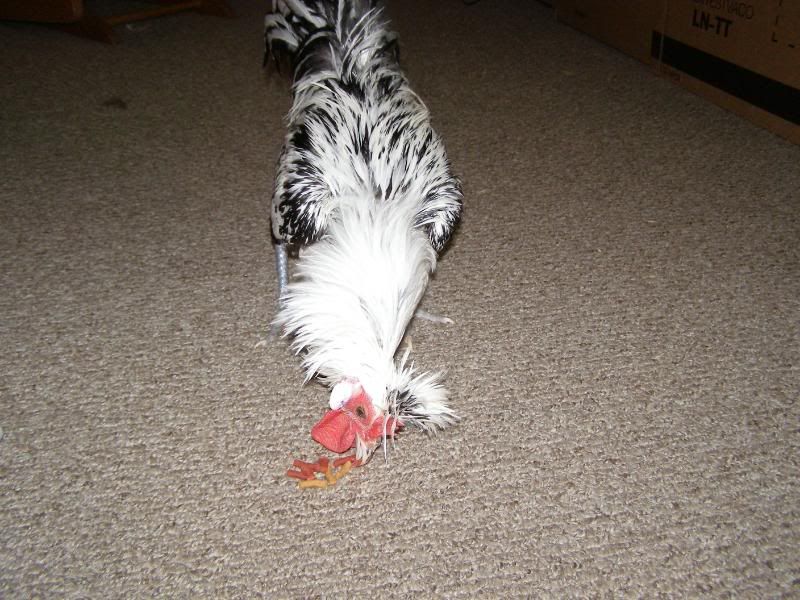 Taking a break after blowdrying for about fifteen minutes, getting a treat for being so patient with the human and her silliness. ;)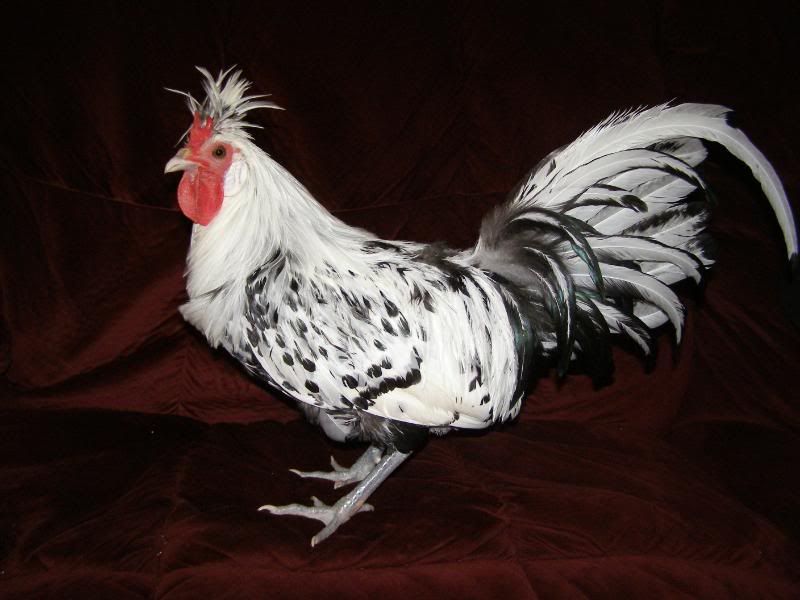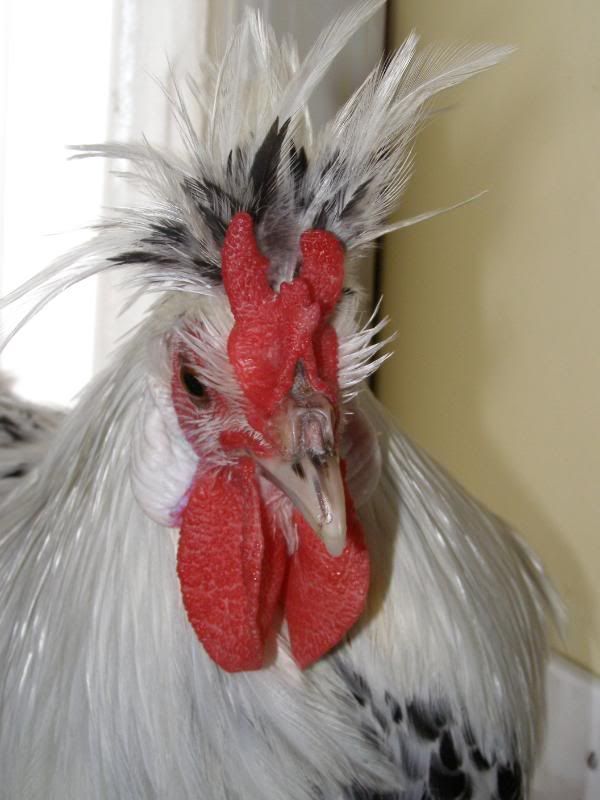 A beautiful end result!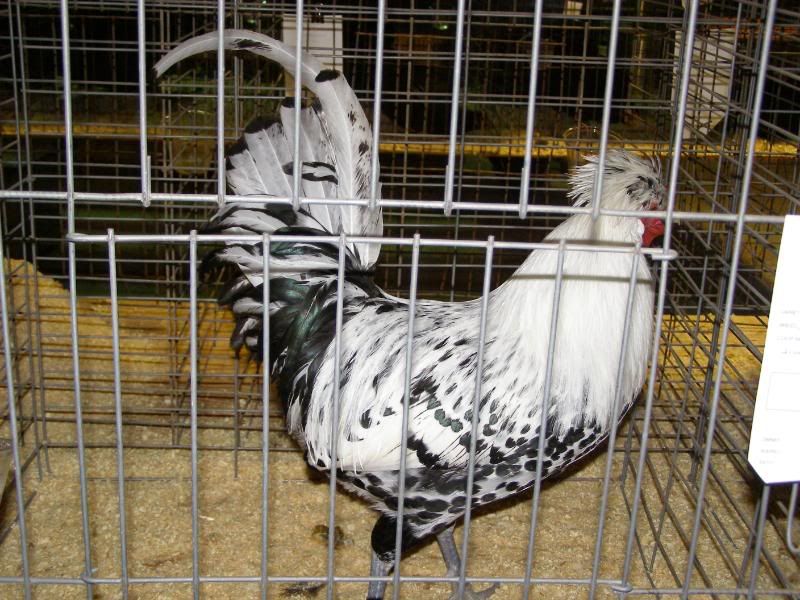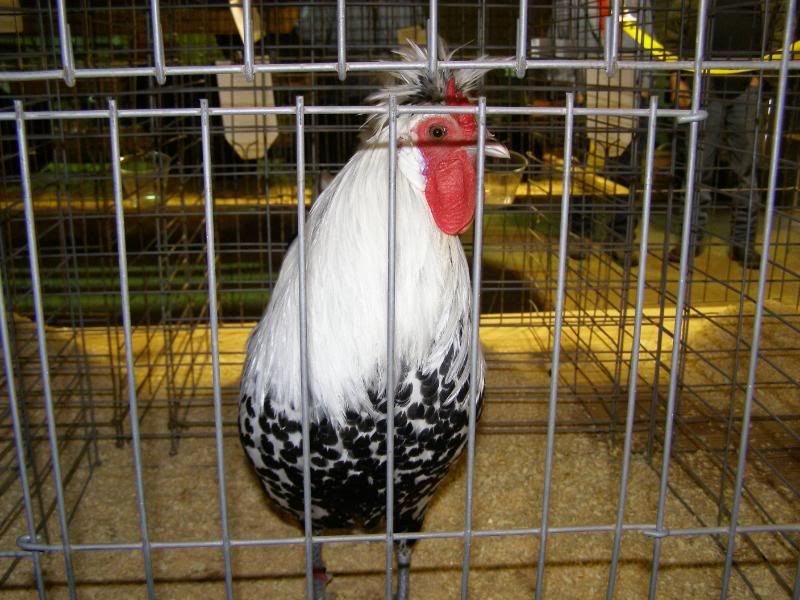 Now here are some shots of Shelby getting Rayne ready, and him getting some treats afterwards for being such a good boy for her!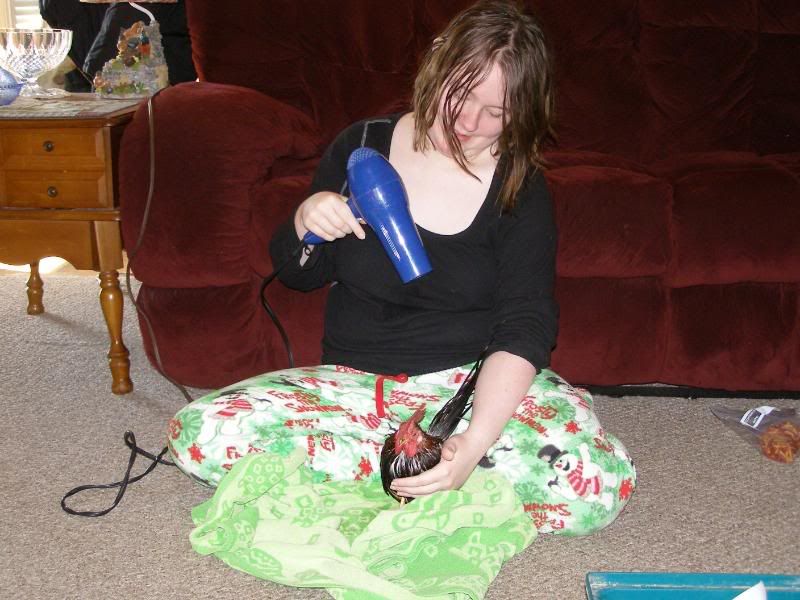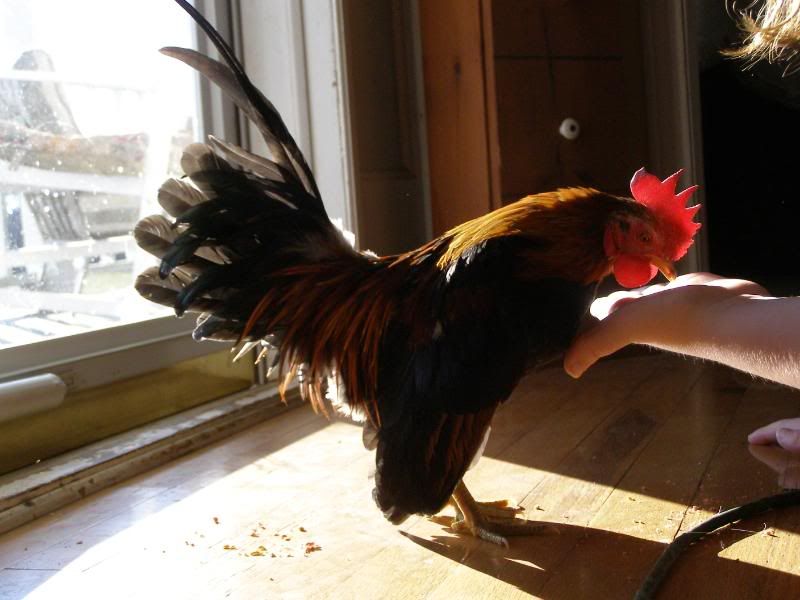 The results for her efforts, four ribbons!

Rayne took Best in Breed and Best in Variety...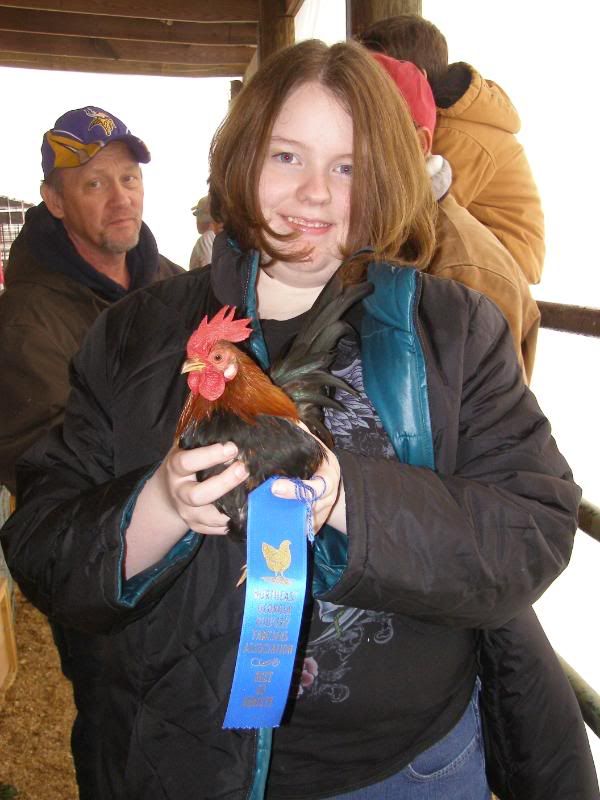 Her little white serama cockeral won Reserve Best in Breed and Reserve Best in Variety...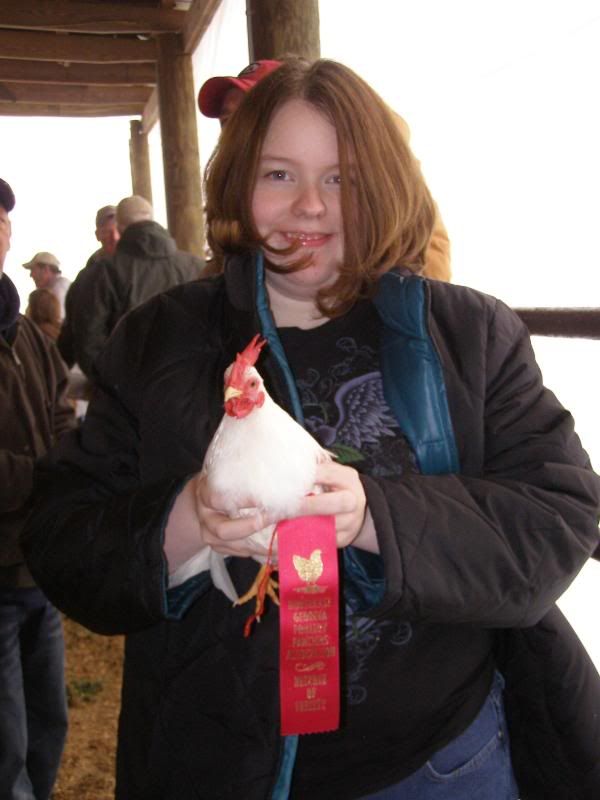 Her bantam Barred Plymouth Rock cockeral won Best in Breed and Best in Variety, and one of two of the pullets won Reserve Best in Breed and Best in Variety...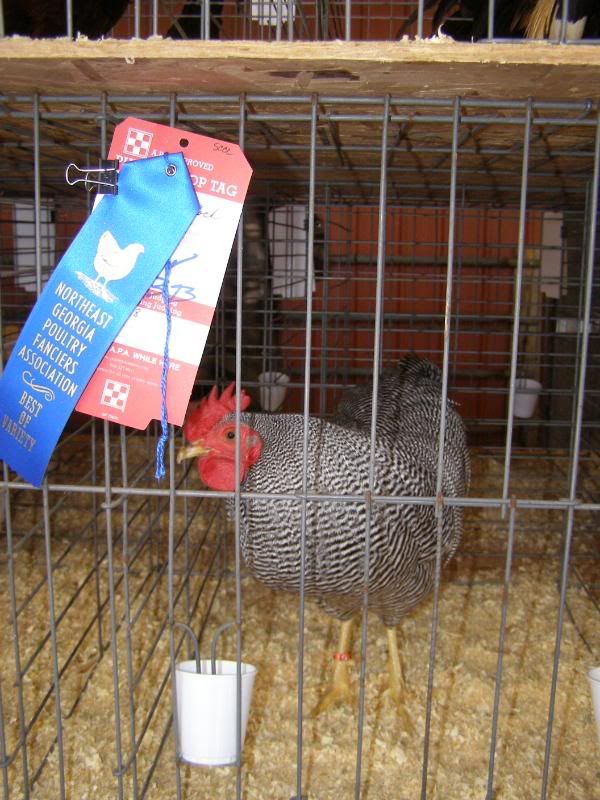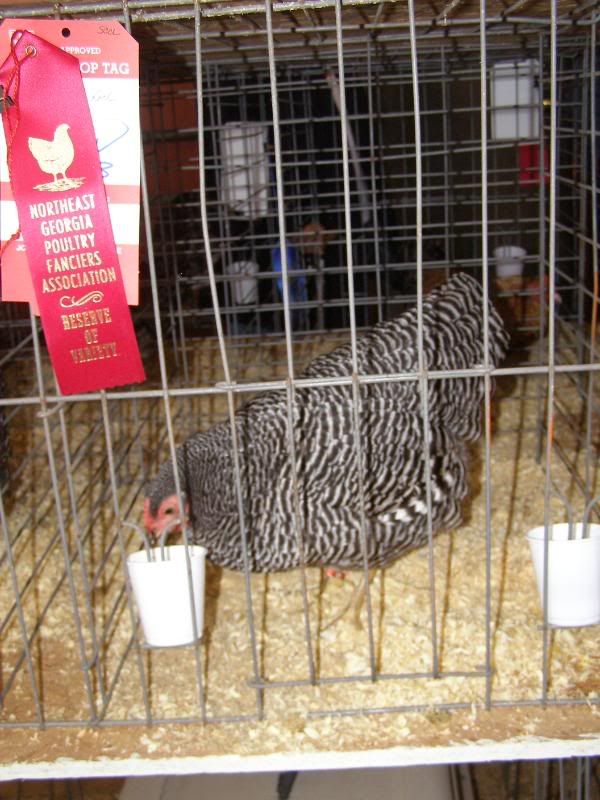 A couple of pictures of her two serama boys that won, in their coops at the show...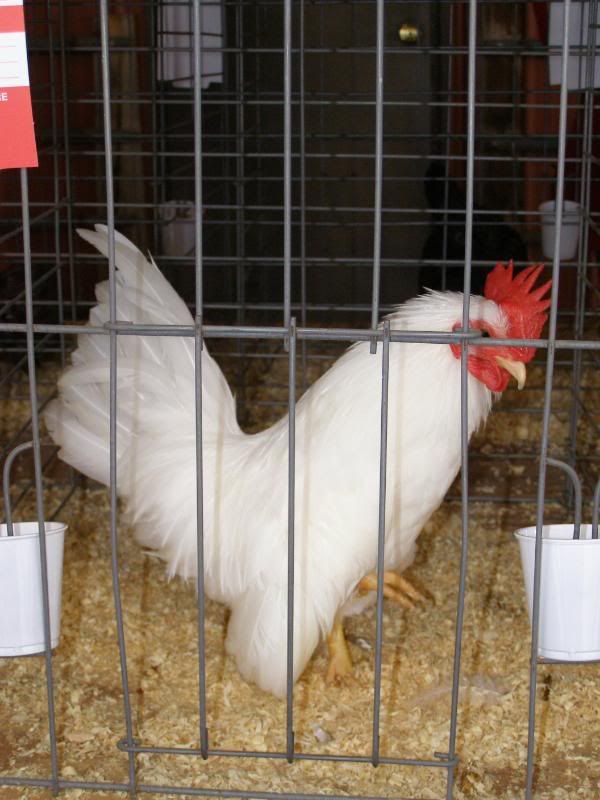 She also showed another serama cockeral and a serama pullet. The way they judge seramas, only the best two win placement of any kind, so these two did not place, but I was told by Tommy (the judge) that they are still very good birds.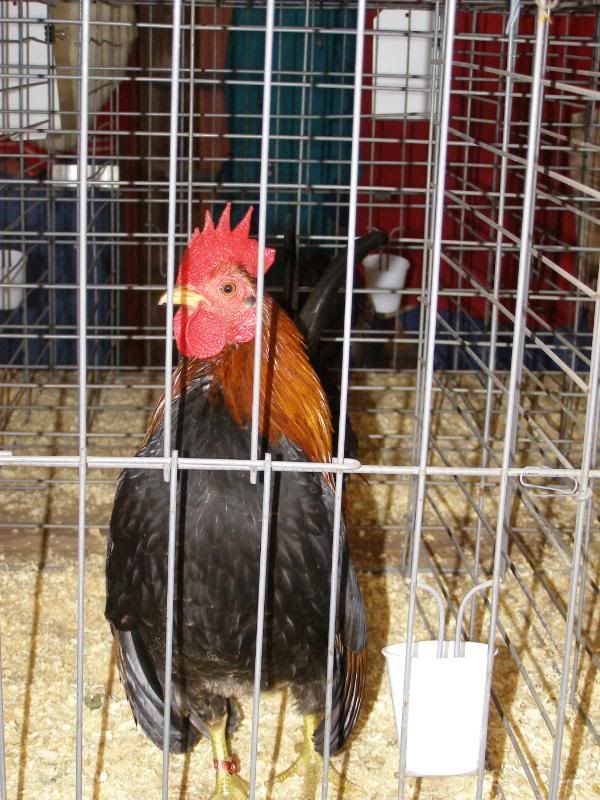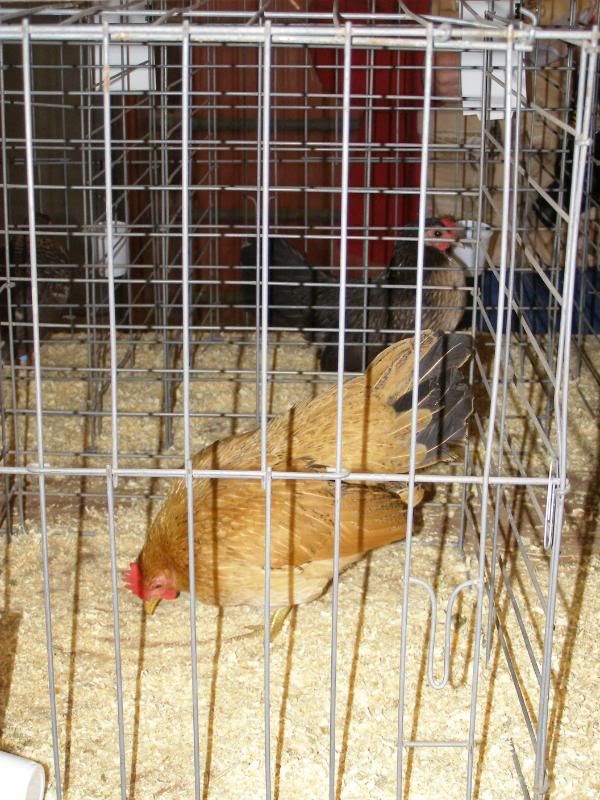 Proud parent and happy child...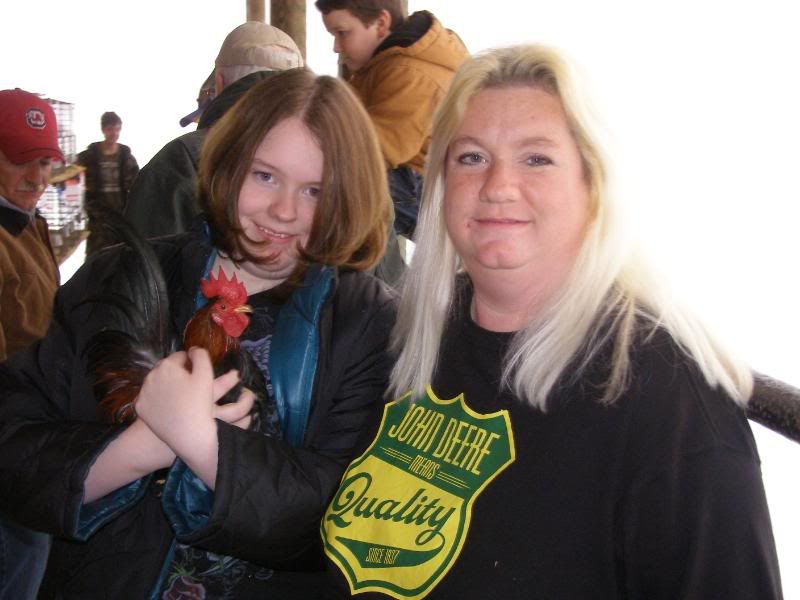 Once again, Dwain was there with me. He loves to go to the shows, but he is also an irreplaceable big help to me, and to Shelby also now that she is showing. I went to the Dalton show by myself, and I can tell you, it was very stressful trying to get all the birds in, tested, and cooped in all by myself. Dwain, the next show, you need to get in front of the camera. He also did a very nice thing for a young man showing at this show. He offered up a Golden Phoenix hen to go with the youth's golden rooster that was at show. He then offered up whatever he wanted to choose from he could have, he just had to come by Dwains house and take a look. :) Dwain you have such a big heart, you are truly a great friend and just an all around wonderful person. I am honored to know you.

So, on with my birds. I took Buckbuck and Babe again this year. I was met with BIG competition though. Beth was showing! The wonderful lady I bought my birds from in the first place. She truly has GIANT cochins. They were HUGE! I was so caught up in the show I somehow managed to miss taking pictures of hers or mine...but will be sure to take some at the next show. She works very hard at all the shows helping out, and I told her she deserved the recognition and rewards of showing, both because her birds are truly a sight to see and because she works so hard. I don't mind losing to her, she is my hero when it comes to cochins! I did place second to hers, and was happy to just place at all against her birds.

Here are my two at home after the show, relaxing, and hopefully managing to stay clean for the upcoming shows ahead.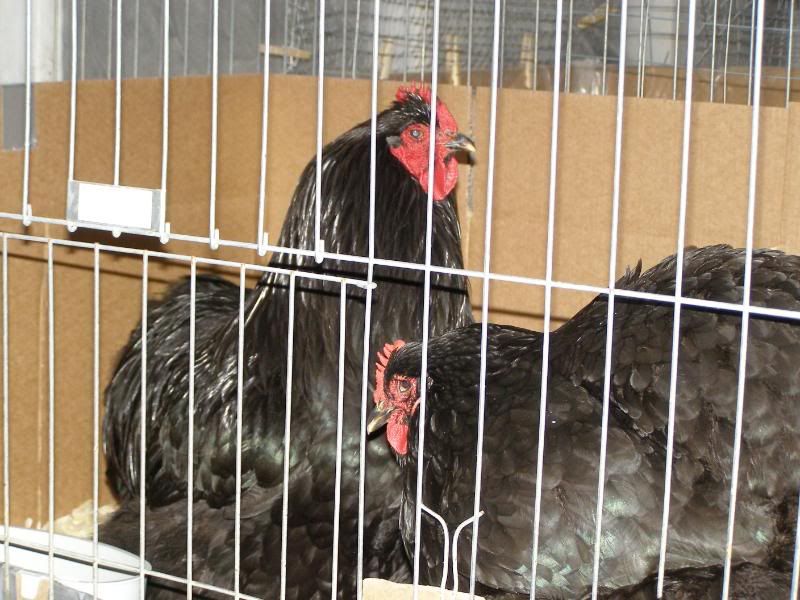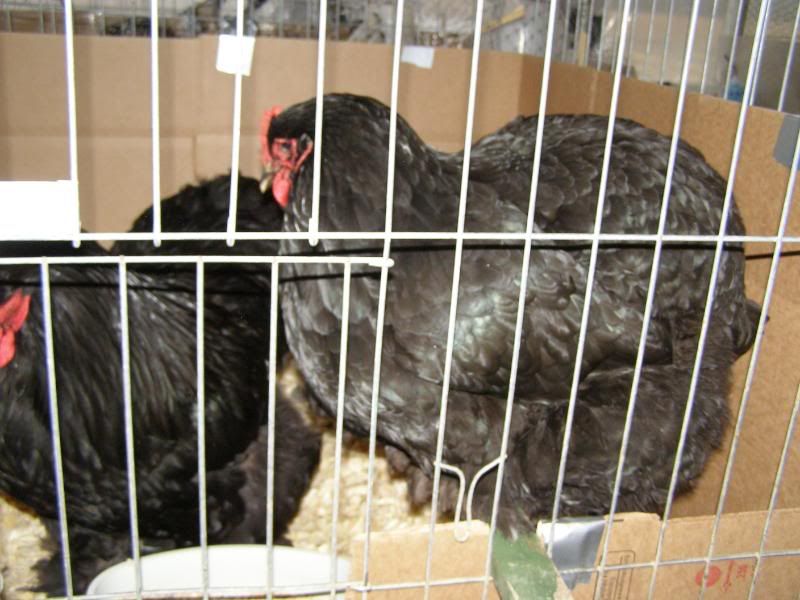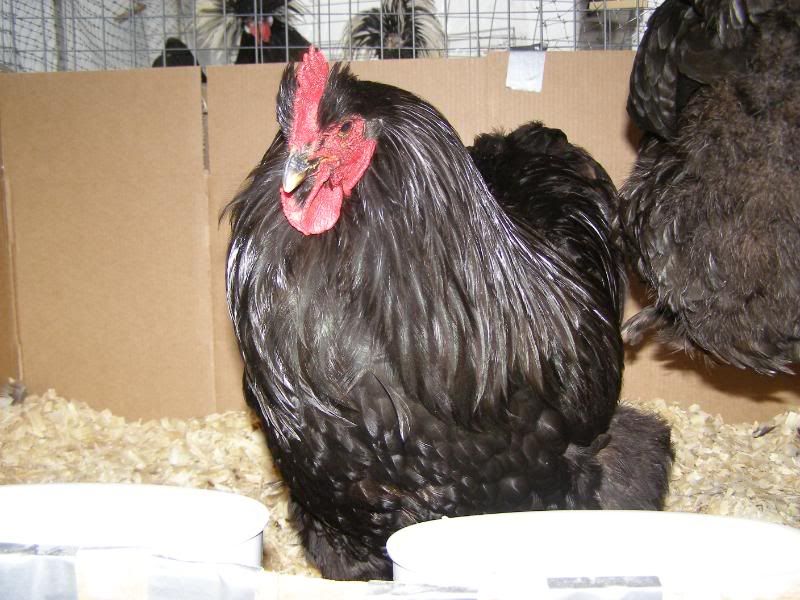 My polish were show stoppers as usual. They always draw a lot of attention from spectators. Kuckoo was not in the mood to show that day. He was not performing like I would have liked. He had his head down and was slumping, pacing, looking for a way out of that coop. I could tell he just wanted to be home. I hope he will do better in the following shows. He did receive Best Large Fowl Polish last year. You can see that picture on my sidebar. The girls were looking real nice. Coco had some solid white feathers come in on her head this year after her molt, so she placed third out of her and her two daughters. Laverne did VERY well and won Reserve Champion Continental, Best in Breed, and Best in Variety. Her sister Shirley placed Reserve Best in Breed and Reserve Best in Variety. Here is a good picture I was able to take of Laverne at the show.





Shirley was not as cooperative...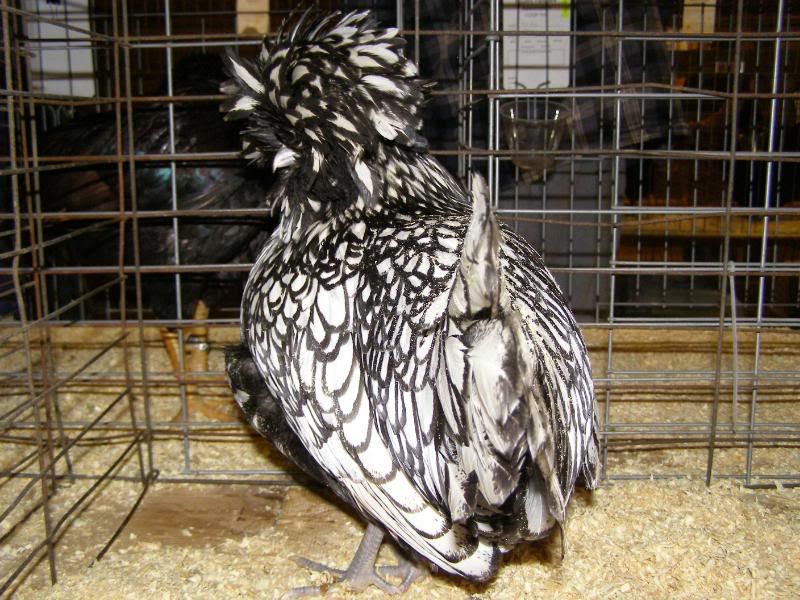 and here is a nice one of their mother, Coco...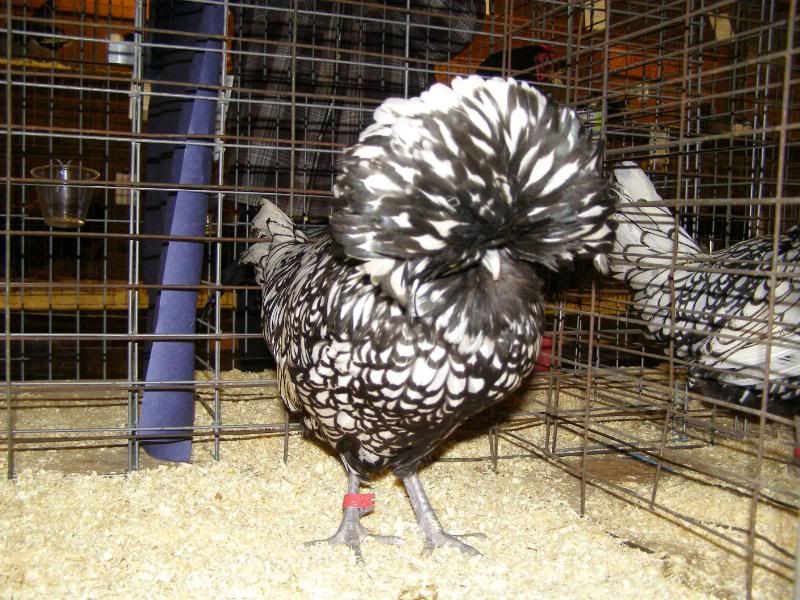 Its a shame about her crest feathers. Year before last she was going to take Champion Continental, but if anyone remembers, was disqualified for stubs, something I have since learned to avoid easily. Someone showing a buffed laced polish rooster at this show is now learning the same tough lesson I did, as theirs was disqualified for stubs.

Here is poor Kuckoo, this was pretty much his look the whole show. The pictures following this one are of a more relaxed and happy Kuckoo at home the next day, relaxing with his girls.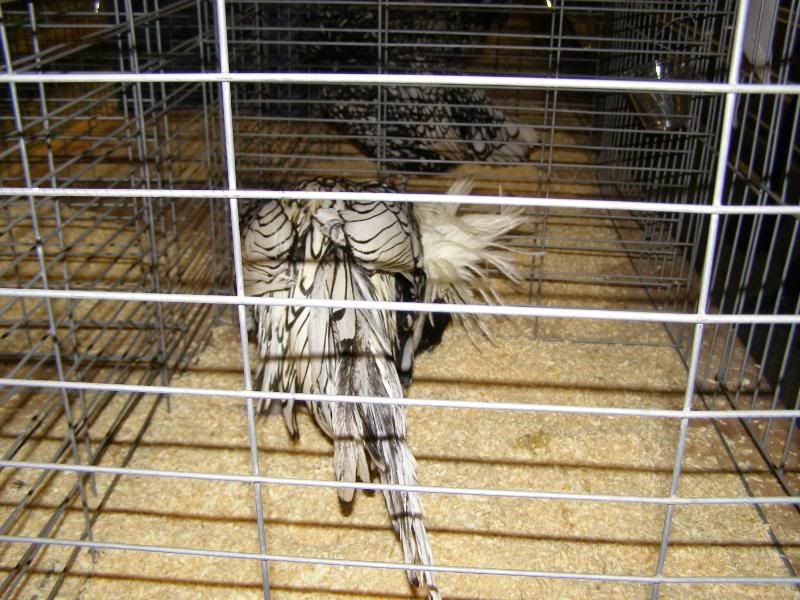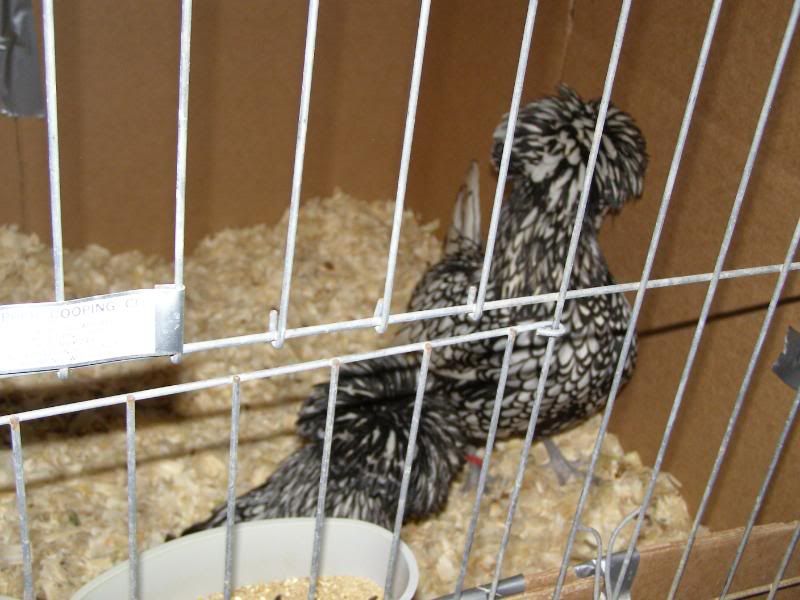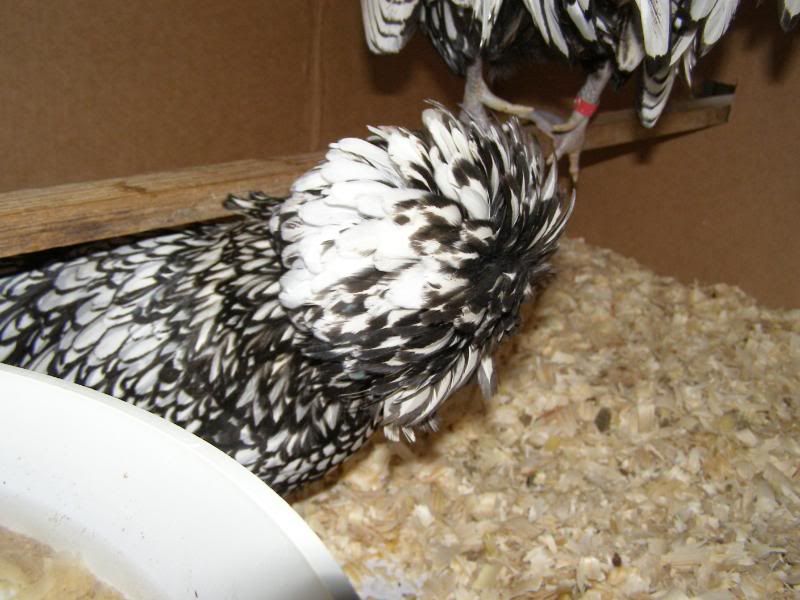 Shelbys winnings...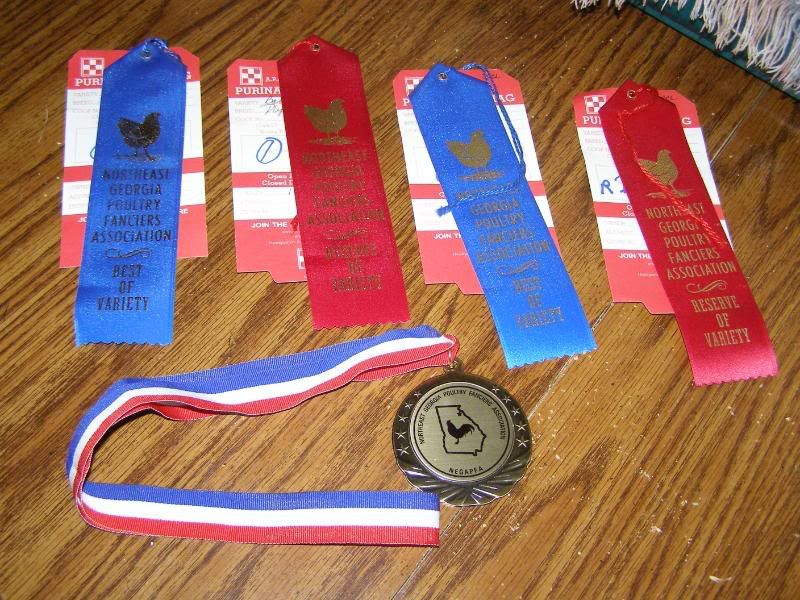 My plaque for Reserve Continental. I had a choice, five dollars and a cookbook, or a plaque...as you can see, I wanted the plaque! :)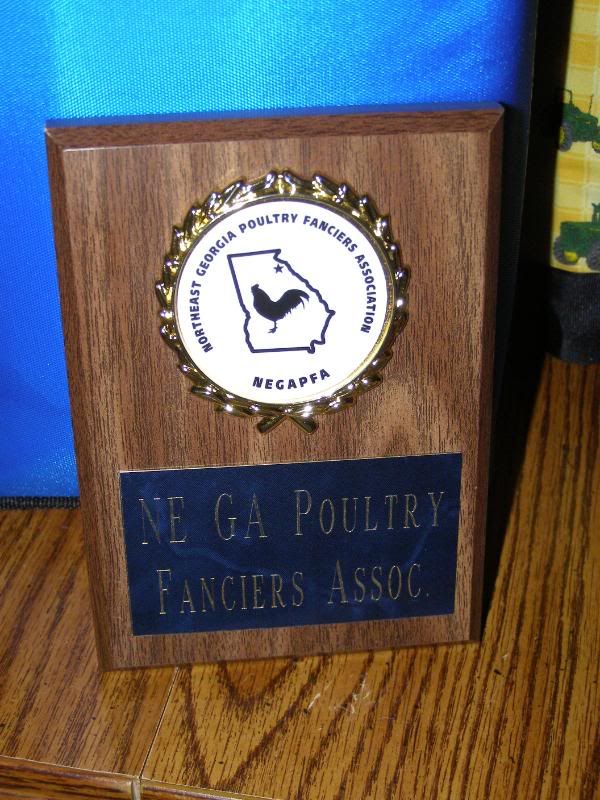 There is quite a lot going on around here to blog about, a lot of stories rattling around in this noggin, and I am hoping to be able to put them down here soon. I will make an entry tomorrow that will include a slideshow of all the other birds I took pictures of at the show. Until then, everyone have a wonderful day and thanks for stopping by to see and hear my ramblings!